Mineral
w/ Into It. Over It., Aaron Robinson
fooBAR; Nashville, TN
November 4, 2014

Review by Philip Obenschain (@pobenschain). Photos by Mary-Beth Blankenship.
I was not even 10 years old when Mineral disbanded in 1997. I'm not sure what I was listening to at that time, but my tape collection most certainly did not include any mid-'90s emo. While I cannot recall exactly when it was that I was first turned on to the group, it couldn't have been any earlier than, perhaps, 2006, when my unquenchable thirst for the mid '00s pop punk, a scene which Mineral undoubtedly influenced, but that would see a sharp decline in quality towards the later half of last decade, led me to dig deeper in the realm of releases I was too young to notice throughout the '90s. Jimmy Eat World, Sunny Day Real Estate, and The Promise Ring came first, and, soon, I discovered Knapsack, Texas Is the Reason, Braid, and Mineral. While some of their peers (Jimmy Eat World most prominently) persisted and managed to ride the wave of emo-radio commercial interest, and others (Sunny Day) staged high-profile reunions, Mineral, to me, always seemed like a short-lived snapshot of a moment I missed, and one I would only ever be able to experience in recording. Cut me to my shock when, earlier this year, the group announced a reunion run in celebration of their 20th anniversary. And, while that tour would extend to bring them to Atlanta, I was still unsure if time and circumstance would allow  for me to attend. A North Carolina cancellation and, by chance, a crew of Nashville residents (and friends of the site) would act as the hand of fate, when, last week, with only 48 hours' notice, seminal emo act Mineral announced a pop up show at 150-cap Nashville dive fooBAR, the most intimate space they've played in decades. We were there to soak in this monumental occasion, so read on for our thoughts on the show, plus some photos to document the once in a lifetime experience, which included openers Into It. Over It. and Aaron Robinson.
I arrived during opener Aaron Robinson's set. Former frontman of Imaginary Baseball League and a member of premiere local '90s cover outfit My So-Called Band, Robinson has been a prominent member of the local music scene for many years now, and, while I was aware that his solo-geared material took on a more indie, punk, and emo influence, I had never had a chance to catch him in this context before. Performing alone with only a guitar, Robinson worked his way through numerous heartfelt and dynamic tunes, immediately prompting my desire to keep an eye on his future output. And, while his tone was more somber and laid back than the rest of the night would be, he proved a perfect warmup, and an insightful, accomplished performer. Between songs, Robinson told stories about Mineral's influence on his own musical upbringing, and even chose to end his set with a cover of The Gloria Record, the late '90s project Mineral's Christopher Simpson, and Jeremy Gomez would go on to form.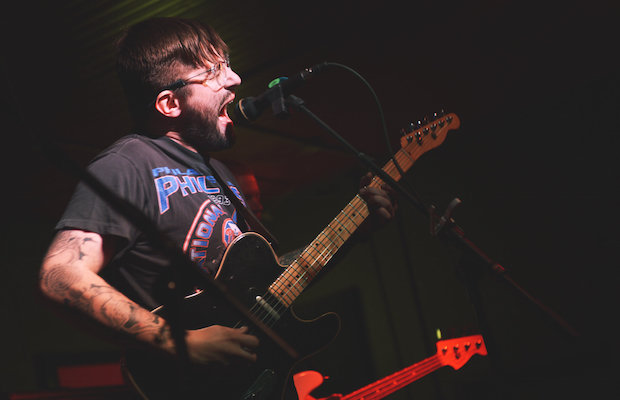 Into It. Over It. Photo by Mary-Beth Blankenship.
Following a quick changeover, Into It. Over It., who have been out in support of Mineral's entire reunion run, took the stage. I've seen the group, which started as a solo project for frontman Evan Weiss, on several occasions prior, and, while Weiss seems reluctant to embrace the buzzy mantle of "emo revivalist," the fact remains that he and IIOI have become the band of choice to support the reunions of many such influential acts, and to bridge the gap between golden age emo and the modern day scene it has inspired. Unnecessary labels aside, Weiss, who recently turned 30, is a compelling songwriter, and, through his sheer talent and unparalleled ability to achieve emotional depth, juxtaposed with his knack for composing noodle-y dense, indie rock derived compositions, has rightfully earned the wave of praise and recognition IIOI has garnered as of late. Barreling through a set which pulled from the group's half decade's worth of material, Into It. Over It. performed with more procession and polish than ever before, a sure symptom of their seemingly endless tour schedule of the past year. I can't think of a more perfect current band to support an act like Mineral, and IIOI proved more than up to the task, complimenting Mineral (and their peers') style and contributions to the genre, while fusing and updating the sound to fit in and pull from today's musical landscape. I was blown away, as I always am, by the group, and can't wait to catch IIOI in a more stripped down setting when Weiss returns solo on Feb. 17 at The High Watt along with Kevin Devine.
Mineral. Photo by Mary-Beth Blankenship.
It was nearly 11 p.m. by the time Mineral finally took the stage. The room was packed to the brim, surely swelling well beyond its rated capacity. Throughout their reunion, which has been ongoing for the past two months, Mineral have been playing rooms ranging from around 400-1,000 cap, and, in many markets, selling them out. While I'm not exactly sure as to when the band last played a space as small as fooBAR, it certainly must have been '96 or '97. The last time they played Nashville is also unclear, if ever. While the special nature of this show was not lost on me, nor on the rest of the crowd, some of whom had driven quite a long way to attend, the band approached it more with gratitude for having a place to play, and, aside from an Instagram photo joking about "intimate being an understatement," performed like it was business as usual. I've largely avoided single-show reviews for this tour, since I didn't expect to catch a performance, and didn't want to be any more bummed by that fact than necessary, but I have seen several festival writeups praising Mineral's performances, and went into this show with incredibly high expectations- expectations which Mineral completely met and exceeded.
Donning an oversized sweater and knit cap, frontman Chris Simpson launched right into "Five, Eight and Ten," the opening track from the band's 1995 debut, The Power of Failing, as the room lit up with a sense of glee, nostalgia, and electricity, which only intensified as Mineral played the next two Failing tracks, "Gloria" and "Slower," in record order. Dressed in t-shirts, jeans, dickies, vans, and chucks, the band looked the part of '90s emo pioneers, and, while age has treated them well, it only took me a few songs to adjust to middle aged men performing songs of college aged angst and longing. I imagine this is the best that Mineral have ever sounded, and, while I wish had been old enough to see and appreciate them the first time around, I feel unbelievably grateful to have been in attendance for a tour meant as a fan service, with such genuine attention to performance detail, and with the entire, proper lineup intact. Breaking up early can be a blessing to some bands; they carry less baggage, their material is trim and prime, and their nostalgia and history isn't tainted by years of strain.
Mineral. Photo by Mary-Beth Blankenship.
Gracing us with a generous 15 song set, which extended past midnight, Mineral pulled heavily from both of their full-lengths, also working in non-album singles "February" and "M.D." I've spent more time with their sophomore release, EndSerenading, so hearing eight of its ten tracks performed live was something of a dream come true. The band kept their stage banter to a minimum, pausing only to deal with a slight guitar malfunction, and to repeatedly thank the crowd for turning out on such short notice. Sonically, they were unbelievable, and emotionally, Simpson sang with the same conviction, sincerity, angst, and cleverness that helped make the band's records so timeless. On stage, he teleported back to his young, earnest self, and, twenty years in, did so with an ease that erased any sort of awkwardness that could come along with age.
Mirroring their Failing heavy start, Mineral's encore, which didn't really involve them even attempting to exit the cramped fooBAR stage, saw them perform EndSerenading's first two tracks, "Love Letter Typewriter" and "Palisade," perhaps my two favorite Mineral songs, in order. Fittingly, they ended with The Power of Failing closer "Parking Lot," providing a satisfying and fitting conclusion to what was, unequivocally, one of the best, most special, and most important shows I've seen in my two years as a Nashville resident, and, without a doubt, will live on in my heart as a once in a life time show that I won't soon forget.
_
Setlist:
Five, Eight and Ten
Gloria
Slower
February
M.D.
A Letter
For Ivadell
Sounds Like Sunday
Unfinished
If I Could
Walking to Winter
&Serenading
Love Letter Typewriter
Palisade
Parking Lot
_