Joan Jett. Photo by Sundel Perry
Memphis in May Beale St. Music Festival 2014
Tom Lee Park, Memphis, TN
May 2-4, 2014
Review by Leanne Jackson
Photos by Shawn Jackson of Sundel Perry Photography
As May and its accompanying warm weather rolled around we were excited to return to Tom Lee Park for the Beale Street Music Festival in Memphis. With no rain in the forecast we knew we were off to a good start. Thirty acres along the Mississippi River and a stone's throw from downtown Memphis is the perfect place to spend the weekend listening to a diverse array of artists play their hearts out to an appreciative crowd. Tickets to the 3-day festival were reasonable at ~$85, and you get far more than your money's worth.
Read more about our experience, and view Shawn Jackson of Sundel Perry Photography's photos by clicking the link below.
MS MR
We started off front and center at MS MR. From the moment she strode onto the stage in platform shoes, animal print pants and shockingly pink hair, lead singer Lizzy Flapinger (MS) embodied energy and spunk. Max Hershenow (MR), not to be outdone, donned some impressive platform shoes of his own. The duo was supported by David Lizmi on bass and electric harpsichord and Zach Nicita on drums. The whole band moved to their music, whose style has been compared to Florence and the Machine. "Ash Tree Lane" and "Fantasy" were favorites for us, as well as the band's sinister and yet curious new single "Think Of You" in which the audience were encouraged to channel their inner angst.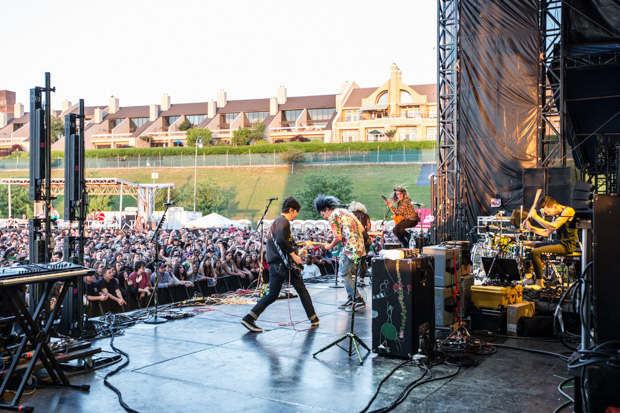 Grouplove
Our next stop took us to Grouplove. It was our first time to seem them play but definitely won't be the last. The band formed out of a friendship among the five members, and it shows – their performance and harmonies were so tight, exuding power, dynamism and fun. Drummer, Ryan Rabin felt like a force of nature, a meticulous drumming monster. When asked to make as much noise as possible to their epic song "Colours", the crowd, including us, obliged. We look forward to seeing them again.
Juicy J
For a change of pace we headed to local Memphis rapper, Juicy J. Previously half of the duo, Three 6 Mafia, Juicy J kept the crowd moving both on and off stage. Check out his on-stage posse in this photo by Sundel Perry.
Fitz & the Tantrums
Fitz and the Tantrums played hit after hit. Michael Fitzpatrick's vocals perfectly compliment the gruff tone of red tambourine wielding, Noelle Scaggs. Still singing along to the 2013 hit, "The Walker", we took a journey back in our musical time to see 311. As the middle school memories flooded back we were thrilled that they played "All Mixed Up", "Amber" and "Down". Truthfully, it was even better than we had remembered it. Classic 90's rock with just enough reggae to keep the hippies happy.
311
After all that excitement we thought we'd slow it down and landed up in front of a mock-up of an old wooden shack, seated at the feet of blues legend Robert "Wolfman" Belfour. Even though 311 was still blasting in the background when Wolfman's smooth, crooning voice came over the mic we were transported away by his enchanting melodies. His hands moved as if totally independent having played these emotive riffs so many times before.
Robert "Wolfman" Belfour
Our last destination of the night was Dickey Betts and Great Southern, but we were fortunate enough to catch the end of Serbian-born blues guitarist and singer Ana Popovic's set. Betts, a founding member of The Allman Brothers Band, filled the blues tent with energetic fans ready for some good old Southern Rock. The set included many of his own songs complete with multi-guitar harmonies, reminiscent of what made many Allman Brothers songs so great, as well as some old favorites like "Statesboro Blues."
Dickey Betts & Great Southern
For the rest of the night we enjoyed sampling all of the great things the festival had to offer – over 20 food vendors to choose from and what we like to call a "music buffet". We walked the length of the park catching highlights from Snoop Dogg Aka Snoop Lion, Foster the People, and the mesmerizing visuals that accompanied Pretty Lights.
Eric Gales
On day 2, we waited in the shade of the Orion stage for Eric Gales to emerge. Gales was introduced not as a Memphis musician, but as a Memphis magician. This man lives to perform, and you could tell he was excited to play at home. Decked out in bright purple with a cigarette dripping from his lips he played dramatic fast-running riffs while striding back and forth across the stage. Although his music was mainly instrumental, his expressive face and animated gestures revealed his intentions.
Carolina Chocolate Drops
The old-time sound of The Carolina Chocolate Drops is the kind of music that makes your heart happy and your foot stomp along. We were blown away by the crisp voice of fiddle player Rhiannon Giddens. The band opened with "Pretty Little Girl with the Blue Dress On" complete with a blue-grass skat, and then moved into "Hey, Hey Sandy Boy". Proud to be from North Carolina, the band sings about all things Southern, including scuppernong, dandelion wine and fried chicken. Their twist on Hank Williams', "Please Don't Let Me Love You" was tragically captivating and yet still hopeful.
St. Paul & the Broken Bones
St. Paul and the Broken Bones braved the heat in their customary blazers and ties. They started their set with their usual funky flare, transitioning into Paul Janeway's charismatic wailing in "Don't Mean A Thing". In addition to playing tracks off their debut album, Half the City, the band also paid tribute to Stax Records with Otis Redding's version of the Sam Cooke song, "Shake".
Leo "Bud" Welch
Back at the blues shack we were treated to a performance by gospel-blues singer, Leo "Bud" Welch who released his debut album, Sabougla Voices on 1/7/14 at the spry age of 81.
Blues Traveler
Blues Traveler was another blast from the past that didn't disappoint . Frontman John Popper's harmonica sang out as if it were a second voice to old favorites like "Run-Around" and "The Mountains Win Again". His soothing voice could also be heard covering ZZ Top's "La Grange" and Radiohead's "Creep".
Wolfmother
Wolfmother, a hard rock band with 60's hair-styles said they sounded better loud, and they played that way too.
Joan Jett & the Blackhearts
Finally, the original queen of noise, Joan Jett and the Blackhearts took the stage. Clad in a black leather jacket and a red pleather jump suit she led with "Bad Reputation" then "Cherry Bomb" and "Do You Wanna Touch Me?" She looked smoking and sounded sensational. While we had to head home early and weren't able to catch day 3, ending on a Joan Jett high note was certainly a fitting finale to a great festival.
Check out the Day 1 and Day 2 galleries below for some more great shots!
Day 1 Gallery
Day 2 Gallery