Superchunk
w/ Bully
Mercy Lounge; Nashville, TN
April 11, 2014

Review by Philip Obenschain (@pobenschain). Photos by Mary-Beth Blankenship.
Seeing a band for the first time, 25 years into their influential career, is a tough thing to review. That rings doubly true when said band is missing one of its key founding members. Add in a market where they've seldom played, and to somewhat mixed success, in the past, and the task feels downright daunting. Despite this, I went into Superchunk's recent Nashville performance, their first in nearly 13 years, with a high level of excitement and even higher expectations, and I'm thrilled to say they not only met, but sincerely exceeded, them in most every way. Paired with one of Nashville's most exciting acts on the rise, Bully, Superchunk made Mercy Lounge an unforgettable Friday night destination, and proved, after all of these years, why they're not only indie rock's founding fathers, but also still its reigning champs.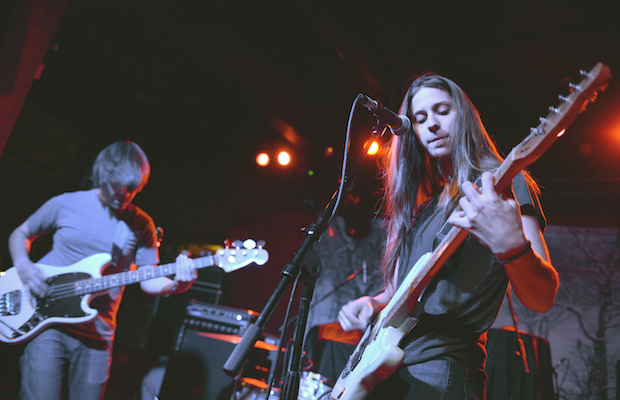 Bully. Photo by Mary-Beth Blankenship.
Kudos to whoever put Bully on the bill. Though I'm more used to seeing them support punk-leaning projects, Alicia Bognanno and co. have a strong affinity for indie rock, and their sound, though not exactly in line with Superchunk's, shares the same raw, emotive nature and high energy delivery, especially when performed live. Clearly a Superchunk fan, Bognanno gushed with excitement to see them, while maintaining a cool confidence and easy-breezy delivery throughout her band's well-received opening set. With just one EP under their belt and a new 7″ on the way, Bully's pool of material to pull from is limited, yet, even though I've seen them a handful of times now, their set always feels fresh; adjusted and adapted to work in whatever room they're playing. While Bully's recordings are more lo-fi and stylized, live, they sound warmer and more alternative, another attribute that helped them pair nicely with Superchunk. One of Nashville's most exciting new bands in quite sometime (and apparently one receiving quite a bit of attention on the industry side of things as well), it seems only fitting that a group just beginning what, I hope, becomes a long and storied musical legacy of their own, would be tapped to support a band whose legacy has been firmly cemented.
Superchunk. Photo by Mary-Beth Blankenship.
Superchunk's last Nashville show, which took place in late 20o1, was apparently plagued by a less than spectacular turnout, a fact many diehards point to when hypothesizing why Music City has been skipped so often in years since. Whether or not that's the case, I was admittedly nervous early on in the evening, as the initial crowd size didn't seem poised to rectify Nashville's past transgressions. By the time Superchunk took the stage, however, people began to pour in, and, though it wasn't quite a packed house, the audience's genuine, infectious enthusiasm more than made up for its size. And, from the moment the band launched into classic track "Driveway to Driveway," I knew we were in for an unbelievable night, crowd considerations aside.
Delivering an hour-long set that was surprisingly stacked with new stuff, Superchunk performed with a level of energy bands half their age would be lucky to channel. Propelled by a crowd willing to sing along with every word, the group soared through the newest of new, like "Low F," and the oldest of old, like "Slack Motherfucker," with equal precision, freshness, and a sense of timelessness. It's downright astounding, in fact, that the band's catalogue spans two and a half decades; a testament to their innovation and influence on every bit of indie rock that has followed (not to mention the reach of Superchunk's tastemaking label, Merge). It's also unusual for a band with so much material to lean so heavily on their recent output, yet nearly half of the set came from their two incredible late-career comeback releases: last year's I Hate Music and 2010's Majesty Shredding. If nothing else, the fact that this made for a more than fulfilling setlist just reaffirms Superchunk's relevance as not only a legacy act, but a contemporary one to boot.
Superchunk. Photo by Mary-Beth Blankenship.
Sadly, bassist and founding member Laura Ballance was absent, due to a worsening hearing condition, but Jason Narducy, formerly of Verbow, and a decade-long member of Bob Mould's touring band, was tapped to fill her lofty shoes, and proved to be a more than adequate replacement. Alongside charismatic frontman Mac McCaughan, guitarist Jim Wilbur, and drummer Jon Wurste, Narducy helped deliver a captivating (and heavier than expected) performance. To be honest, I always try to keep my expectations in check when seeing a legendary indie act, since, all too often, groups whose "heyday" has passed will go through all of the motions, but lack some of the heart that once made them so special. In Superchunk's case, however, it felt every bit as sincere, every bit as raw, and every bit as passionate as if I was seeing them for the first time 15 years ago; a pleasant, welcome, though not completely unexpected, surprise. The show was everything I could have hoped for for my first time seeing Superchunk, and Nashville, a very different place than it was in 2001, gave them a warm welcome back. I hope it won't be another 13 years before Superchunk make a return Music City, but they do say "absence makes the heart grow fonder," and even if we have to wait a few more tour cycles for a repeat visit, a show this great is worth being patient for.
_
Setlist:
Driveway to Driveway
FOH
Learned to Surf
Detroit Has a Skyline
Punch Me Harder
Void
Out of the Sun
Watery Hands
Crossed Wires
Low F
Animated Airplanes Over Germany
Mower
Me & You & Jackie Mittoo
Digging for Something
Slack Motherfucker
Precision Auto
Hyper Enough
Throwing Things
_