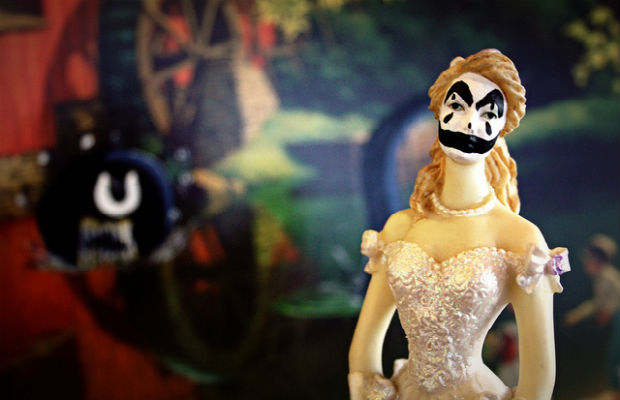 Sometimes, you just wanted a little bit of weird to help you get through your Wednesday. And here we are again with another appearance by one of our most favorite of music fandoms, the followers of Insane Clown Posse (or ICP for those down with the clown). While we may lament the loss of music videos on what was formerly Music Television, there yet remains the opportunity to gaze into realities of what it means to be young and pledge allegiance to music in America. Enter: MTV's True Life: I Want Respect For My Sect where we are invited to join into the most holy of ceremonies – the joining of a young Jugalette to her dashing Juggaloo in the binds of matrimonial bliss.
This episode is truly exceptional. In addition to the domestic drama that surrounds the planning of the most perfect "Psychopathic" nuptials (Does this hatchet handle come in ivory to compliment my gown? Where do we put the Faygo fountain?) we also get to examine the lives of a young woman that believes she is a vampire, a "non-sexual" furry, and a militant Mormon. You can view the full episode here – or if you're short on time and just want to catch the clowns, skip to 9:30.
And in related ICP news, did you know that earlier this year Insane Clown Posse (in collaboration with the ACLU) filed suit against the U.S. Justice Department and the FBI for classifying their fans – the aforementioned juggalos and juggalettes as a "loosely organized hybrid gang" in a 2011 National Gang Threat Assessment? ICP's Shaggy 2 Dope and Violent J (you can't make this up) claim that the gang classification is unfounded and has led unlawful harassment by police, causing 'significant harm' to members of the band and their fans.
While we love to poke fun at the silliness, in all seriousness – classifying a subculture music fandom like this as a gang has some pretty serious consequences and could perhaps set a very unpleasant precedent. Bone up on case information and refresh your civil liberties below!