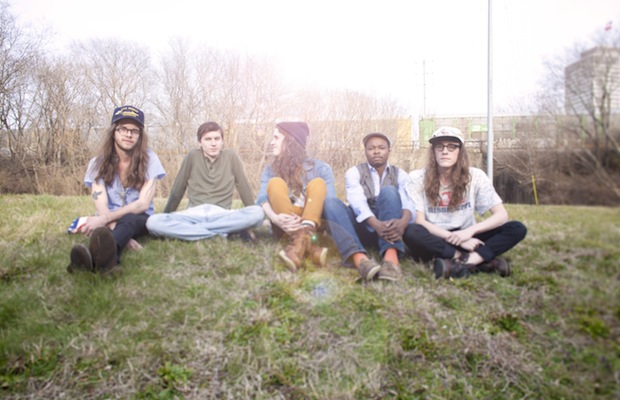 Starting TONIGHT, Nov. 22, Nashville (by way of Mississippi) rockers The Weeks will be taking over Mercy Lounge for a two-night stand, featuring two different fantastic local and regional openers each night. Can you think of a better way to spend your last weekend before the holidays kick into high-gear? We can't. Check out the schedule below:
FRI (11.22): The Weeks w/ Sleeper Agent & Chrome Pony (TIX)
SAT (11.23): The Weeks w/ Turbo Fruits & Buffalo Rodeo (TIX)
All week long, we've celebrating The Weeks' Week, by running down the lineup and telling you more about each band. We kicked things off with first night opener Chrome Pony before following up with Buffalo Rodeo, who will open night two. Next we told you about Sleeper Agent, who will provide direct support on Friday, before finishing things up Saturday supporting act Turbo Fruits. Since we've already written about The Weeks time and time again, rather than repeat ourselves, we caught up with guitarist SAM WILLIAMS for a chat.
There's still time to snag your tickets for tonight. In addition to single nights, which cost just $12, weekend passes are available for $20. Both nights are 18+, and begin at 9 p.m., with doors at 8.
After the jump, check out our interview with The Weeks' guitarist Sam Williams:
NO COUNTRY FOR NEW NASHVILLE: You last couple of Nashville shows have been in places like Live on the Green and Cannery Ballroom. Are you looking forward to playing a club show this weekend?
SAM WILLIAMS: Yeah, Mercy Lounge is definitely my favorite room in town. I'm really excited about it. It's been months since we've played there. The last time was our release show back in April.
NCFNN: You're playing two back to back nights. Are you planning totally different shows for each one?
SW: We might repeat one or two songs, but, other than that, we have 30 songs or so on the books. We've never really done anything like this before, so it's kind of nice to have a few records we can pull back out. It's full of surprises, shit we haven't done in a long time.
NCFNN: Other than song choices, do you have anything else special planned?
SW: The special thing is that we're not going to do anything special. Well, not that we're not going to do anything special, but the last couple of times we've had a horn section and backup singers, but we're not going to do any of that this time. It's just going to be the five of us. No gimmicks, no shiny things. We're just going to go out there and play the shit out of some songs for two nights in a row. The big surprise is that we're going to play some songs that people always want us to play, but with lineup changes- every time you have a lineup change you lose a song or two- the few we had before we moved to Nashville, by the time we got here, there's a good 10 songs that everybody always wants to hear that we just haven't done in years.
NCFNN: And you picked out all of your own openers?
SW: Yeah. I just like playing music with my friends, I prefer that to having agents or someone else hook you up with somebody. Sometimes you luck out and get paired with somebody awesome, but that doesn't always happen. Especially for Nashville shows, when everybody we know is in a great band, we might as well do bills with those people.
NCFNN: You've spent a lot of time in Europe this year. How has that experience been?
SW: It's so much smaller, for starters. You'll drive two hours, and talk to the band you're playing with, and they're like "Two hours? Oh god, are you legs cramped up?" Texas alone is like 800 miles wide, so, for us, it's like "this place is a breeze, it's like the size of Illinois." It's certainly different. We've spent three or four months [in Europe] out of the last twelve. At this point, I feel like we've seen more of England than people from England.
NCFNN: You just started a short midwest tour with Buffalo Rodeo. What's next? Do you have plans for 2014 lined up?
SW: After this run, we're doing a Christmas show in our hometown and a New Year's show in Chattanooga, then we start a tour the next week. We're really going to be doing just more of the same next year. At some point in the first three or four months, I think we're going to take some time to do a little writing and cool off a bit, but, other than that, it's the road. Tour, tour, tour.
NCFNN: Are you feeling worn out at all or are you still ready to go?
SW: I start to lose my mind when we're at home too long. A week at home is really nice, but once you start messing with two or three weeks, I'm bored out of my mind. You start taking up weird hobbies that you just have no need to pick up. Like "I'm going to start building shit."
NCFNN: Looking back at your schedule, you've had a crazy year. It's been nonstop.
SW: It's been an awesome year though, kind of uncharted territory. Even though we've been together for seven years, we've never done 150 shows in one year. This is where we figure out if we can do this without killing each other, and we've all made it. We're all so much happier to be on the road now.
NCFNN: We're starting to think about our year end lists. Obviously Dear Bo Jackson is one of our favorite Nashville releases of the year. Are there any particular Nashville releases that you loved that came out in 2013?
SW: I think the Diarrhea Planet record [I'm Rich Beyond Your Wildest Dreams] takes the cake for me. I just fucking love it. I love their first record, their second record is even better. Robert Ellis has a new record coming out too, I'm not sure when it'll be out exactly, probably 2014. I'm going to go ahead and call it my early favorite for next year. DP though, DP takes the cake.