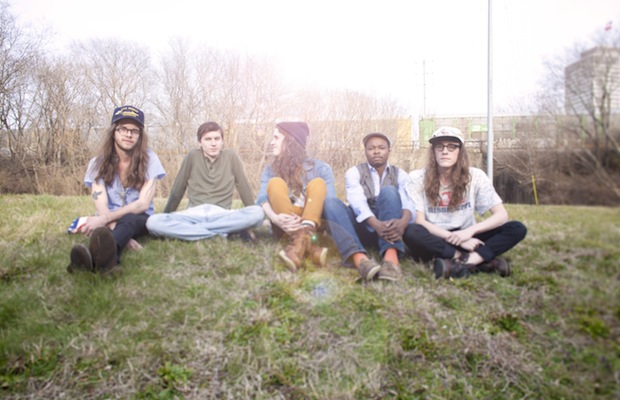 As we announced in Oct., Nashville by way of Mississippi breakout rockers THE WEEKS are set to perform two back to back nights (presented by Lightning 100) at Mercy Lounge later this month, giving fans the chance to catch them in a more intimate setting than they've been able to play lately. Keeping the weekend fresh (and giving you enough of a reason to make it a marathon), night one, Friday, Nov. 22, will include Sleeper Agent and Chrome Pony. Night two, Saturday, Nov. 23, will boast Turbo Fruits and Buffalo Rodeo as support. Tickets for both Friday and Saturday are on sale now for just $12, with the option of making it a weekend pass for a mere $20. Sound like a killer last concert before the holidays kick into high gear? We thought so. Keep reading to find out more about the bill, and for a CHANCE TO WIN TICKETS TO THE NIGHT OF YOUR CHOICE.
THE WEEKS (FRI & SAT)
We'll be bringing you much more on The Weeks and their hand-selected supporting acts in the days leading up to the show, so stay tuned for The Weeks' Week. Between spots at Live on the Green, Cannery Ballroom co-headliners, and a European arena tour with Kings of Leon, it's been an insane 2013 for the local(ish) rockers. Their latest, Dear Bo Jackson, is the band's strongest release yet, and, at the rate they're gaining buzz, The Weeks seem poised to follow in the Kings' footsteps as one of Nashville's next great breakout rock bands.
SLEEPER AGENT (FRI)
Bowling Green's Sleeper Agent exploded onto the scene in 2011 with their buzzed-about breakthrough Celabrasion. The eclectic young rockers have found themselves faced with a whirlwind of positive press, co-signs from some heavyweight acts, and some prominent tour and festival spots in the years since.
CHROME PONY (FRI)
Nashville's Chrome Pony are one of our favorite up and coming acts in the scene. Their latest record, Lazy Bones, pulls equal influence from garage rock, indie, punk, and retro rock, and we just can't get enough of it.
TURBO FRUITS (SAT)
Locals Turbo Fruits, like JEFF the Brotherhood, were spawned from the disbandment of Be Your Own Pet. Fronted by Jonas Stein, the garage rock act have performed at festivals around the planet, toured with some legendary heavy-hitters, and have amassed a wave of critical acclaim from each of their varied releases. Their latest, Butter, is out via Serpents & Snakes, the same label as The Weeks.
BUFFALO RODEO (SAT)
Opening night two, Bowling Green's Buffalo Rodeo seemingly popped up out of nowhere to become the go-to indie rock band to perform on every bill. We're not complaining though, as their proggy, dynamic sound is a breath of fresh air in a scene where bands often lean too heavily on the retro vibe.

_
ENTER TO WIN TICKETS 
Must be 18+ to enter, per the show's age requirements. Winner will be announced Thursday, Nov. 21, at 12 p.m. CST, and will receive a pair of tickets to either the Friday OR Saturday night show (winner's choice). For a bonus chance to win, RSVP to the event here, and share it on your Facebook wall. Enter below (you will be redirected to your e-mail, where you will need to hit send):
If you're having issues with the above form, you can alternately send your full name in an e-mail to [email protected] with "The Weeks Giveaway" in the subject line, and please let us know if you shared on Facebook.
_
The Weeks will perform Friday, Nov. 22, at Mercy Lounge with Sleeper Agent and Chrome Pony (tickets here) and Saturday, Nov. 23, with Turbo Fruits and Buffalo Rodeo (tickets here). Both shows are 18+, begin at at 9 p.m. (doors at 8 p.m.), and tickets are available for $12 individually, or for $20 as a weekend pass.