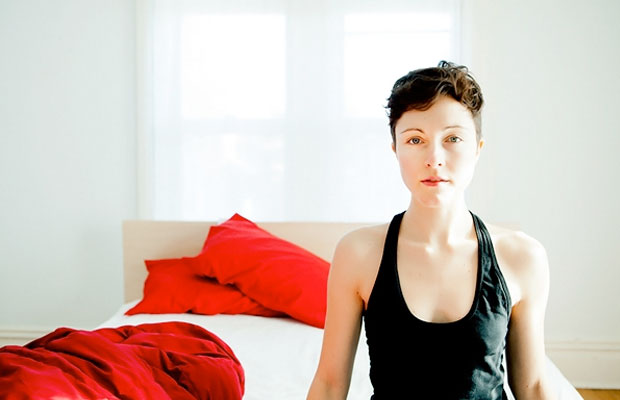 Poliça was one of our favorite live shows of last year, and we were chomping at the bit to catch them again.  Supporting act Marijauna Deathsquads opening things up will definitely bring a new and welcome change of pace tonight at Mercy Lounge.  You can check out a full preview below, and grab your tickets here for what is sure to be a kick ass show!
POLIÇA
Don't let that funny little ç throw you off.  This hard to pronounce (Poll-e-sa) band has been blowing up the internet since they formed back in mid 2011.  Comprised of Channy Casselle and Ryan Olson from the band Gayngs, Poliça began as a side project to explore some different musical interests, but once the music blogs got a hold of this new sound, it was apparent that this was a lot more than a one and done experiment. We've seen Poliça a couple of times now, and the truly amazing part of this sparce (when we saw them) show was the incredible double drum set up Ben Ivascu and Drew Christopherson. For the track "Lay Your Cards Out" and "Wandering Star" from their first record Give Up The Ghost, the addition of Grammy winner Mike Noyce from Bon Iver didn't hurt either. Now touring in support of their second release, Shulasmith, Poliça seems more primed than ever to take over the mainstream. You can check out the first track "Chain My Name" to release from Shulasmith below, and we've also added a bonus track of "Lay Out Your Cards" as well.
MARIJUANA DEATHSQUADS
Experimental act, Marijuana Deathsquads, has been on our must see list for a while now. The ever-revolving cast of musicians is anchored by many of the same members as Poliça, including Ryan Olson (producer/writer of Poliça and GAYNGS), Ben Ivascu & Drew Christopherson (Poliça). The lineup rounds out with Isaac Gale and Stefon Alexander, who is better known under his hip-hop moniker, P.O.S. Check out the track, "Bad Boy Masterpiece" below to get an idea of what you are in store for tonight.
Poliça and Marijuana Deathsquads perform tonight (11/11) at Mercy Lounge. The show is 18+, begins at 9pm (doors at 8pm), and tickets are available for $15.