In case you haven't heard, local pop rockers Paramore just landed their first #1 album; a self-titled release, and their first since 2009. It also marks the band's first record since the departure of founding members Josh and Zac Farro. The band celebrated Paramore and its monumental achievement at the most fitting place they could think of: home. We were fortunate enough to get three opportunities to catch the band performing and chatting with fans around town over the weekend! After the jump, we've got a recap of Paramore's weekend at home (complete with photos and video).
_
107.5 The River's Web Chat & Acoustic Session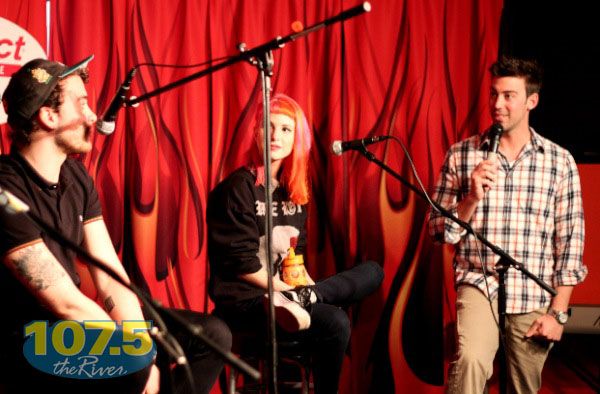 Paramore's first stop was for a live web chat and acoustic performance at 107.5 The River's Direct Auto Insurance Garage. The band, joined by guitarist Taylor York's brother Justin York, graced an excited group of contest winners (as well as the entire internet) with acoustic renditions of their hits "That's What You Get" and "The Only Exception," as well as new single "Still Into You."
Following their performance, the band gave a fun Q&A. The chat, which was open to questions from fans around the world, ranged in topics from their writing process, where the group was when they first heard the news of their #1 album (at home), where they'd hide out during a zombie apocalypse (Jeremy's house), who's the best cook (coincidentally, also Jeremy), who has the nicest house (Jeremy again… are we sensing a pattern?), recent regrets ("asking Jeremy to give me a ride this morning" – Hayley), and what they like to do when they're home (watch tv and hang out at coffee shops).
Check out the band's performance of "Still Into You" (and head here for more performance videos):
_
102.9 The Buzz's Buzz Session
Immediately after their chat at The River, the band headed to 102.9 The Buzz's Advance Financial Acoustic Den for a Buzz Session. The acoustic den is a much smaller, more intimate room, intentionally creating a more living room type setting for the around 20 contest winners who gathered around on couches. The band again answered questions, including some from very enthusiastic fans in attendance (one gentlemen, in particular, was incredibly curious as to just how Hayley gets her hair to look the way it does).
Paramore performed another acoustic set, this time opting to play their breakout hit "Misery Business" and b-side "In the Mourning," which transitioned into a partial cover of Fleetwood Mac's "Landslide." They again ended things with "Still Into You."
Watch Paramore perform "Misery Business" below and check out the full photo gallery at 102.9 The Buzz:
_
Record Store Day at Grimey's
On Saturday, Paramore made a special appearance (their only weekend performance open to the public) at Grimey's for Record Store Day. For their part, the group released a special RSD 7″, The Holiday Sessions, 300 of which were made available at Grimey's. The 7″ included the three interludes from Paramore, so, naturally, the band opened up their performance by playing all three ("Moving On," "I'm Not Angry Anymore," and "Holiday") for the first time in public. They followed the interludes with another performance of "Misery Business," their first live performance of new song "Daydreaming," and another rendition of "Still Into You."
Grimey's was absolutely packed. It's pretty incredible to see our local independent record store snag the #1 band in America (and most of the rest of the world) for a free outdoor show, but that's just a testament to the importance and communal spirit of the Nashville scene. We stuck around for some of the other RSD performances, and the whole bill was a really fantastic showcase of the diverse talent our city has to offer.
Watch Paramore performing "Moving On," from YouTube user TheBhoov22:
_
Paramore currently have no proper Nashville shows scheduled, but they let it slip that more dates would be announced in the near future, and that a full hometown show is most likely on the agenda. The band kicks off a small North American tour this week, followed by a string of international dates.