We wanted to present this story as objectively as possible. We're going by the facts we could gather, and from what we learned from the sources available. We reached out to both Wes Breedwell and Rocketown, and, as of publishing, have not received a statement from either party.

Here are the facts:
Rocketown is a non-profit, multiple-stage performance complex, indoor skatepark, and arts facility, geared towards local youth. The venue was founded in 1994 by Christian singer/songwriter Michael W. Smith. Rocketown is an openly Christian-run venue, with a mission of faith and youth outreach. They provide a safe, community centered space for local teens and are the most active all-ages venue in Nashville. Because of their demographic and all-ages stance, Rocketown has, for many years, been the Nashville hub for bands prominent in the pop punk and hardcore scene.
On Monday morning, Rocketown allegedly fired an employee of 7 years, Wes Breedwell, for voicing beliefs that contradict those of his employer. Some sources (including the band) are claiming Wes was fired for wearing a t-shirt promoting punk group Hostage Calm, which also bore the message "I Support Same-Sex Marriage." Breedwell stated on his Twitter account that "social media is what did it," and posted this picture of himself wearing the shirt in question on his Instagram account: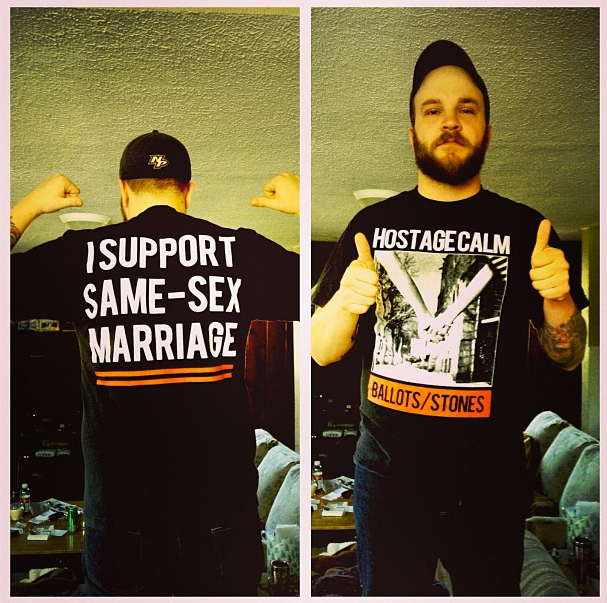 After Wes tweeted and posted the photo, several bands, including Hostage Calm, caught wind of the incident and it spread rapidly across the internet. Hostage Calm released a lengthy statement on the situation, along with what appears to be a disciplinary note against Wes from the venue. We're unclear as to the source of this photo, but, in their statement, the band mentions being in contact with Breedwell.
As you can see in the above photo, it states "You cannot wear a shirt to work on an office day or show day supporting same sex marriage" and "It is imperative that our beliefs are not personal or presented at work that contradict the mission. Future action will be based on the action but will include suspension or termination." We would infer, from this document, that his social media opinions and actions in addition to his shirt are what caused his termination. You can read the full statement from Hostage Calm regarding Wes' firing below:
Today, on Martin Luther King Jr. Day, a longtime supporter of Hostage Calm and marriage equality was fired from his job at the Nashville music venue, Rocketown, for wearing his "I Support Same-Sex Marriage" shirt to work. A friend from Nashville contacted me about the situation and told me of Wes Breedwell, this seven-year employee of Rocketown who now finds himself the victim of discrimination. We called this brave man to hear his story, demonstrate our support, and figure out how we can help.

What I heard from him was a long pattern of discrimination against him for not being Christian and for supporting marriage equality. Rocketown is a Christian-owned non-profit community center and venue: not a church. And yet, over the seven years he has worked there, he's been denied opportunities for advancement and salary based on his non-Christian beliefs. Today, Rocketown fired him for wearing this shirt commemorating equality (along with his non-Christian activity on social media pages). Wes emphasized that employees routinely wear band shirts at Rocketown. So why did this shirt cause such a problem?

It's important to note that they didn't fire him for wearing A SHIRT. They fired him because of what that shirt stands for. For what that shirt threatens.

This shirt represents an idea that all people have the right to live their lives without being told who to love and whose love is more valuable. It represents equality under the law. It represents the freedom to choose.

So how could a youth center not support such a vital, foundational understanding of human freedom and equality as part of their social mission? Hostage Calm has played Rocketown multiple times. In my prior visits, I was under the impression that Rocketown was a positive force in this Nashville community: they had a music venue, skatepark, and other outlets for Nashville youth. But a youth center and music venue cannot be a positive force in the community if it degrades and belittles the value of some of our people based on sexual orientation or gender identity. That is the force that tears communities apart, not that enriches them.

I originally planned to make a post today about Dr. King, the status of his Dream, and how we can all work together to realize equality in modern America. This unfortunate event demonstrates that Dr. King's Dream is still under threat, and that the struggle of the LGBT community for equal standing under the law is a Civil Rights issue of our time.

Hostage Calm promises to do everything in its power to raise awareness and challenge this injustice in Nashville. We will certainly never play Rocketown again. We'll continue to post more information as Wes and H.C. take further action. For now, you can help by reposting his story to shine a light on this injustice, and by boycotting the venue. Most of all, please send all your support to Wes Breedwell and his fight for justice.

May Love Prevail,
Cmar, Hostage Calm
Throughout the day, as the story began to catch attention online, it made the front page of popular social news aggregate Reddit as well as sites like Alternative Press, AbsolutePunk, PropertyofZack, and The Tennessean. As of this morning, the news has begun to spread to gay rights organizations. The story also prompted an outcry from many other artists, fans, and industry personnel. You can read some of the responses below:
From Alex Gaskarth, singer of All Time Low:
[tweet https://twitter.com/AlexAllTimeLow/status/293480795618816000]
From Dan 'Soupy' Campbell of prominent pop punk group The Wonder Years:
[tweet https://twitter.com/headabovewater/status/293488855678611458]
From singer Tyler Carter, who also came out as bisexual:
[tweet https://twitter.com/TylerCarter4L/status/293562705154015233]
From Evan Weiss of Into It. Over It.:
[tweet https://twitter.com/intoitoverit/status/293447608557527041]
From pop rockers Sparks the Rescue:
[tweet https://twitter.com/sparkstherescue/status/293534714055229440]
From indie pop singer Allison Weiss:
[tweet https://twitter.com/allisonweiss/status/293546922185207808]
From music photographer Matt Vogel:
[tweet https://twitter.com/mattvogelphoto/status/293587181690298369]
The Tennessean reports Wes Breedwell is preparing to make a personal statement on the incident soon. The site also reports the following statement, a response from Rocketown founder Michael W. Smith's publicist, issued late Monday night:
Rocketown does not comment on personnel issues, but, generally speaking, an employee would not be fired for expressing opinions on marriage.

At Rocketown we are welcoming and accepting of all youth. We reach out to all kids, are inclusive and very much care about acceptance of youth from different ethnicities, sexual orientations, financial backgrounds and religions. Our mission is to provide a safe and drug-free environment where kids are welcomed, accepted and loved.
We'll continue to update this post as we learn new facts, but, as it stands, here's the main point of this situation we take issue with: the hypocrisy of Rocketown's actions and attitudes. We at No Country regularly attend Rocketown shows and appreciate its attempt to provide the community with an all-ages venue. We even respect Rocketown's right to run their venue in an overtly religious manner, just like we hope Rocketown (and everyone else) respects our right to run our website in whatever manner we choose. It's a private business; we don't have to go there and bands don't have to play there. It's when that message is distorted in a way to justify bigotry, to oppose civil rights, and to discriminate against a dedicated, long-running employee that we cannot support Rocketown's actions. That viewpoint, that way of masking hate is despicable. It's when a venue can book a band on multiple occasions, a punk rock band that very actively voices their beliefs and agendas, and turn a blind eye to their opposition to that band when it's to their advantage, yet discriminate against an employee who promotes that very same message, that we can't help but classify it as hypocrisy. Hey Rocketown: Accept one another, then, just as Christ accepted you, in order to bring praise to God. That's Romans 15:7. 😉
UPDATE: Bands have began canceling their upcoming tour dates at Rocketown.
UPDATE: Wes Breedwell has issued an official statement on the incident.
If any of you guys have to go to Rocktown for a show anytime soon, we have some attire we'd like to recommend, which you can pick up right here.
http://youtu.be/N01SLH5UOj4
Final disclaimer: Most of the employees, volunteers, bands who play at Rocketown, youth who hang out at Rocketown, and many others associated with the venue are great and open-minded people and we know that this incident is not representative of all of them. Please don't respond to Rocketown with hate or malice. If you contact them, voice your concerns and be civil. An eye for an eye leaves the whole world blind.