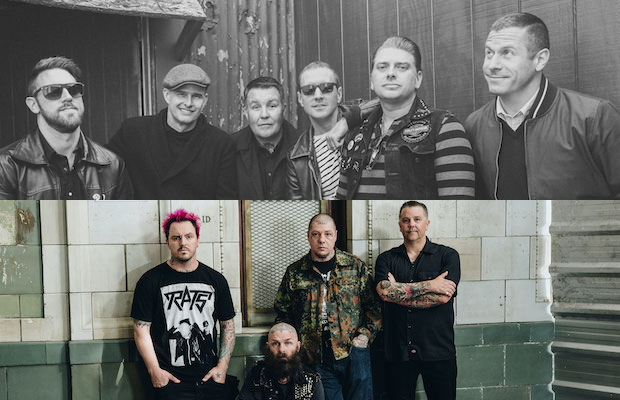 Back in 2017, New England Celtic punk staples Dropkick Murphys and scrappy west coast punks Rancid teamed up for a co-headlining tour dubbed Boston to Berkeley, a nod to their respective hometowns. Apparently a popular run, the groups have recently announced that they're planning to hit the road together once more this spring for a Boston to Berkeley II, this time notably bringing them to Nashville on May 6 for a stop at Municipal Auditorium, along with Scottish singer-songwriter Gerry Cinnamon.
Formed in 1996, Dropkick Murphys spent their early years as a fixture in the underground punk scene of Boston, leaning into their Celtic roots while embracing the street punk stylings that were running concurrently to pop punk and emo at the turn of the century. Thanks to hits like "Tessie," "The State of Massachusetts," and, of course, their most massive and recognizable tune, "I'm Shipping Up to Boston," the band became breakout stars in the '00s, wavering between the Warped Tour and punk world and more mainstream rock attention and tours. More recently, they've settled into consistent touring, often around St. Paddy's, and have made regular stops in Nashville over the years, always a rowdy good time and nostalgic throwback  to the '90s and '00s height of modern punk.
Though Rancid came together just a few years earlier, in 1991, their fame was more immediate, as they sprung from the ashes of ska punk pioneers Operation Ivy. Though fiercely independent and unrelentingly punk (with some ska vibes carried over, as well as an occasional  raw pop punk sensibility), the group found unlikely mainstream success for their 1995 third album, …And Out Come the Wolves, inarguably one of the best and most beloved punk records all time. Though their mainstream fame has ebbed and flowed with the punk scene as a whole (they long stayed apart of tours like Warped, and saw a resurgence of interest during the early to mid '00s punk boom), they've always been iconic in the punk world, and have continued to tour and record intermittently, with an tenth LP apparently on the way. Unlike the Murphys, however, Rancid's Nashville shows have been few and far between, with the last, as far as we can tell, all the way back in '08 at Rocketown, making their inclusion on the show especially exciting. And, finally, we're pleased to see that tickets, which are available here, are priced pretty punk friendly, starting at just above $20. Don't miss out!
More from Dropkick Murphys | Site | Facebook | Twitter | Instagram
More from Rancid | Site | Facebook | Twitter | Instagram

5/03 – Concord, NC @ Epicenter Festival
5/04 – Richmond, VA @ Virginia Credit Union LIVE!
5/05 – Atlanta, GA @ Coca-Cola Roxy
5/06 – Nashville, TN @ Municipal Auditorium
5/08 – Daytona Beach, FL @ Welcome To Rockville
5/10 – Houston, TX @ Revention Music Center
5/11 – Austin, TX @ The Lawn at the Long Center
5/12 – Corpus Christi, TX @ Concrete Street Amphitheater
5/13 – Dallas, TX @ The Bomb Factory
5/15 – Council Bluffs, IA @ Stir Concert Cove at Harrah's
5/16 – Sauget, IL @ Pop's
5/17 – Columbus, OH @ Sonic Temple Music Festival
5/18 – Grand Rapids, MI @ The DeltaPlex Arena
5/20 – New York, NY @ Pier 17
5/21 – Asbury Park, NJ @ Stone Pony
5/22 – Laval, QC @ Place Bell
5/23 – Uncasville, CT @ Mohegan Sun Casino
5/24 – Lewiston, NY @ Artpark