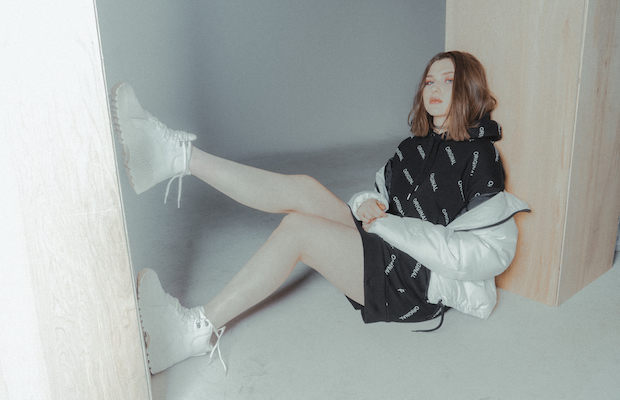 Anyone dialed into the local pop scene knows that Nashville is awash with exciting artists. And though, while it's true that most new local pop we come across is, at the very least, very good or even excellent, it's much more seldom that we encounter a young artist who is, without a doubt, so clearly poised to break out in a major way. Which is why we're so thrilled to discover GAYLE, a talented 15-year-old pop singer whose debut single (or at least, her debut under this moniker and musical aesthetic) "dumbass" arrived last week, and has been dominating our playlists (and impressively amassing buzz, swiftly clearing over 100,000 streams on Spotify) ever since.
It's already abundantly clear that GAYLE has the talent, the drive, and sound to become a major fixture in the Nashville pop scene and beyond, and, today, we're so excited to bring you an exclusive premiere of her debut music video for "dumbass"!
Hailing originally from the Dallas area, GAYLE feel in love with soul and r&b legends like Aretha Franklin and Nina Simone at an incredibly young age thanks to her mother, resolving to hone her voice and pursue a career in music which would manifest in songwriting sessions and performances, eventually leading the family to regularly venture to Nashville. By the time she was 12, and, remarkably, gigging more than many aspiring adult musicians, GAYLE managed to persuade her family to make the move to Music City full-time.
Plugging into the local songwriter scene, finding her tribe of likeminded performers, and, by happenstance, catching the attention of legendary pop songwriter and publisher Kara DioGuardi, who's since helped guide GAYLE's career and signed her to her own Arthouse Music Publishing, the past few years have seen the now-teen settle into a more decisively pop sound and aesthetic, and one that makes "dumbass" fit so seamlessly with the edgy, electro-infused earnestness currently pervading mainstream alternative pop.
"'dumbass,'" as we're told in a press release, "started with one line: 'Your fear of looking stupid is holding you back.'" And once that revelation became a mantra, GAYLE's writing sessions began to yield the vulnerability needed to craft the youthful yet stunningly self-aware single, for which the singer learned to "cut the crap, stop being scared, and be vulnerable." As she explains, "'dumbass' is about my coping mechanisms for my insecurities and how I'm self-aware of it, but trying to ignore it."
"GAYLE's 'dumbass' is an anthem for every person out there who struggles with allowing themselves to be exactly who they are," adds Kara DioGuardi, "The song will inspire you to let your inner dumbass roar because there's a freedom in not caring what people think. GAYLE's a 15 year old musical force to be reckoned with."
Just weeks after a teen made history at the Grammys, it should come as no surprise that with youth comes youthful perceptive and honesty, and though nothing about "dumbass" is childish (in fact, it's thematically incredibly mature for a singer who can't even legally drive yet), it certainly benefits from the throughly modern, internet-bred authentic aesthetic that members of Gen-Z can best capture, putting to song what many teens have managed to express through social media and other mediums of immediate, conversational engagement, stepping out of the need to convey a curated and contrived perfect self in favor of owning insecurity and vulnerability.
In her brand new video, directed by Jimmy Fisco and produced by Kristina Russo, the young artist manages to perfectly convey the song's thematic focus as well as its dreamy, etherial tone, awash with stylish and moody colors and soft focus, all so impossibly vibey and cool, while also almost entirely composed of shots of her singing while perfectly still, pressed against other people and objects. As GAYLE explains, "The music video is really a metaphor for me constantly leaning on something to feel less insecure." A perfect compliment to an already stellar track- you can watch GAYLE's official video for "dumbass" below!
We will, no doubt, be hearing much more from GAYLE soon, but, for now, you can also stream "dumbass" on all major platforms, and catch the singer in person this Monday, Feb. 10, at another free installment of BMI's 8 Off 8th series at Mercy Lounge (details here).