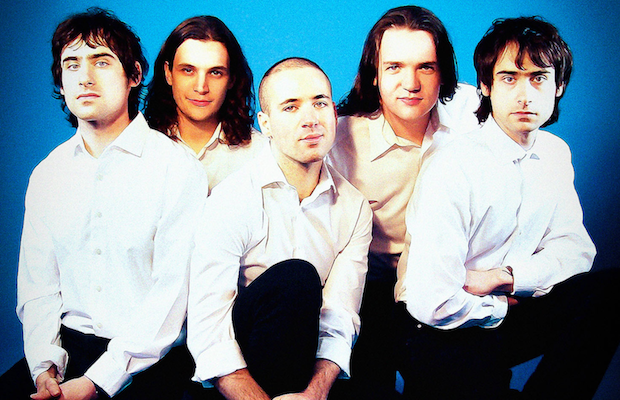 One of our favorite rising rock acts (and the headliners of, without a doubt, the craziest Acme show we ever hosted), Louisville's White Reaper are out in support of their awesome, anthemic, critically acclaimed new major label debut, You Deserve Love, on a run that'll bring them back to Nashville tonight, Dec. 19, once again at The Basement East! With support from buzzworthy Chicago indie rockers Dehd and fellow Louisville group on the rise Wombo, this is definitely one of the coolest shows you'll find to close out the year, especially for fans of huge, energetic, garage-primed punk! Tickets are still available right here while they last, and you can read on for more about the show!
WHITE REAPER
Still legends around these parts for their epic (and infamous) rooftop performance at our 2015 Acme Feed & Seed showcase, Louisville garage punks White Reaper broke out in a big way with their debut full-length, White Reaper Does It Again, that same year, and have been rising in presence at an astonishing trajectory ever since. With their fuzzy, energetic, genre-straddling sound, honed since first coming together in their teens, the band's earlier work teetered between garage punk rock bite and poppy indie rock swagger. After several years of increasing touring prominence, the band's 2017 sophomore effort, The World's Best American Band, saw them reach for bigger, bolder, more anthemic and arena-primed heights with a strong '80s influence, leading to even more mainstream attention, and ever-increasingly high billing at various major festivals like Bonnaroo, Forecastle, and Riot Fest. A sign that their ascent has far from slowed, the band nabbed a major label record deal with Elektra ahead of their most recent and third LP, this year's You Deserve Love, helmed by famed producer Jay Joyce, and even more beholden to poppy, hook-laden, dance-ready, and arena primed '80s rock, trickling down even to the group's branding aesthetic as of late. Though they've been no strangers to Nashville over the years, it's been about two years since their last local headliner, and The Basement East, where they've played once before is undoubtedly a perfect sized room to experience the group's road-worn, self-assured, ripping live show in person before they outgrow smaller clubs. If you haven't yet jumped on the bandwagon or you're due for another fix, this is going to be one of the winter's coolest shows.
DEHD
Love is everyday magic. That's the impression you get listening to Water, the new album by Chicago trio Dehd. Veterans of Chicago's increasingly fruitful DIY scene Jason Balla ( Ne-Hi and Earring) Emily Kempf (Vail and formerly with Lala Lala) and drummer Eric McGrady share a strange and inexplicable chemistry. Love rises up into the atmosphere like steam off a summer sidewalk and makes you wild. Love breaks your heart and you consider yourself lucky for it. Like water itself, it surrounds us, it supports us; it's what we're made of. It takes the shape of its container. The music is hazy and reverb-drenched, a scuzzy and hyped-up take on surf rock that could only come from the Third Coast.  It's all animated by the red-lining feel-good spirit of the Velvet Underground's Loaded and the breezy melodicism of C86-era indie rock, with a dash of the Cramps' spooky-hop bop courtesy of McGrady's locomotive drumming. It's a clear-eyed look at the wild nature of everyday life that's been spun up in sugary sweet melodies and scratched-crystal sounds. More than anything, it's the embodiment of Dehd's m.o. from the start: As Kempf puts it, "Work with what you have and make it magical."
WOMBO
Like White Reaper, relative newcomers Wombo hail from Louisville, formed just a couple years ago out of the ashes of another local project, Debauchees. Adopting an indie sound that incorporates elements of post-punk, psych, and avant-pop, the band made a strong showing with their debut EP, Staring at Trees, in 2017, and returned this fall with an even more honed and exciting new single, "Sad World," ahead of a highly anticipated followup, likely to arrive in 2020. Like White Reaper when they first landed on our radar, Wombo are cool young band with a ton of potential, and we wouldn't be surprised to see them follow a similar trajectory of fast-growing buzz and finding breakout success in no time. Be sure to arrive early to see what they're all about!
White Reaper, Dehd, and Wombo will perform tonight, Dec. 19 at The Basement East. The show is all ages, begins at 7:30 p.m. (doors at 7 p.m.), and tickets are available to purchase for $19.