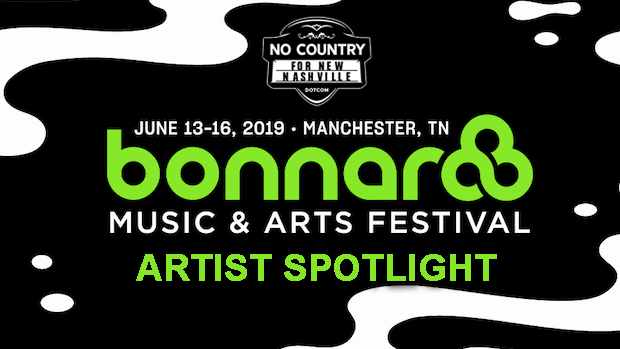 Bonnaroo Artist | Liily
Bonnaroo History | Newbie
Stage & Time | Saturday | Who Stage | 8:30-9:15pm
As we've been doing for the past several years now, we're making it our mission to help you get acquainted with many of our favorites acts from from Bonnaroo's impressive 2019 lineup. As we dig through the entire schedule, we'll highlight a spread of performers spanning across genres and stages (including the campground Plazas), big and small, new and old, to bring you some of the most interesting, lesser-known, or most highly-recommended among this year's crop of artists. Though we'll be jumping around, we're loosely working our way through by day, and we'll also be bringing you some special features and longer guides along the way, to help you plan your weekend before the fest. While these previews won't span every performer, and might omit some more obvious must-see acts, we hope they'll serve as a way to help you navigate Bonnaroo's gargantuan lineup, and to make the most of your busy weekend on the farm!
Grab your tickets right here if you haven't already, and keep reading to learn more in our Bonnaroo Artist Spotlight…
LEARN
As the streaming age has given way to accelerated career trajectories, it's become exceedingly common to see plenty of buzzworthy artists emerge to play Bonnaroo while still in their teens (some, like Billie Eilish or Khalid, have even leapfrogged to the fest's biggest stages before turning two decades old). However, in recent years, the vast majority of these artists have come from the worlds of pop, hip hop, or r&b, mirroring the seeming decline of youth interest in guitar-based rock and roll at the mainstream level (or, in the case of young bands like Greta Van Fleet, totally making a nostalgia grab and mostly appealing to the old heads). That's why it's so refreshing to see a teen band like LA's Liily, who, like fellow Angeleons Pinky Pinky, emerge with a sound that is thoroughly rock and roll, checking influences of decades past but still feeling firmly modern and of the moment, ranging in influence in everyone from Rage Against the Machine to Foals, culminating in a sort of poppy, energetic, hard hitting alt rock sound.
Formed just a few years ago deep in the San Fernando Valley, Liily cut their teeth playing DIY spaces, warehouses, and house parties, debuting with their buzzy first single, "Toro," only last year. Since then, the group, who notably have The Walkmen's Peter Matthew Bauer serving as their manager, built a swiftly growing, organic fanbase off of the strength of just a few singles, attracting hundreds of thousands of listeners and millions of streams, heralded for their youthful energy and eclectic sonic palette. The band's debut EP, I Can Fool Anybody in This Town (named for a Charles Bukowski quote), arrived only this March, but, already, they've made their debut at SXSW and Shaky Knees, and have been touring clubs around the country, pegged as one of the new big breakout rock groups to watch. The type of band who more regularly graced Bonnaroo's club stages just a few years ago, it's nice to see another young rising rock act, who feel genuinely sincere and fresh, on this year's Who Stage slate!
 LISTEN | "Sold"
 WATCH | "Toro" (Official Music Video)
CONNECT
More from Liily | Site | Facebook | Twitter | Instagram
More from Bonnaroo | Site | Facebook | Twitter | Instagram | Tickets