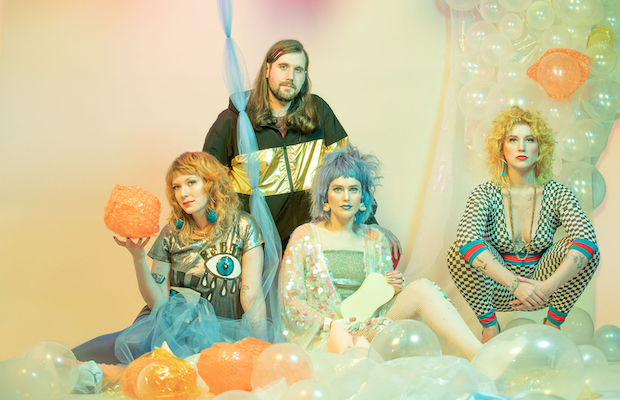 After meeting and quickly bonding over shared taste, art, and ideology in their teens and early twenties, the members of Seattle's Tacocat – now real life bffs – first formed the band over a decade ago. Originally a largely DIY endeavor, the group self-released a series of EPs, splits, and their debut full-length, Shame Spiral, before getting snagged up by Sub Pop imprint Hardly Art for 2012's Take Me to Your Dealer EP and subsequent sophomore effort, NVM. It was the latter that would help boost Tacocat's presence, fueling an international tour, finding critical acclaim, and putting them on our radar (we first caught the group live at The Stone Fox in 2014, and have been hooked ever since). Generally labeled feminist punk, Tacocat (three girls and a guy, or, as we call them, four humans) sing about queer issues, Seattle, pop culture, social injustice, worker empowerment, and, of course, feminism, all funneled through a comedic, lighthearted, and pop-driven approach that makes smart, important, and socially aware songs incredibly fun!
We last had the pleasure of catching the band not once, but twice back in 2016, at the time supporting their fantastic, X-Files referencing sophomore LP, Lost Time. Making their long overdue return to Music City tonight, May 23 at The High Watt, Tacocat return on the heels of brand new fourth full-length, This Mess Is a Place, released earlier this month through Sub Pop proper. The group's first album of the Trump era, it is, unsurprisingly, colored by the bleak current state of the world, navigating frustration and despair and questioning power structures, while still finding room for some of the band's quirkiness, defiance, and glimmers of optimism and lightheartedness to shine through. Just as fun live as they are in recording (or, as their music videos would suggest), Tacocat are a can't-miss act not just for the importance of their cultural ideology and how expertly they present it, but also because they're simply a great band.
Opening up the show is Richmond, VA based up and coming indie rocker Sammi Lanzetta, and the best part? It's totally FREE thanks to Seattle's Elysian Brewing, who are using the event to promote their Search Party festival in July. Entry is, of course, first-come, first-served and subject to capacity (and also 21+, as it's a beer-sponsored event), but we'd recommend getting there early anyway, so you can enter for a chance to win an all-expenses paid trip to Seattle for Search Party!
Tacocat and Sammi Lanzetta will perform tonight, May 23 at The High Watt. The show is 21+, begins at 8 p.m. (doors at 6 p.m.), and admission is FREE!