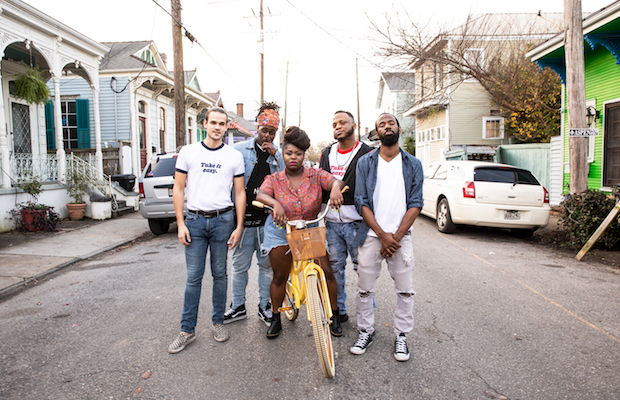 Though they've been around for almost a decade, the past couple of years have been particularly transformative for New Orleans genre-bending funk, soul, r&b, hip hop, and jazz rooted outfit Tank and the Bangas. If one instance could be highlighted in particular on their organic rise, it would be winning NPR's competitive Tiny Desk Concert Contest in 2017, the aftermath of which has seen the band hop on even more big-name festivals bills and even nab a major label record deal, ahead of their forthcoming, highly-anticipated sophomore full-length, Green Balloon. They'll return  to Nashville April 20, for their largest Music City headliner to date, at Cannery Ballroom with fellow New Orleans natives Maggie Koerner and DJ RQ Away! It's guaranteed to be one electrifying, soulful, and incredibly fun night, and you can still get tickets right here. Or, if you'd rather take your chances, we're also giving away a pair of tickets to one lucky fan! Read on for more about the show, and enter for a chance to win below.
TANK AND THE BANGAS
Springing out of the musical hotbed that is New Orleans, eclectic outfit Tank and the Bangas formally came together in 2011, but frontwoman Tarriona "Tank" Ball was already an accomplished performer long before, having cut her teeth as an award winning spoken word and slam poet. Ball switched gears to music, another lifelong passion, and the group's early lineup cemented around open mic performances, where some future members were in attendance and soon became part of versatile, talented lineup of backing players, which now includes Norman Spence II (bass), Merell Burkett (keyboards), Joshua Johnson (drums) and Albert Allenback (alto saxophone, flute). Their first independent LP, Thinktank, arrived in 2013, and early live appearances and festival stops (notably at their hometown New Orleans Jazz Fest near the start of their career) garnered widespread acclaim, celebrated for their their exuberant live energy, magnetic performing style, and genre-bending sound, rooted in New Orleans jazz traditions, but fused with r&b, soul, hip hop, rock, spoken word poetry, and more. By 2017, the band were already organically growing in buzz, but winning NPR's Tiny Desk Concert Contest, hand-selected from over 6,000 entries, really brought Tank and the Bangas a whole new level of attention, setting them on a trajectory of bigger shows, constant touring, a major label record deal, and co-signs from countless big-name artists. The group's highly-anticipated sophomore album, Green Balloon, will finally arrive May 3 through Verve Forecast, and with the whirlwind of experience and honing of their style and sound in the six years since their debut, we have no doubt it'll be above and beyond the strongest, best distillation of what makes the band so unique and special yet. Don't miss them in action!
MAGGIE KOERNER
Also hailing from New Orleans (though born and raised in Shreveport), soulful pop vocalist Maggie Koerner is another formidable, genre-bending, distinctly New Orleans must-know artist. Around the time she released her debut full-length, Neutral Ground, in 2013, Koerner became the touring vocalist for legendary New Orleans jam and jazz-funk outfit Galactic, and, shortly after her tenure, released her most recent, 2016 EP Dig Down Deep, helmed by acclaimed producer Fink. Having shared the stage with the likes of Widespread Panic, Gov't Mule, and Charles Bradley and with notable appearances at big fests like New Orleans Jazz Fest and Austin City Limits under her belt, Maggie is already a seasoned and polished live performer, and a perfect sonic compliment to Tank and the Bangas.
DJ RQ AWAY
Also from and deeply steeped in the musical heritage of New Orleans, DJ RQ Away is a perfect choice to get things started, with his DJing and production style shaped not only by the typical house, dance, electronic, and hip hop music you'd expect, but also jazz, soul, r&b, funk, disco, and more. An accomplished event producer and staple of the New Orleans scene, RQ has opened for the likes of Ludacris, Moses Sumney, Kelis, and more, and his presence on this tour is particularly inspired, sure to prep you for a night of eclectic, soulful, and electrifying tunes.
_
ENTER TO WIN TICKETS
Enter to win tickets by filling out the form below. Must be 18+ to attend. If you experience any trouble with the contest widget, or have any questions, feel free to email us at [email protected].
Winner will be announced Thursday, April 18 at 5 p.m. CDT, and will receive one pair of tickets. Good luck!
[contesthopper contest="96196″]
_
Tank and the Bangas, Maggie Koerner, and DJ RQ Away will perform Saturday, April 20 at Cannery Ballroom. The show is 18+, begins at 8 p.m. (doors at 7 p.m.), and tickets are available to purchase for $25-28.