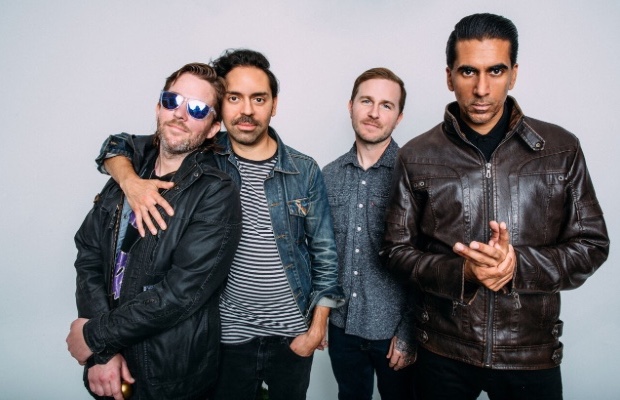 Pioneers of emo's third wave, which took hold of underground music and began to edge into the mainstream in the late '90s and early '00s, New Jersey's Saves the Day had already changed the scene irreparably by the time frontman Chris Conely was barely out of high school. Mind you, this was still a time when the "e" word was being thrown around without irony (though not all emo bands chose to classify themselves as such), and long before it entered the pop culture lexicon as a term to describe the makeup-glad, faux-goth Hot Topic youth of the early to mid '00s. Though Blink-182 often gets the lion's share of the credit (and, to be sure, they earned their massive success), Saves the Day arguably had more specific influence on the pop punk/emo convergence at the turn of the century, and shaped what would become the dominant subculture rock movement of the mid 2000's.
They've never stopped, and, in fact, have released some downright impressive records since the early breakout success of classics Through Being Cool and Stay What You Are, including their first album in five years, and ninth overall, 9, last month, an epic and inspired new LP which "tells the story of the band from the perspective of founder Chris Conley and does it in a way that's as exhaustive as it is poetic… [chronicling] the epic story of a group of kids from New Jersey who realized their dream and became international sensations," and "on a more existential level, it shows how Conley 'woke up' and became aware of his own consciousness through his relationship with music and the unbelievable adventures it inspired since he formed the act in 1997."
Though their real-world popularity never grew to match their reputation or influence (and certainly never ballooned to the crossover success of peers Blink-182 and Jimmy Eat World, two acts which further diverged from emo's roots), Saves the Day have, over the past several years, emerged as perhaps the single-most apt band to bridge the gap of old and new, keeping the flame of the early scene alive while fitting in perfectly with younger bands who've come along to put their own spin on the sound (which converged earlier this decade with a boom in interest often dubbed the "emo revival"). Tonight, Nov. 18, Saves the Day celebrate their latest with a show at Mercy Lounge, their first Nashville outing in five years (aside from a stop at Grimey's last month), along with Kevin Devine and An Horse. It's one of our most-anticipated shows of the rest of the year, and tickets are still available here!
With a straightforward musicality, drawing from the emo, indie, and pop punk movements of the '90s, and an earnest, gut-wrenching penchant for relatable, emotional songwriting, if you're a late 20-something or 30-something, there's a good chance Saves the Day played a huge role in your musical development. Like The Get Up Kids, another act of the same era, Saves the Day have fallen into a place where all too often they're relegated to nostalgia, for people who "grew out of the scene." And sure, nostalgia is a reason to stay connected to them, but to only allow Saves the Day to fill that musical function, if they're a band that ever meant a great deal to you, is to do them a disservice (if you're a new fan, by all means, grasp onto whatever you need for a launching point). There's a reason emo pops up every few years in a major way; it's an honest, reactionary, relatable contrast to mainstream music culture, whenever said mainstream music balloons to a place of even more disconnect, overindulgence, and artificiality than normal (as it has over the past couple of years, parallel to the decline of mainstream rock and roll).
If Saves the Day are a band you still love, and you've loved all along, then I'm sure I'm preaching to the choir, but if they're "that band you loved in high school," just try to remember why it was that you loved them so much in the first place. You might have grown, and that initial point of connection might not be as emotionally resonant, but the sentiment and its function certainly should be. And with 9, an ambitious and sprawling and conceptual retrospective of the band itself, Conley not only takes us on the two-decade long journey of the group's existence, but reminds of each moment and celebration and hurdle along the way that makes the band so real, raw, and relatable. It's the perfect album for checking in with or getting back into the group; an awesome jumping off point for newcomers, and a joyous celebration for longtime fans. We're always thrilled to see Saves the Day Back on the road, but this album, produced, mixed, and engineered by the band's own Arun Bali (notably, a Nashville resident), is an extra special reason to be excited for Saves the Day in 2018!
No stranger to Nashville, eclectic singer, songwriter, goddamn bandleader, Bad Books member, Brand New affiliate, Brooklynite, and all around stand up guy Kevin Devine has long been a site favorite, and with his nearly nonstop tour schedule, we're fortunate to have a chance to see him with one project or another most every year. If you're a Saves the Day fan, you're surely familiar with his work, and if you're a Kevin fan, you're bound to love Saves the Day. It's been two years since his ninth album, Instigator, which he reimagined acoustic last year, but with his vast discography and earnest, indie sound, which has helped Devine find crossover appeal, he's still an exciting addition to the lineup. With years of touring under his belt, his live show blends his warm sense of humor, personal songwriting, and polished showmanship for an unrivaled musical experience you don't want to miss.
And Sweetening the deal, Australian indie/shoegaze duo An Horse are set to open, back from a five-year hiatus with an inspired new single, "Get Out Somehow," their first taste of new tunes since 2011's phenomenal sophomore full-length Walls. After first rising to prominence at the turn of the decade, the band toured with everyone from Tegan and Sara to Death Cab for Cutie to Cage the Elephant, scoring countless festival and television appearances, and a wide range of critical acclaim. They've been out of the scene long enough to have lost a little name recognition, but we're thrilled to see the band back in action, and they're an incredibly compelling reason to show up early!
Saves the Day, Kevin Devine, and An Horse will perform tonight, Nov. 18 at Mercy Lounge. The show is 18+, begins at 7:30 p.m. (doors at 6:30 p.m.), and tickets are available to purchase for $25.
More from Saves the Day | Site | Facebook | Twitter | Instagram