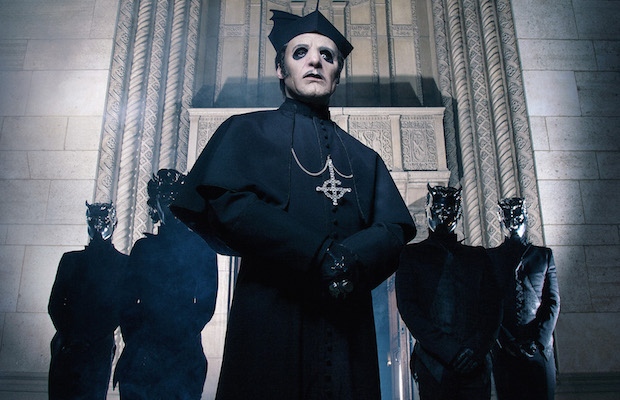 Formed in 2008 in the southern Swedish town of Linköping, Ghost are one of many dark, conceptual, and immensely talented bands to emerge from the flourishing Scandinavian metal scene. Influenced by classic acts like Black Sabbath and Judas Priest, the band have adopted a doom metal sound with hints of death metal, progressive, and psychedelic rock, enhanced by their Satanic-for-show stage persona, which, until some recent legal drama revealed the name of frontman Tobias Forge, involved closely guarding their real identities (the members are still only known as the anti-Pope-like Cardinal Copia and five "nameless ghouls," and they've altered their personas slightly with each LP), so much so that Dave Grohl was once able to sit in for a show on drums completely undetected. Controversial for their thematic and lyrical focus (notoriously, they couldn't find a chorus in Nashville to sing their Satanic lyrics, and were forced to seek out talent in LA), it should be noted that the band's schtick is more of a distilled essence of metal imagery employed for shock and performance art, moreso than a sincere social agenda.
After debuting strong with 2010's Opus Eponymous, the group quickly found an audience in Europe, soon bowing stateside with festival appearances and acclaim from within the metal community. Their sophomore LP, Infestissumam, debuted at #1 in Sweden, and earned the group a Swedish Grammis award, boosting their global presence. With 2015's Meliora, Ghost managed to certifiably break through in the U.S., earning a Grammy and landing in the Billboard top 10, setting them on a trajectory which has made them an unlikely modern success story and metal's next it-band. With their latest effort, Prequelle, the group continue to ride their newfound wave of attention and further explore their conceptual persona, returning to Nashville as dark, weird, and exciting as they've ever been.
After appearing last year at Bridgestone in support of Iron Maiden, and headlining Marathon Music Works the year before, Ghost return to Nashville tonight, May 23 for their largest Music City headliner to date, this time to play TPAC's Andrew Jackson Hall. While a bit of an oddball and oddly formal space at first glance, given Ghost's theatrical nature and intricate live style, pairing them with a space that often caters to plays and performance art actually makes a lot of sense. Only a handful of tickets remain as of writing, and we'd suggest grabbing yours here while they last!
Ghost will perform tonight, May 23 at TPAC's Andrew Jackson Hall. The show is all ages, begins at 8 p.m., and tickets are available to purchase for $43.