The National
w/ Big Thief
Ascend Amphitheater; Nashville, TN
May 3, 2018
Review by Philip Obenschain (@pobenschain). Photos by Nolan Knight.
As the cool spring heat and clear skies gave way to an idyllic evening for outdoor music, we arrived at Ascend Amphitheater for, while not the very first event of their season, our first show of the year, to catch famed indie rockers The National return for the first time since 2013, in support of their gorgeous and devastating 2017 effort Sleep Well Beast. With support from Big Thief, one of our absolute favorite new acts, the performance packed all of the melancholy and substance and nuance we've come to expected from the Brooklyn band, and as we prep for a busy few months of shows, it felt like an impossibly high note not only to kick off the year at Ascend, but also the spring and summer concert season as a whole. Read on for our review of The National's latest stop in Music City, and check out a full spread of photos below!
I've been a fan of The National since first happening upon them at a live 24-hour MTV taping of Human Giant, which I happened to attend in New York 11 years ago. Mere days before the release of their breakthrough fourth effort, Boxer, the band blew my young, post-punk loving self away with renditions of "Mistaken for Strangers" and "Fake Empire," which remain two of my favorite songs to this day. More than a decade than three more incredible albums since, and they've not only stayed the moody, deep, and engaging indie outfit I fell in love with, but also managed the all-too-rare feat of finding universal critical acclaim for each and every record, continuing to grow more popular as their career inches towards two decades.
Despite how much I love the band, though, I've only seen them a handful of times over the years, and often in festival settings, so Ascend, the surprisingly intimate amphitheater that it is, felt like an especially exciting place to revisit the band. Big Thief, too, who I first saw last summer amidst their jaw-dropping flurry of a critical ascent, are a group whose albums I absolutely obsess over and connect with on a deep level, and seeing them added as openers only cemented my anticipation for this show.
Big Thief. Photo by Nolan Knight.
With two albums in just as many years, last year's Capacity, especially, attracting endless praise, Big Thief have quickly established themselves as a formidable new talent. Front person Adrianne Lenker particularly feels like the type of profound, transcendent musical figure that only appears a handful of times per generation, and whether with Big Thief or future endeavors, I have no doubt she'll be responsible for some of the most incredible music I'll ever hear for years to come. Walking the line between folk and indie rock, Lenker and co. seem always to be more focused on the music than any frills of presentation, allowing, over a brisk seven song set, a mix of songs from both records as well as a few new tunes, to do all of the heavy lifting, pausing only a couple of times to offer a sincere and subdued thank you.
Lenker's ability to tell a story and convey emotion, whether emphatic, lovely, or devastating, is rivaled only by her passionate and technical guitar work, which often saw her fall to the ground to provide layered and prolonged musical interludes. Across favorites like "Real Love," "Shark Smile," and "Masterpiece," the band played a gorgeous, awe-inspiring, and emotional set that, while clearly not familiar to everyone, seemed to effectively win over fans of a band who's time between records has spanned longer than Big Thief's entire existence. While I still prefer them, at least at this stage, up close in a tiny room, Big Thief were stunning in front of a large crowd as well, and left me longing for the dozens of future shows I'll inevitably get to attend.
The National. Photo by Nolan Knight.
As a massive LED screen flickered on and the intricate array of instruments were unveiled, my excitement for The National hit a fever pitch. Though they're a band I don't listen to or think about every day, when I put on any of their albums, they immediately serve as a portal to the time and headspace I was in the first time I listened, and continue to find rotation and renewed relevance in my life as I age with them. As the start of the gorup's set approached, time passed with some excellently curated house music, the screen switched to display "Please Stand By" in huge letters, as the full house crowd began to settle in, buzzing with anticipation. Soon, the screen switched to black and white live video feed, honing in on the band as they emerged from backstage and took their spots to perform.
Sleep Well Beast opening track "Nobody Else Will Be There" served also as the opener for the show, a perfect choice as its atmospheric, gloomy slow build is a well-suited primer to ease into the band's somber and engaging presence. In fact, Sleep Well Beast supplied the bulk of the set- which, for many bands 20 years and seven albums in could be a drag, but for a band who continue to achieve artistic greatness at this stage of their career, it was a wonderful chance to see some stellar material live for the first time.
Awash with fog, lights, and a dynamic screen, The National's production felt like a necessary juxtaposition to much of their slow-burn, layered catalogue,tastefully employed, and evolving to suit the mood of any particular track. Something of an unlikely front person, I love how comfortable Matt Berninger seems nowadays as a performer, delivering his personal, confessional, and poetic lyrics with the earned swagger of a cool, smart, aging Brooklyn hipster (the same goes for the band as well- and I mean that in the most complimentary way possible; they seem like the kind of musicians who knew about the bands, and art, and topics, I envied and longed to be more like in my teens).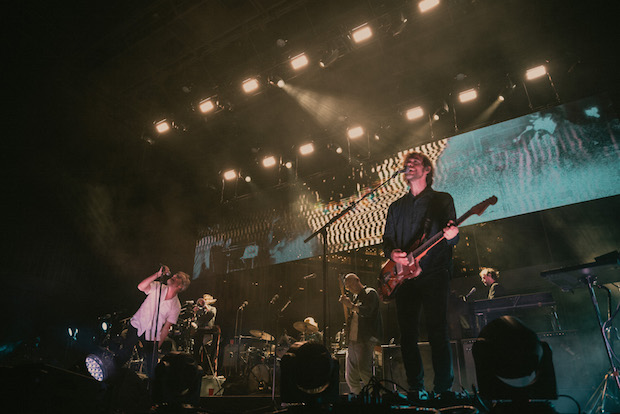 The National. Photo by Nolan Knight.
The performance seemed designed to pick up energy as it went along, flexing the band's more energetic tendencies by "Don't Swallow the Cap" and "Squalor Victoria," before really earning a huge response for 2010 favorite "Bloodbuzz Ohio." While the bulk of the show drew from the group's more recent material (it took until the encore to reach back as far as Alligator), an unreleased song, "Sometimes I Don't Think," and a new song, "Light Years" (which served to kick off a generous four song encore) brought some surprise to the performance, and honestly, for as much as I've worn out Boxer, High Violet, Trouble Will Find Me, and Sleep Well Beast, hearing so many songs that mean so much to me couldn't have been a more ideal set.
Towing the line between post punk and indie, The National don't really blaze trails with their style, but still manage to possess an intangible and unique quality, the cross-seciton of their interesting and dense use of sonic palettes and Berninger's abstract and personal lyrical prowess and comforting, baritone delivery. Songs like "Pink Rabbits," "Day I Die," and, of course "Fake Empire," reminded me yet again how incredible this band is, and though they show no signs of slowing down any time soon, how profound and lasting their musical legacy will be. With the best show I've ever seen them play, The National set the bar high not only for shows this summer, but all year.
–
Setlist
Nobody Else Will Be There
The System Only Dreams in Total Darkness
Walk It Back
Guilty Party
Don't Swallow the Cap
Squalor Victoria
Bloodbuzz Ohio
Born to Beg
I Need My Girl
This Is the Last Time
Empire Line
Day I Die
Carin at the Liquor Store
Sometimes I Don't Think
Slow Show
Pink Rabbits
Graceless
Fake Empire
Light Years
Mr. November
Terrible Love
Vanderlyle Crybaby Geeks (Acoustic)
–