Courtney Barnett + Kurt Vile
w/ Jen Cloher
The Ryman Auditorium; Nashville, TN
Nov. 9, 2017
Review by Matt Hall. Photos by Mary-Beth Blankenship.
The idea of Kurt Vile and Courtney Barnett teaming up for a collaborative album came as a bit of a surprise at first, but it didn't take too much thought to realize that the two are perfectly paired to pull off such a feat.  Their recently released record Lotta Sea Lice hasn't garnered the critical acclaim of their solo albums, but it's a fantastic record that really grows on the listener with repeat listens, and it, maybe more importantly, provides an awesome vehicle for the two talented artists to tour together.  We caught their recent show at The Ryman Auditorium on Nov. 9 for the Nashville stop on that tour, along with opener Jen Cloher, and it lived up to everything that you would imagine.
You can head below to read our full review of the event, and check out some photos from our uber talented photographer Mary-Beth Blankenship.
As I walked up to the Mother Church, there was a noticeably different vibe from my last trip to the iconic venue, but then again it is hard to follow up Bon Iver on Halloween night.  The gathering crowd wasn't in the same holiday spirit, and were more appropriately costumed for a warmish November evening.  That doesn't mean the spirit wasn't still there, but it was just more subdued, and left me pondering if they, like me, were curious what we were in store for.
The evening started off with Aussie songwriter Jen Cloher, the wife of Courtney Barnett, who is an established songwriter in Australia.  She stood solitary on the stage with only a pair of guitars, surrounded by the equipment of the upcoming headliners.  Jen, who reportedly has been a major influence on Barnett's career, shared stories that almost seemed to flip the script for her role as the elder rocker.  She told the crowd about how she was lonely sitting at home, while her younger lover was touring the world after the undeniable success of her first two records, and how her latest, self-titled record is essentially a collection of songs about missing her partner.  Cloher shares Courtney's deadpan humor when telling these stories though, so it seems fitting that these two are together, and it's also easy to see how they both call each other influences.  Cloher's songs may lack some of the cachet that Barnett has drummed up over the past few years, but there is a similar storytelling style that purveys both artists catalogue and live performance.  It's not likely that you are going to see Cloher again at The Ryman, but if you have the chance to catch her at a smaller venue, her live show is definitely worth your attention.

Courtney Barnett. Photo by Mary-Beth Blankenship.
After wandering the venue and refilling my beer during the set break, I settled back in to see what this collaborative concert would hold in store.  While the new record was surely the focus of the tour, the two only had one record together, and, given the success of the solo endeavors, it would be a let down to the crowd if they didn't tackle some of their individual hits.  Apparently I wasn't the only one wondering what the show would hold, as I heard nearby fans in the crowd discussing the same thing.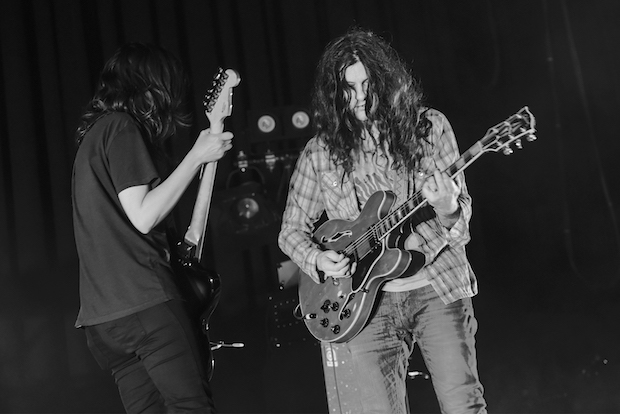 Kurt Vile & Courtney Barnett. Photo by Mary-Beth Blankenship.
The first six songs of the show were, almost in order of track listing, the first six songs on Lotta Sea Lice, and it gave a good taste of what the album is all about.  Those that haven't spent a ton of time with Lotta Sea Lice, it's a bit of a transition from the garage-ish, but precisely executed solo records of each of them, and as this show progressed I felt like I started to understand the genesis for the collaboration.  It's seems like it is more of a fun jam session that evolved, rather than an overly thought out and highly produced project, and the show really highlighted their playful interaction, that honestly works better in the live setting, particularly with their stellar backing band featuring members of Warpaint and The Violators.  One of the real highlights to kick off the night included Kurt handling vocal duties, as he does on Lotta Sea Lice, for Courtney's song "Outta The Woodwork," which originally appeared on Sea Of Split Peas.

Kurt Vile. Photo by Mary-Beth Blankenship.
There was some buzz in the crowd by the time Vile and Barnett finished the first half hour of the show, as you could tell that many in attendance wanted to hear some of their solo hits, and here is where the night got really interesting.  As they performed Vile's "On Tour" and "Life Like This" and Courtney's "Depreston" and "Dead Fox," it was awesome to see how they had worked one another into the songs.  Vile's guitar work took Courtney's songs in a new direction, not in that it changed the song, but it provided far more sonic depth.  For Kurt's songs, trading vocals with Barnett almost gave a new voice to his songs by giving them a male-female perspective.   To state that the two artists are peas in a pod was becoming very clear, and it really resonated when the two would riff on long guitar solos, both heads down, with similar hair cuts and dress, making me think that if they came out like that without speaking, it could be hard to distinguish one from another.  They wrapped the set with their cover of Belly's "Untogether," which book ended the set, just as it does as the last track on Lotta Sea Lice.

Courtney Barnett and Kurt Vile. Photo by Mary-Beth Blankenship.
When the two returned for the encore (sans band), they performed a fitting tribute to the venue, by pulling off a kickass cover of Gillian Welch's "Elvis Presley Blues."  That chill bump inducing moment could have been enough to send everyone home happy, but the band returned for performances of Barnett's "Avant Gardener" and Vile's "Pretty Pimpin" to the delight of the now roaring crowd.  It was an incredible night for fans of either artist, and hopefully acted as a platform to cross market to the others fans.  As a big fan of both already, it really gave me a new appreciation of Lotta Sea Lice, which was probably their subtle mission the whole time.
–
Setlist:
Over Everything
Let It Go
Fear Is Like A Forest (Jen Cloher cover)
Continental Breakfast
Out Of The Woodwork (Courtney Barnett song)
On Script
On Tour (Kurt Vile song)
Depreston (Courtney Barnett song)
Life Like This (Kurt Vile song)
Blue Cheese
Dead Fox (Courtney Barnett song)
Untogether (Belly cover)
Elvis Presley Blues (Gillian Welch cover)
Pretty Pimpin' (Kurt Vile song)
Avant Gardener (Courtney Barnett song)
—