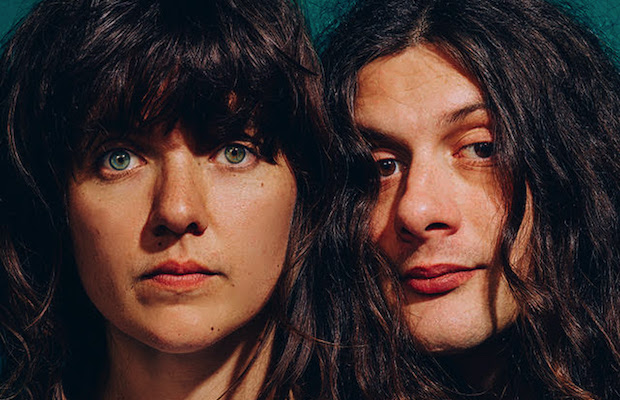 One of the most-anticipated collaborations of the fall has to be the totally surprising, but perfectly suited, record from beloved indie rock songwriters Courtney Barnett and Kurt Vile.  They just released Lotta Sea Lice to significant critical acclaim, and the pair are on the road celebrating with a star-studded touring band featuring members of Sleater-Kinney, Warpaint, and more.  They'll be stopping by The Ryman Auditorium on Nov. 9 with Aussie songwriter Jen Cloher.  Tickets are still available here, but we're giving one lucky fan the chance to win a pair of tickets on us as well!  Head below to find out more about the show, and enter to win.
COURTNEY BARNETT + KURT VILE
Beloved Melbourne based songwriter Courtney Barnett first caught the attention of the entire blogosphere with her standout double EP, A Sea Of Split Peas, in 2013 (though fellow Aussies may have gotten the jump on the rest of us with her debut, I've Got A Friend Called Emily Farris), and then really blasted off with her debut full length, Sometimes I Sit And Think, Sometimes I Just Sit.  Well known for her quirky, witty, stream-of-conscious lyrics and deadpan singing style, it's a perfect fit that she would ultimately team up with like-minded songwriting weirdo Kurt Vile.
As it turns out Vile and Barnett have been massive fans of each other's music before they even became fast friends.  As most followers of No Country know, Vile began his career as the lead guitarist for The War On Drugs for their 2008 debut studio album Wagonwheel Blues, before he broke out on his solo career with his own debut, Constant Hitmaker, that same year.  He followed that up with three criminally underrated LPs before finally amassing a ton of mainstream success with the release of Wakin On A Pretty Daze in 2013, and then found his music on every radio station in America with his latest solo record, b'lieve I'm goin down… in 2015.
Vile and Barnett teamed up to work on Lotta Sea Lice during breaks in touring over the past few years, and the songwriting result is a lot of what you would expect.  An organic, witty melding of two brilliant songwriters at the top of their game.  Of course, it didn't hurt that they roped in Mick Harvey (Nick Cave And The Bad Seeds), Mick Turner and Jim White (Dirty Three), and Stella Mozgawa (Warpaint) to help flesh out the record.  Equally exciting, they're currently touring with their live band, The Sea Lice, featuring Mozgawa, Janet Weiss (Sleater-Kinney, Wild Flag), Rob Laasko (The Violators), and Katie Harkin (Harkin, Sky Larkin).
JEN CLOHER
The family affair feel of this intimate show kicks off with opener Jen Cloher, who has been a significant influence in the creation of the above discussed collaboration.  Cloher and Barnett (who are now married) have spent the past six years writing together, playing in each other's bands, and running a record label together in Melbourne.  So, it is no surprise that you'll hear a ton of inspiration shared between these women that spend so much creative time together.  Cloher has a notably more punk tinge to her approach, as you can hear in her self-titled release this past August, and in the single "Forgot Myself" below.

_
ENTER TO WIN TICKETS
Enter to win tickets by filling out the form below. If you experience any trouble with the contest widget, or have any questions, feel free to email us at [email protected].
Winner will be announced Tuesday, Nov. 7 at 12 p.m. CDT and will receive one pair of tickets. Good luck!
[contesthopper contest="89733″]
_
Courtney Barnett, Kurt Vile, and Jen Cloher will perform Thursday, Nov. 9 at the Ryman Auditorium. The show is all ages, begins at 7:30 p.m. (doors at 6:30 p.m.), and tickets are available to purchase for $36.