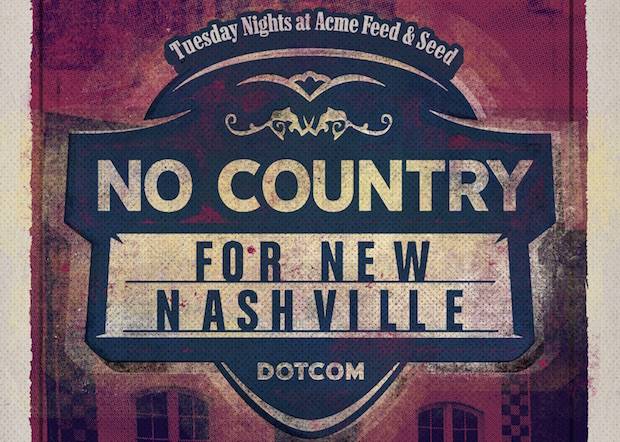 Our long-running showcase series at Acme Feed & Seed is still going strong into the fall, and our next show will be held back in the familiar confines of the Acme's first floor (before taking it back to the rooftop later this month). We're bringing you our three band format once again, so get ready to be wowed by three hours worth of free live music! Our next, packed out gig will take place Tuesday, Oct. 10 and the bill will feature indie alt rocker Bondurant, Americana pop rock performer James Hatem, and soulful singer-songwriter Katie Hargrove. Things kick off at 7 p.m., so don't be late, and read on after the break for a full preview.
BONDURANT
A self-taught musician, Rob Bondurant, or just Bondurant for short, was born a performer. He gained some local notoriety in his native San Diego, gigging as part of the large open mic scene there, entertaining locals and tourists alike. After a while, he began to develop a following is Southern California, and was able to use his live performances as his primary source of income. He took his talents to Music City, where he recorded his latest effort, Hurricane, at the world famous Blackbird Studio. Proving he can write for a full band as well as a solo artists, Bondurant is poised to break out of the sometimes all encompassing singer-songwriter shell, and show everyone he is as ready as any to rock out with a full arrangement. A genre breaker to the max, he touches on elements of indie rock, blues, folk, soul, and Americana, depending on how the mood strikes him. With the rare ability to crystallize his observations on life into pointed lyrics, Bondurant  is more than worthy to headline our latest installment. Be there when he shows us all what he's all about live, and in person.
JAMES HATEM
Originally hailing from New Jersey, James Hatem came to Nashville in pursuit of his musical endeavors, and was immediately struck by the supportive and creative community thriving in our fair city. We were so impressed with his last performance at Acme, we had to ask him back! We've also learned that final tracking of new EP is nearly finished, however, he is still relatively green in terms of currently released recorded material. Hatem's three available singles, "Satellites and Stars," "The Middle," and "Summer Air," caught Music City's attention, and left everyone wanting more, and we assure you he's killer live, but you don't have to take our word for it. With a stellar backing band, and breadth of influences ranging from John Mayer to Ed Sheeran and Zac Brown Band, James is ready to show everyone, once gain, that he's a primetime player. So make sure you get to Acme on time, to support another fresh face in our ever growing local scene, and get in on the ground floor with a possibly big time band in the making.
KATIE HARGROVE
Born and raised just down the way from Nashville, in Knoxville, TN, Katie Hargrove got her start in music very early, when she began performing at the age of ten. She was classically trained and competed nationally in piano, but discovered the guitar in her formative teens, finding inspiration from a wide breadth of influences including Carole King, Jimi Hendrix, Johnny Cash, Dixie Chicks, and even Tupac. Continuing to refine her craft, she was lucky enough to work with multi-Grammy award winning producer Glenn Barratt (Elton John, Diana Ross, Shirley Caesar), and has given us her self-titled debut EP that deserves your listening attention. While you're at it, be sure to get to Acme on time to catch her live, and enjoy a rising star now, before you have to pay admission.
Bondurant, James Hatem, and Katie Hargrove will perform Tuesday, Oct. 10 at Acme Feed & Seed. The show is 21+, begins at 7 p.m., and, per usual, it's totally FREE!