Them Vibes, James Hatem, Jared Hard
Acme Feed & Seed; Nashville, TN
August 8, 2017

Review by Jacob Ryan (@GonzoWithGusto).
Our long-running, free, bi-monthly Acme Feed & Seed showcase series was running at full speed recently, when we welcomed rowdy rockers Them Vibes in the headlining spot, with help from Americana flavored guitarist James Hatem and his band, and, returning for a second Acme and No Country outing, singer-songwriter  Jared Hard. Read on for a full recap of all the action, and enjoy a few candid shots.
Running a little behind because of the always unpredictable, construction congested Nashville traffic, I made it to my familiar spot at the far bar, and ordered a beer as Jared Hard started his second or third song. It was more of his splendid every man singer-songwriter fair, which I remembered from the last time he played Acme with our showcase. Hard sung with conviction and a sense of scale much larger than just the one man on stage. Despite a sizable and noise dinner crowd, he managed to command most's attention, and take us on a nice little musical journey, that any fan of home spun folk would be proud of.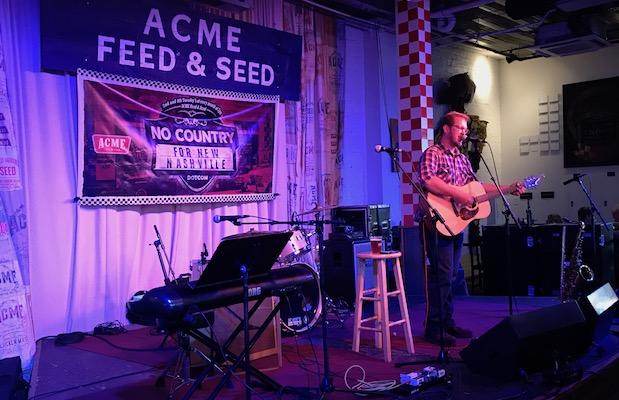 Jared Hard
Next up was was guitarist/singer James Hatem, and his stellar backing band. James has a Springsteen meets Tom Petty hanging out at Dave Mathews' house vibe to his always upbeat and powerfully driven music. Singing with clarity and just enough rock bravado, he's no slouch on guitar either, shredding a quick lick when necessary. However, for me anyway, the sax player stole the show, blasting out his parts with fluidity and ease seldom experienced live. Later, only topping himself, he pulled out a flute during an especially tasty jam. Taken as a whole, the entire collective are just plain kickass rock music, which doesn't really need to be over-analyzed or placed into some sub-genre; rather, just enjoyed, especially in person. I am really looking forward to catching them again, and I think they could hold it down as headliners for future shows.

James Hatem

With the uncanny ability to instantly kick things up another twelve notches as soon as they step onto the stage, Them Vibes are a honky tonk tinged, rock and roll rollercoaster everyone should buy a ticket to ride. Frontman Larry "Brother Love" Florman is a force of nature, slapping out the beat on various hand percussion instruments for almost every song, while producing a pitch perfect howling vocal, reminiscent of in-his-prime Rod Stewart. Lead guitarist and co-founder Alex Haddad has just as much swag, sharing the songwriting and vocal responsibilities with Brother Love. Together, with the help of their band, they have created one of the best local Americana/southern rock groups we've ever hosted at Acme.

Them Vibes

Keeping the packed crowd of mostly diehard Them Vibes fans hyped in-between songs, Brother Love won over all the uninitiated in the crowd with ease as well. The two guys I'd met at the bar chatting in-between sets were blown away. They'd planned on leaving after the second band, but I encouraged them to stay for the main event, and boy, were they glad they did! I've had the pleasure of seeing Them Vibes several times before, but they get better every time, and it's obvious why they generate buzz everywhere they go. If you're not hip to them, get on it ASAP, and stay tuned to No Country for more info on our next Acme showcase!