Roanoke, Runner of the Woods, Jared Hard
Acme Feed & Seed; Nashville, TN
December 6, 2016
Review by Jacob Ryan (@GonzoWithGusto). Photos by Jake Giles Netter.
Our long-running, free, bi-monthly Acme Feed & Seed showcase series closed out on a strong note in 2016, albeit on a singer-songwriter lean. For our installment on Dec. 6, we were pleased to welcome full band backed Americana duo Roanoke, an intimate, acoustic, solo performance from Runner of the Woods, and uplifting singer/picker Jared Hard. Read on for a full recap, and check out some great shots from contributing photographer Jake Giles Netter.

Just as eager as anyone to call 2016 a wrap, I walked to Acme also looking forward to our final showcase of the season. It was a contemplative walk, as I looked back on another year of amazing, almost always non-country tunes on Broadway: The Heart of Honky Tonk. What started as just an idea two years ago, has blossomed into a bi-monthly event I can't wait to attend. Getting introduced to new local and touring acts is just the icing on the cake.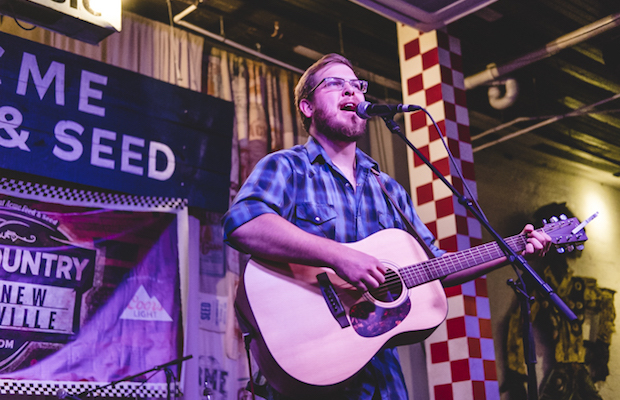 Jared Hard. Photo by Jake Giles Netter.
Our first performer of the night was straight shooter Jared Hard. On an evening when songwriting would take center stage, his style is to the point and easy to digest. With a little John Prine sing-songy swagger, Mr. Hard showed us all that he, and specifically his songs, are ready for the major leagues. He sang a great drinkin' song, which featured the wonderfully catchy hook "you heard it here, my favorite beer is whiskey," which seemed to get everyone in the dinner crowd into the spirit sipping, well, spirit. A troubadour all the way, he also sang songs about what life is like when you're on the road, playing music away from he people you love, and there is an honest, uplifting quality to his music that is simply infectious. Please do yourself a favor and get hip to another local player's catalog sooner than later.

Runner of the Woods (solo). Photo by Jake Giles Netter.
Next up was  a musician that's no stranger to No Country coverage. We've been into Runner of the Woods for a while now, so, keeping with our singer-songwriter inspired night, when Nick Beaudoing (the primary creative force behind the band) volunteered to do a solo acoustic set, we jumped at the opportunity. Early on in his time block he played a wonderful number about northern lakes and Canadian women, dubbed "Easy On Me," that immediately drew me in. His limited banter in-between songs was also a welcome exchange, that kept the singer songwriter vibe going. On the title track from his latest release, "Thirsty Valley," Nick tells the tale of a man who just wants to sit and drink, he's done moving around and carrying on. I think most males can relate. He also has a very nature-centric approach to his song writing, dropping in lines like "blue heron on a cypress limb," often to dramatic effect. He paints pictures very well with words, and is more of a trail hiking troubadour than you're typical highway rambler.

Roanoke. Photo by Jake Giles Netter.
Finishing up the evening of amazing music was roadtrip tunes ready Roanoke. Led by the powerful singing duo of Joey Beesley (guitar, vocals) and Taylor Dupuis (vocals, tambourine, guitar), the band blends wonderful vocal harmonies akin to gospel, with standard Americana arrangements, and some bluegrass mixed in for good measure. The end result is an amazing new local collective that needs to be getting heavy plays from everyone immediately. Think a lighter version of Civil Wars, mixed with a more  diverse sounding version of The Head and the Heart, and you're starting to get a feel. We like them so much, we even helped them launch their debut self-titled LP. Stand out fiddle and mandolin pepper all their original work, live and on the record. On the first song of the night, the drummer even broke out some kickass harp. Later, they took things to the next level with their inspired Fleetwood Mack cover of "The Chain," and even got the now shaking and grooving crowd into some participation. Much too soon their set was over, and so was our 2016 concert season in partnership with Acme Feed & Seed. Never fear! We'll back next year, brigning you all the amazing music we can squeeze in twice a month. While you're here, don't forget to check out the spread from contributing photographer Jake Giles Netter, and we look forward to seeing you all next year!