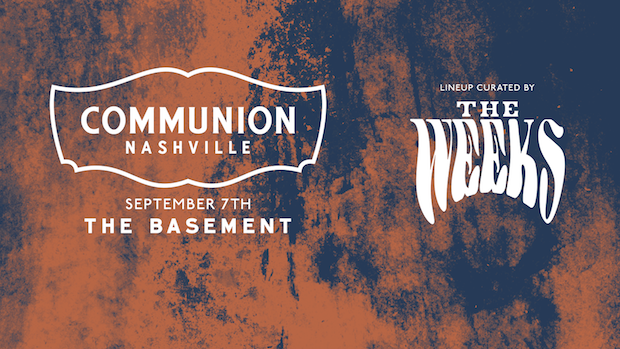 We've had an eye on the beloved Communion series in Nashville for a number of years now.  Started in London in 2006 by members of Bears Den and Mumford and Sons, Communion began as a respectful, creative, and collaborative music showcase to spotlight up and coming artists in an often difficult and competitive environment.  That event has since morphed into an international community with fingers delving into concert promotion, a record label, and publishing, but they remain true to their roots by hosting regular events in a number of cities around the world.
Communion Nashville is mixing up the format a bit this fall in with lineups curated by established artists, and they kick off this experiment  tonight, Sept. 7 with a hand-picked lineup by Nashville rockers The Weeks at The Basement.  The bands include fuzzed out indie rockers Dan Luke & The Raid, who are gearing up for a big fall with the upcoming release of their debut EP and a tour supporting The Weeks in the works.  Retro psych outfit The Medium just dropped a new album of demos and miscellaneous recordings, titled It's Lit, today (steam it on Spotify here), and will be using tonight's show as a release show to showcase the new tunes.  Junior Astronomers are no strangers to the Nashville scene, who have been showcasing their guitar driven indie rock to Music City for a few years now, and are longtime friends of  The Weeks. They dropped an impressive new LP, Body Language, earlier this summer, and it is chock full of high energy, nostalgia inducing, riff packed tracks that are worth consideration for best local album of the year.  Rising pop-tinged alt rocker Maddie Medley is set to kick off the event.
You can head below to sample music from each of the acts, and head here to get your $8 advance tickets ($10 at the door).  It's worth the effort to get there on time too, as The Weeks, though not slated to perform, are emceeing the event, and will be spinning records between sets to keep you in the spirit.
The Weeks curate Communion Nashville featuring Dan Luke And The Raid, The Medium, Junior Astronomers, and Maddie Medley will perform tonight, Sept. 7, at The Basement. The show is 21+, begins at 9:30 p.m. (doors at 9 p.m.), and tickets are available to purchase for $8-10.





_