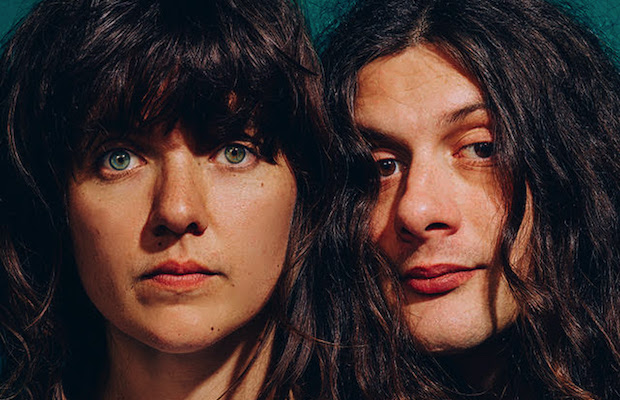 Two of the indie rock world's most beloved rising songwriters, Courtney Barnett and Kurt Vile, have teamed up to write a collaborative album, which will be jointly released later this year by Matador Records, Marathon Artists, and Milk! Records.  Equally exciting, the all-star backing band for the record, nomed The Sea Lice, features Janet Weiss (Sleater-Kinney, Wild Flag), Stella Mozgawa (Warpaint), Rob Laasko (The Violators, The Swirlies), and Katie Harkin (Harkin, Sky Larkin, Sleater-Kinney's touring band).  This all-star lineup is set to present the new album, along with tracks from their respective catalogues, at The Ryman Auditorium on Nov. 9 with support from Australian songwriter Jen Cloher, and tickets are available here.
Music has yet to be released from the upcoming album, but Vile describes it as, "a cookin' band and an intercontinental country duo for the ages-minus the country."  Barnett described the formation of the collaboration, which occurred through 8 studio days over 15 months as tour schedules permitted, with the following. "In 2014 I scored a support slot opening for Kurt at the Abbotsford Convent [outside Melbourne]. We met briefly after the show but I was a bit nervous and didn't wanna bother him, just grateful for the gig. Years later we started bumping into each other on the festival circuit all around the wide world and we became friends. He hit me up when he was coming to Melbourne next and said he thought we could work together."  Vile continues, "It started out as, maybe we'll do a split 7″ together but then I figured let's make it a 12″ so it doesn't get lost in the world, shoot for 5 songs. It wasn't until I had another KV tour booked for the following summer in Oz that we thought we should record as much as we can, just see what happens, no major goal to make it a full length, but it came together that way 'cause the vibe was so strong with everyone."
Tickets for The Ryman are available for $36, and one dollar from every ticket on the tour will go to support the ACLU and their work defending and protecting individual rights and liberties.  We'll bring you new music from this project as it is released, but you can check out the adorable tour poster and full tour schedule after the jump.
More from Courtney Barnett | Site | Facebook | Twitter | Spotify
More from Kurt Vile & The Violators | Site | Facebook | Twitter | Spotify
10.11.17 – House of Blues – San Diego, CA
10.14.17 – The Cathedral Sanctuary at Immanuel Presbyterian Church – Los Angeles, CA
10.15.17 – Orpheum Theatre – Los Angeles, CA
10.18.17 – Fox Theatre – Oakland, CA
10.20.17 – Arlene Schnitzer Concert Hall – Portland, OR
10.21.17 – Moore Theatre – Seattle, WA
10.22.17 – The Showbox – Seattle, WA
10.25.17 – Palace Theatre – St. Paul, MN
10.26.17 – Rockefeller Chapel – Chicago, IL
10.27.17 – Thalia Hall – Chicago, IL
10.28.17 – Empty Bottle – Chicago, IL
10.30.17 – Royal Oak Music Theatre – Royal Oak, MI
10.31.17 – Massey Hall – Toronto, ON
11.1.17 – Beacon Theatre – New York, NY
11.3.17 – Tower Theatre – Upper Darby, PA
11.4.17 – Orpheum Theatre – Boston, MA
11.9.17 – Ryman Auditorium – Nashville, TN
11.10.17 – McFarlin Memorial Auditorium – Dallas, TX
11.11.17 – ACL Live at the Moody Theater – Austin, TX