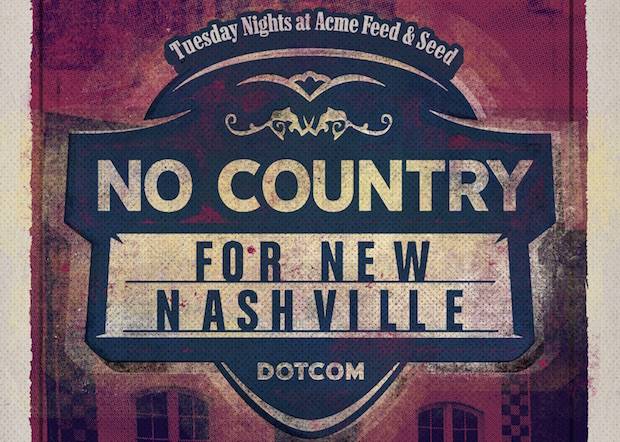 Summer is just around the corner for the 2017 season of our long-running showcase series at Acme Feed & Seed, settling into a new format that includes rotating DJ sets ahead of our usually two-band bills. Our next gig will take place Tuesday, May 23, and it will feature blues rock piano man Chip Greene and reggae soul outfit The Freecoasters, plus a DJ set when things kick off at 7 p.m. Read on for a full preview, and we hope to see you at the show!
CHIP GREENE
Whipping up his very own version of everyman rock, with help from his fleet fingers, local Chip Greene is posed to show Music City he's as good as they come. We were so impressed with what he recently sent us, we asked him to play our showcase, and recently helped him debut his latest single, "River Song." The track is one of many tasty numbers from Greene's upcoming new record, In My Town, which will arrive this summer. An obvious comparison to Bruce Springsteen can be made, but Chip also has some toned down U2 edge to him, and elements of Coldplay in his songwriting. Singing emotionally candid lyrics, in his smokey blues toned voice, Greene has natural flair for music that can't be taught. Creating a nice niche career for himself, he's managed to contribute music to MTV, Sprite, and Eddie Bauer projects in addition to many others. He's also had his work spun on SiriusXM, as well as performed at SXSW, and at various clubs all over the country. Maybe the coolest thing of all? Chip's a volunteer piano teacher for children at Nashville's W.O. Smith Community Music School. With a voice and a heart of gold, what's not to love? See why we're so high on him for yourself, and don't pay a cover doing it.
THE FREECOASTERS
Hailing from Fort Myers, FL, southern-soul infused reggae rockers The Freecoasters have created a fresh and original sound you should probably get hip to immediately if you haven't already. The five member collective are friends with blog favorites Roots of a Rebellion, and, similar to ROAR, they are always spreading the message of peace, love and unity wherever they go. They also specialize in infectious, danceable music that calls to mind a jammier version of The Beatles or The Temptations, while also having a little Amy Winehouse or Sharon Jones and the Dap Kings mixed in for good measure. Performing songs from their impressive 2016 release, Show Up, the band are looking forward to bringing some ire vibes to the good people of Acme. Be there on time to enjoy the most free tunes as possible.
Chip Greene and The Freecoasters will perform Tuesday, May 23 at Acme Feed & Seed. The show is 21+, begins at 7 p.m., and, per usual, it's totally FREE!