Dinosaur Jr.
w/ Easy Action
Cannery Ballroom; Nashville, TN
March 23, 2017
Review by Philip Obenschain (@pobenschain). Photos by Ryan Hillier.
Out in support of their eleventh album, last year's Give a Glimpse of What Yer Night, seminal Massachusetts alt rock act Dinosaur Jr. recently returned to Nashville for the first time in nearly five years, to headline the Cannery Ballroom with John Brannon fronted group Easy Action. While, unfortunately, we didn't make it in time for the opener (a bummer, as we're huge fans of all of Brannon's projects), we couldn't pass up a shot to see Dino Jr.'s return, and, once again, one of the loudest, most criminally-underrated bands in rock delivered another career-spanning, no-bs performance that left us elated. Read on for our full thoughts on the show, and check out a few photos below!
The last time Dinosaur Jr played Nashville was the fall of 2012, just a few months after I moved here. Definitely one of the first shows I ever saw at Mercy Lounge, I still remember it being one of the loudest concerts I'd ever attended, and probably my first time seeing a show in town with Dino Jr's specific type of crowd. It was my initial time catching the legendary group who, I believe, I learned about as a young, obsessive, posthumous Nirvana fan; at the time, they were largely inactive, and seemed like a band (alongside the then defunct Pixies) I'd probably never witness in person. After finally getting my chance, I was thrilled to find that not only were they as fantastic as I'd hoped, but also that I had caught them in something of a career upswing, and that creative renaissance has continued from then, their 25th anniversary (at least since the "Jr" suffix and debut under that moniker), to now, their 30th. Loud, inspired, and important as ever, I couldn't be more excited that five years (and, for me, many hundreds of local shows) later, I was just as moved by Dinosaur Jr.'s Nashville return.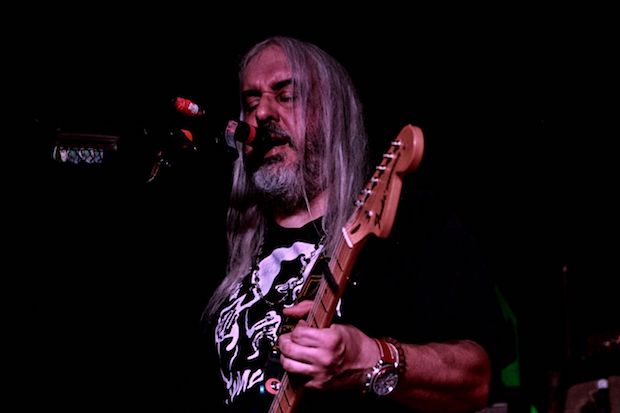 Dinosaur Jr. Photo by Ryan Hillier.
Situated in Cannery Ballroom, the larger, downstairs sister space to where I watched the band five years earlier (they sold out both, by the way), I was nervous about seeing Dinosaur Jr. in the bigger, boomier room, but felt reassured almost immediately when I discovered that their loud, riff-driven, alt rock cut through fine and clear. Something of a pseudo-30th anniversary run (technically they formed in '84 as "Dinosaur," but added the suffix and released their breakthrough album, You're Living All Over Me, in '87), I was curious to see if the set would be even more of a career retrospective than their outing we covered last summer at Wrecking Ball. While it was certainly longer and even more comprehensive, the band only squeezed in one or two songs from the bulk of their discography, save for recent release Give a Glimpse of What Yer Not, from which they played a generous helping (normally that would be a gripe for legacy band, but their new stuff kicks, and legacy band Dino Jr. are not).
Perhaps the group's most recognizable member, guitarist J Mascis, played with his typical subdued cool, shredding solo effortlessly and commenting near incoherently in his monotone gruff in between songs. As someone who never got as heavy into their '90s stuff, it always throws me how much of it makes the cut, but it was, after all, the band's most commercially viable period, and memorable tunes like "Feel the Pain" still get a huge crowd response. Speaking of the crowd, it was so refreshing to look around and see people who didn't appear to be trying too hard to look cool, and I don't mean that as a dig to the Dino fans (who represented a wide age range), but rather to the see and be seen crop of Nashvillians I all too frequently encounter at shows for artists with any sort of perceived cache. The old stuff, a couple cuts from 1985's Dinosaur even, elicited an enthusiastic nostalgia, but the roughly 1/3 of the set made up of new songs ripped too, even if I would have traded a few to hear literally anything from You're Living All Over Me. In front of their signature wall of amps, the band, rounded out by bassist and co-frontman Lou Barlow and drummer Murph, still seemed just as inspired by tunes from every stage of their career (including the ones the rhythm section weren't originally apart of), and their low-key demeanor and inherent cool felt juxtaposed with their loud, bombastic rock.
Dinosaur Jr. Photo by Ryan Hillier.
A generous and career-spanning show, the Cannery performance wasn't a far-shot from my recent Wrecking Ball experience, but getting to watch with a room packed full of other fans made it feel even more special. After a home-stretch that included typical late-show cuts "Start Choppin," "Freak Scene," and "Gargoyle," the band came back to grace us with two covers that felt random, but also kind of explain Dino Jr. in a nutshell- The Cure's "Just Like Heaven" and The Stooges' "TV Eye." Every Dinosaur Jr. show feels a little surreal to me still, despite being more than a decade into their reunion at this point, and if they keep delivering performances this special every time, I hope I'm still watching them play in another 30 years.
_
Setlist
Thumb
Goin Down
Lost All Day
I Told Everyone
Love Is…
The Wagon
Watch the Corners
Tiny
Feel the Pain
Knocked Around
Mountain Man
Start Choppin
I Walk for Miles
Freak Scene
Gargoyle
Just Like Heaven [The Cure cover]
TV Eye [The Stooges cover]
_