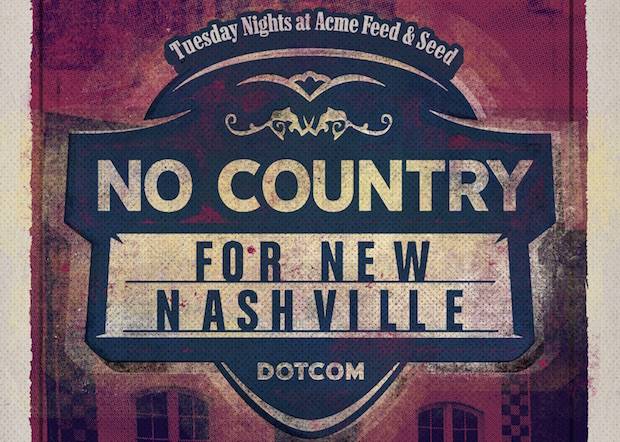 We are powering into Spring with the 2017 season of our long-running showcase series at Acme Feed & Seed, settling into a new format that includes rotating DJ sets ahead of largely two-band bills going forward. Our next show will take place Tuesday, March 28, and it will feature indie rocker Charlie Abbott in the headlining spot, along with reggae rocker Mike Ferrera, plus DJ Preston holding down the booth when things kick off at 7 p.m. Read on for a full preview, and we hope to see you at the show.
CHARLIE ABBOTT
East Nashville resident rocker Charlie Abbott is no stranger to No Country coverage. He also spent the majority of last twelve months on the road, touring with local rock outfit Oliver John-Rodgers (aka OJR), supporting the likes of Grace Potter, but you also may have seen him with other kick ass local bands like The Cunning and Bad Cop as well. Right now it's more about his solo career, as Charlie is preparing to release his second offering of the year, a self-released five track EP entitled Technicolor Dream. The new record is more of his infectious brand of shimmering indie rock, channeled through a garage rock lens. His well received 2015  EP, Watch Me Explode, which got some play on local radio and saw it's title track get tapped in an episode of Shameless, was followed up with a more stripped down folk inspired Invisible Map Beach Parade early last year. His latest effort was recorded in only a day and half, during intense marathon sessions, and is further proof Abbott is one of the hardest working musicians in Music City. Hoping to build on his steadily rising momentum, Abbott is poised to kick things into high gear this spring. Be there in person when he unveils his new material for everyone to enjoy at Acme, and help get the word out about yet another local talent.
MIKE FERRERA
A reggae rocker who is at home doing solo acoustic sets or jamming out with a big band, horns and all, Mike Ferrera's performance is one we've had the pleasure of hosting at Acme before. Originally referred from our pals in the Tennessee Reggae movement Floralorix, Ferrera's wonderful voice, and effortless style caught our attention immediately, and we so captivated by his performance, we invited him back! We're also looking forward to hearing some new music from his recently released EP, See You Smile. So be there in person, when he brings the irie vibes and the reggae rhythms back to Acme. Best part of all is you can help support two great local performers without paying a dime for cover. Don't miss it!
Charlie Abbott and Mike Ferrera will perform Tuesday, March 14 at Acme Feed & Seed with curated tunes from DJ Preston to start. The show is 21+, begins at 7 p.m., and, per usual, it's totally FREE!