Brother Man, Niles Rooker Trio, Mike Ferrera
Acme Feed & Seed; Nashville, TN
Septemper 27, 2016

Review by Jacob Ryan (@GonzoWithGusto). Photos by Nolan Knight.
Our long-running, free, bi-monthly Acme Feed & Seed showcase series is still going strong, and the last installment on September 27 had a distinct blues  lean. We were pleased to welcome acoustic reggae rocker  Mike Ferrera to start, plus alt blues rock performers Niles Rooker Trio, and nitty gritty tw0-man blues band Brother Man headlining. Read on for a full recap, and check out some great shots from contributing photographer Nolan Knight.
There was just a hint of fall in the air, after a weekend that saw heat in the mid 90s, and I for one welcomed the cooler temperatures. Football season is already going strong; it should feel like it outside in my opinion. After parking in my top-secret, last minute, emergency alleyway spot, I sped walked down 1st to make it to Acme on time for the night's first performer.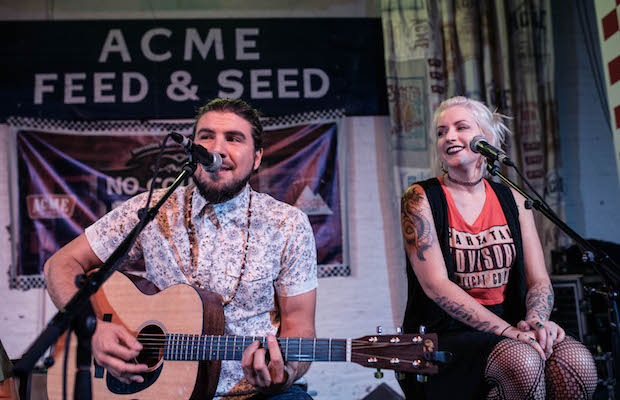 Mike Ferrera. Photo by Nolan Knight.
Recommended by our friends in Floralorix, a cornerstone band in the Tennessee Reggae movement (read this post), Mike Ferrera's chilled out, mostly acoustic set was the perfect way to get the dinner crowd warmed up at Acme. Accompanied by only one electric guitar, a djembe, and back-up vocalist, Mike Ferrera picked his acoustic to perfection and sang his up beat, reggae inspired songs. His music reminds me of a less sappy, slightly rasta version of Jack Johnson, especially the track a few songs into the set entitled "Pass the Lighter" dedicated to marijuana. Later we found out the percussionist on djembe was actually the drummer from local indie rock outfit The Burps. It's always cool to see Music City musicians cross pollinating, especially into various different genres. Another memorable number was a love song entitled "See You Smile," and an inspired Bob Marley cover, "Wanting In Vain," which had nearly everyone singing along. We highly recommend you check him out for yourself, and we are look forward to keeping an eye on Mr. Ferrera to see what's next.

Niles Rooker Trio. Photo by Nolan Knight.

Next up were a power trio of local rockers with Belmont roots whose high energy show blends alt rock and '50s and '60s inspired blues rock 'n' roll. Niles Rooker Trio have been playing all over town for a few years now, but this was the first time I'd ever personally seen them perform, and I was very impressed from the jump. The song "Think Through It" grabbed me form the first chord, and the large crowd of NRT fans singing and gyrating to the beat only helped set the mood. It was quite obvious that these guys bring a crowd, and based on how hard they rock, it's easy to understand why. They mention that their bassist was a new addition to the collective, but it seemed liked they'd been playing together for years, especially on the jam infused track "Sand Storm," which felt like perfect  improvisation at times. They closed out with another rocker, "Oh My God," and by the time it wrapped up, they had a few new converts forming a line at the modest merch display, eager to buy the band's wares.

Brother Man. Photo by Nolan Knight.

Closing out the increasingly more raucous evening of rock music were Brother Man, a local band who I've been jamming non-stop ever since I wrote the preview for this show a few weeks ago. They remind me of all the things I loved about The Black Keys when I first heard them ten plus years ago; filthy dirty, twelve bar blues rock 'n' roll, presented in a two-man, minimalist arrangement. One thing that is never minimalist with Brother Man is their frenetic pace, enthusiasm, and genuine love of their craft. Bounding around stage like a man possessed, singer/guitarist Christopher Winfree was dripping with sweat by song two, and his thick, blond hair, which was slicked back to start, was all aflutter. His bellowing vocal over gritty guitar and Dalton Smith's non-stop smash-you-in-the-face drumming might have been too much for some of the tamer audience members, but the people who stayed for the entire set, myself included, were loving ever second. Everything they played from their kickass EP, A(Live) and Not So Well, hit perfect for me, and their version of Al Green's "So In Love With You," played more like a new interpretation, instead of just a cover, because Winfree opted to sing in his range, and not go falsetto, reaching for nearly impossible to hit high notes sung by the Reverend Green. Nice touch indeed. By the end, I'd have to say they've officially cracked the top five of my favorite local bands, and I CANNOT WAIT to see them again. Do yourself a favor and give all three acts a shot next chance you get, and while you're here check out a great photo spread from contributing photographer Nolan Knight.