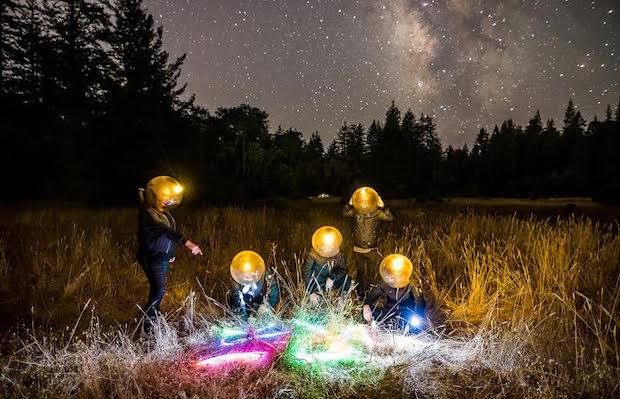 This show has had our blood pumping since we announced it over the summer, and now we're giving you the chance to get excited as well, with an opportunity to win a pair of tickets! After the jump, enter for your chance to catch extended sets from outer space electronic jammers STS9 in the flesh at War Memorial Auditorium on Nov. 3. If you're a big fan already, and don't want to risk missing out, tickets are currently available right here, and based on a their last stop WMA, this one should pack out pretty quickly. Read on for more information on one of the more interesting acts to get lumped into the jam band scene, and we hope to catch you at the show.
STS9
Sound Tribe Sector 9, or more commonly just STS9 for short, often get categorized as a electronic leaning jam band by the uninitiated. However, their fans, who have often rejected this label, beg to differ. Through the band's extensive use of electronic sounds, synth, and even sampling, plus traditional instruments like guitar and drums, a completely new instrumental sound has manifested, incorporating elements of funk, jazz, hip hop, and psychedelia. This creates vastly different performances, compared to say more stereotypical jam band acts like Panic or Phish, with a rhythm-based approach and more expansive sound. With one of the best light shows going today, the visuals are often synched to the sounds as well, creating a visual/oratory immersive experience rivaled by none. Since their start in the late '90s, formed in Georgia though now partially based in California, STS9 have released more than a dozen albums, including this year's The Universe Inside, their first in six years, as well as made countless festival appearances (including five stops at Bonnaroo), and worked with Conscious Alliance to set up food banks at most of their shows for hungry families in need. Also known for a powerful stage presence, affinity for unorthodox sounds, and general attitude of playing footloose and fancy free, STS9 have amassed a large and loyal fan base that rivals most any other modern jam band. Last time they played War Memorial Auditorium, it was one of the greatest laser light shows we have ever seen, so there's little doubt we'll be getting any less this go 'round. Grab tickets, and make sure you're there to bear witness.
ENTER TO WIN TICKETS
Enter to win tickets by filling out the form below. After you have entered, there will be the option to share this contest via social media. For each person that you refer to the contest, you will receive an additional entry. If you experience any trouble with the contest widget, or have any questions, feel free to email us at [email protected].
Winner will be announced Tuesday, Nov. 1 at 12 p.m. CDT and will receive one pair of tickets. Good luck!
[contesthopper contest="80560″]
_
STS9 will perform Thursday, Nov. 3 at War Memorial Auditorium. The show is all ages, begins at 9 p.m. (doors at 8 p.m.), and tickets are available for $32.50.