MOTE, Birds in the Airport, Ashley Leone, Swimming with Bears
Acme Feed & Seed; Nashville, TN
July 26, 2016

Words by Jacob Ryan (@GonzoWithGusto). Photos by Nolan Knight.
Our long-running, free Acme Feed & Seed showcase series has switched format for 2016, running monthly/bi-monthly now, but that doesn't mean that the showcase is ever lacking in awesome local, and sometimes national, talent. For the July 26 installment, we decided to beef up our bill, adding a fourth band to our usual rotation of three. We were pleased to welcome genre benders MOTE, orchestral popsters Birds in the Airport, neo-soul singer Ashley Leone, and Austin, TX based indie rockers Swimming with Bears. Read on for a full recap, and check out some great shots from contributing photographer Nolan Knight.

Swimming with Bears. Photo by Nolan Knight.
With the dog days of summer fully upon us, and in the hottest year on record (stupid science!), my t-shirt was saturated before I'd made it half way to Acme. Maybe I'm just a cheap ass, but even in the sweltering heat, I will find the time to procure free parking.
The crowd was thick when I arrived, and Swimming with Bears were already blasting through their powerful set. The very first thing that struck me was frontman/bassist Joe Perry's crystal clear vocals and very high energy stage presence. The band is new wave indie rock through and through, with soulful lyrical delivery, and a heavier edge than say someone like Local Natives, rather think Bombay Bicycle Club with Adam Levine singing. After their inspired set, that seemed to turn on many in the probably country expecting tourist dinner crowd, I chatted with a rep from their camp. Based on their talent level and energy, I was surprised they had only released an EP thus far. Turns out they have plenty of finished songs for an upcoming album. They're just testing the waters for now, and, based on their performance, it won't take them long to find a good deal.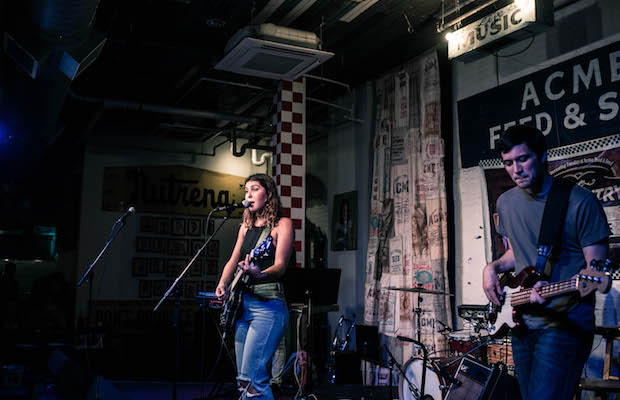 Ashley Leone. Photo by Nolan Knight.

Keeping it rolling, since we had an extra band on the bill, Ashley Leone wasted little getting her band in position, and finishing their sound check. All business, but wearing a cheeky smile the whole time, she said hello to the crowd, and got right to it. Her beautifully smoky voice was dripping with soul, and spread over R&B arrangements, it was a nice contrast to the previous act. My favorite No Country Presents events are the ones with multiple music genres represented. As if on cue, she brought out a guest rapper (Nate Jordan) during a song to perform his verse on "Coming Back", and later she was spitting out a few bars of Blackstreet's "No Diggity" herself. She also performed "Sugar In My Coffee", another kickass song from her new EP Sugarcoated, which we helped her premiere. All-in-all she was stupendous, and we look forward to a bright future in Music City for the Philly transplant.

Birds in the Airport. Photo by Nolan Knight.

Next up was one of the most eclectic performances I've ever seen in two years of our Acme showcase. Birds in the Airport is the brainchild of multi-instrumentalist/composer Tom Breyfogle, who wrote most of the band's songs and arrangements with his free time, while touring with other acts. Part Postal Service, part string quartet, Breyfogle and his Birds brought something truly unique to the Acme stage. As if to announce this, the string section of his band performed the "Imperial March" from Star Wars to intro the first song. Tom had a dry monologue between tracks that made those of us in the crowd with a sarcastic sense of humor laugh. Using deadpan delivery to introduce songs about warm and fuzzy things, like the Apocalypse (see the song "Under the Mushroom Cloud"), is funny to me, even if some of the crowd didn't seem to get it. One thing everyone agreed on was how talented all the musicians on stage were, with the serene string music, meeting ambient backing tracks, indie rock singing, and LCD Soundsystem inspired standing percussion.

MOTE. Photo by Nolan Knight.

Closing out the heady bill was local collective MOTE, bringing to the stage elements of jazz, funk, and rock. Frontman, and filthy bass player, Joe Schneider has a presence behind the mic that can't be taught. He led his band perfectly, playing free and loose but under control. They plowed through their familiar catalog, including songs from the 2015 release Thrive, plus a very tasty track we helped premiere a video for, "Into the Sun." Also worth mentioning was their bad ass cover of The Doors "5 to 1", featuring a truly Morrison-esque howl from Joe. After getting me all hot and bothered, it was time for them to call it a night, and with that, our massive four band bill was "finito." While you're here, enjoy some amazing shots from contributing photographer Nolan Knight, and stay tuned to No Country for details on our next Acme showcase!