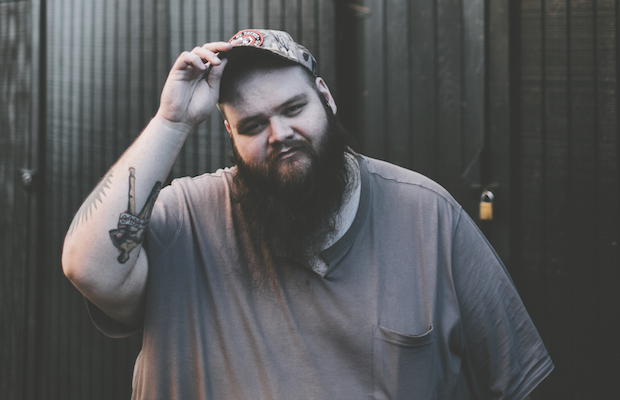 Singer-songwriter John Moreland is known for his intimate and inspiring live shows. Now, the Oklahoma-based talent is gearing up for a show at The Basement East on July 29. His third solo album, High on Tulsa Heat, helped Moreland break out as one of the most talked-about acoustic storytellers of 2015. If you missed his stunning set during last year's AmericanaFest, you won't want to miss this set with rising songwriter Christian Lee Hutson.  Tickets are still available right here, but we're also giving away a pair of tickets to one lucky fan! Read on for more about the show, and enter for your chance to win.
JOHN MORELAND
It's been a long road to success for John Moreland. Born in Texas but based in Oklahoma, the 31-year-old has only recently found a national following after years of music-making. After playing in a variety of punk bands during his youth, Moreland began channeling longtime heroes Steve Earle, Guy Clark and Townes Van Zandt with his songwriting. He released two solo albums (2011's Earthbound Blues and 2013's In The Throes) before he teamed up with Thirty Tigers for High on Tulsa Heat. Moreland self-produced the album, which he recorded over a few days at his parents' home in Bixby, Okla. It was a record that came during the peak of "alt-country" popularity, thanks in part to artists like Sturgill Simpson and Jason Isbell, and the stripped-down and intimate quality of each track lets Moreland's gritty vocals shine through. Few artists can hush an entire room with just a guitar and a song, but he manages to do it regularly. See him during his stop at the Basement East and get ready to be amazed.
CHRISTIAN LEE HUTSON
L.A. native Christian Lee Hutson first made his name in the music scene as a member of the lo-fi folk band The Driftwood Singers. In 2012, he released his debut solo EP, Will Never Break Up. Both this initial release and his 2013 full-length followup, The Hell With It, feature a sweeping Americana sound, packed full of emotion and heart. Full of ambition and drive, Hutson quickly released his sophomore album, Yeah Okay, I Know, the following year to widespread praise. The self-proclaimed "King of Bummercore" is a pure joy to see on stage, so make sure you get to the show early.

_
ENTER TO WIN TICKETS
Enter to win tickets by filling out the form below. After you have entered, there will be the option to share this contest via social media. For each person that you refer to the contest, you will receive an additional entry. If you experience any trouble with the contest widget, or have any questions, feel free to email us at [email protected].
Winner will be selected Wednesday, July 27 and will receive one pair of tickets. Good luck!
[contesthopper contest="76968″]
 _
John Moreland and Christian Lee Hutson will perform Friday, July 29 at The Basement East. The show is 21+, begins at 9 p.m. (doors at 8 p.m.), and tickets are available for $12-15.