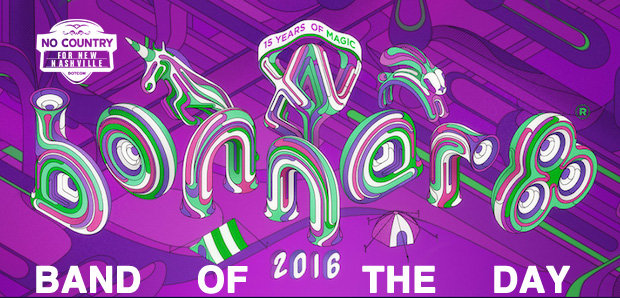 Bonnaroo Artist | Arkells
Bonnaroo History | Newbie
Stage & Time | Friday | Who Stage | 7:15 p.m.
As we've been doing for the past several years now, we're making it our mission to help you get acquainted with as many bands as we can from Bonnaroo's impressive 2016 lineup. In addition to the main stage acts, we also want to be sure to give the Club Stage bands some love, so, for the remainder of our coverage, we'll be doubling up with a second daily spotlight. They might be the smallest artists on Bonnaroo's bill, but the Club Stage boasts some of the best and most exciting up and coming acts around. As with our main stage previews, we'll start from the bottom and work our way up. Keep reading for your Bonnaroo Club Stage Band of the Day…
LEARN
Named after the area where they held practiced on Arkell Street, near McMaster University in Hamilton Ontario, Arkells are a paunchy indie alt-rock band you need in your life immediately, if they're not a fixture already. The group's 2008 debut full-length, Jackson Square, is working man's rock 'n' roll with a touch of next wave alternative elements, which gave it originality. As the Canadian indie rock went through a renaissance (thanks in no small part to Arcade fire), the group seemed to be on the cutting edge of the movement with their followups, 2011's Michigan Left and 2014's High Noon.
The only problem going forward has been that band is a little bored with the world of college radio rock and the mainstream-ness it seems to nurture as of late. That's not to say Arkells' new album, Morning Report (due out August 5) is an experiment with EDM drum & bass, or a neo classic soul record. It's not. However, there are click-tracks, samples, electronic synth, brass, and strings spliced in to liven and change the texture the songs dramatically. It takes notes from their countryman Drake, more so than bands who originally influenced them, like Broken Social Scene, while still remaining true to their rock 'n' roll DNA. We look forward to hearing them share this new sound live when they play the Farm before embarking on an impressive festival tour this summer (they're also playing Firefly and Lollapalooza, to name a few). So be there for their Roo debut, and get hip to their new sounds.
LISTEN | "A Little Rain (A Song For Pete)"
WATCH | "Private School" (Official Video)
CONNECT
More from Arkells | Site | Facebook | Twitter | Spotify 
More from Bonnaroo | Tickets | Lineup | Site | Facebook | Twitter