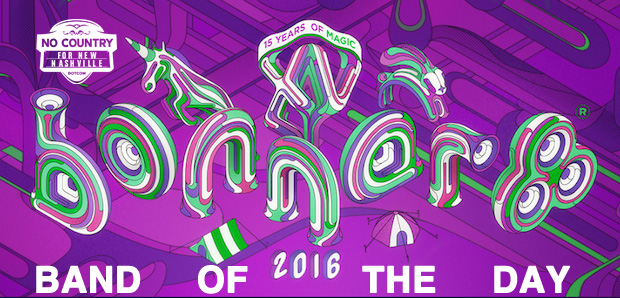 As we've been doing for the past several years now, we're making it our mission to help you get acquainted with as many bands as we can from Bonnaroo's impressive 2016 lineup.  We started from the bottom and have been working our way up, paying special attention to the smaller and lesser known acts on this year's bill with daily, dedicated Bonnaroo Band of the Day, Bonnaroo Club Stage Band of the Day, and even Bonnaroo Comedian of the Day posts. As we near the home stretch, we'll be finishing up the last 25 main stage performers in compilation-style roundups, since they're big names you're more likely to know. Keep reading for part four of your Bonnaroo Main Stage Roundup…
MACKLEMORE & RYAN LEWIS
Saturday | What Stage | 8 p.m.
Hailing from Seattle, Grammy Award winning hip hop duo Macklemore & Ryan Lewis have been one of the biggest breakout success stories in independent music in recent memory. Macklemore, born Ben Haggerty, and named for a superhero he created for a school project, grew up on a steady diet of east coast hip hop and a with a knack for poetry, releasing his first EP, Open Your Eyes, in 2000 while still in his teens. A self-released full-length, The Language of My World, would follow in 2005, but it wasn't until Macklemore met Ryan Lewis, a fellow Pacific Northwesterner who began his career as a photographer and videographer before pivoting into production, and formally began collaborating as a duo, that things really began to take off.
After generating buzz with their first collaborative EP, Macklemore and Lewis found massive success with 2012 full-length The Heist, which, thanks to breakout tracks "Thrift Shop" and "Can't Hold Us," made them the first duo in history to have their first two singles hit #1 on the Billboard charts, and first artist in two decades to have a #1 single without major label backing. Further cementing their legacy, the pair won four awards at the 2014 Grammys, controversially sweeping the Rap categories and bagging Best New Artist. Although this year's followup, This Unruly Mess I've Made, has not quite yet met the high bar of its predecessor, singles like "Downtown" still showcase Macklemore & Ryan Lewis at their best, incorporating eclectic influences and featuring some old school hip hop legends. Tackling messages of race, privilege, equality, sexuality, and substance abuse, the duo have used their platform as a mechanism of social justice, and, whether you're a fan or not, all that they're accomplished as fiercely independent artists is an admirable feat. Their 2013 Bonnaroo outing was a blast, and we can't wait to see what this summer's return has in store. [PO]
LISTEN | "Can't Hold Us" ft. Ray Dalton
WATCH | "Downtown" ft. Melle Mel, Kool Moe Dee, Grandmaster Caz, Eric Nally (Official Video)
CONNECT | Site | Facebook | Twitter | Spotify
_
TAME IMPALA
Friday | Which Stage | 1 a.m.
Western Australian psych rock juggernauts Tame Impala have been a fast rising star in the rock scene since the release of their 2010 debut record Innerspeaker.  The Perth based outfit are helmed by Kevin Parker, whose music is heavily influenced by the effect pedals of psychedelic rock, the melodies of sugary pop songs, the wall of sound of shoegaze, and the hypnotic beats of EDM.  The sound of Tame Impala has changed ever so slightly with differing degrees of these influences finding their way into their followup records.  Sophomore album Lonerism was released in 2012, and marked a step forward in songwriting for Parker. The record began racking up honors, including the band's sole Grammy nod, as tracks like "Elephant" and "Feels Like We Only Go Backwards" climbed the charts.   After incessant touring in support, Parker started working on the band's third record, Currents, which dropped in 2015.  The new record took a more minimal approach, but showed another step forward for the fast rising rockers.
Interestingly, Tame Impala record their tracks before they are ever arranged for a live performance, which allows for an jammy element of improvisation in their live shows. We caught Tame Impala's first Bonnaroo appearance in 2013, when they absolutely blew minds with their mid afternoon tent slot with they were touring in support of Lonerism.  However, it was their sold out set at The Ryman that showed us that Tame Impala were ready for the big time at Bonnaroo.  They turned the Mother Church into a trippy mirage with their visuals and light show, and it's going to be amazing to see what they do for their late night Friday set, which is easily one of our most anticipated at Bonnaroo this year. [MH]
LISTEN | "Elephant"
WATCH | "'Cause I'm A Man" (Official Live Video)
CONNECT | Site | Facebook | Twitter | Spotify
_
DEATH CAB FOR CUTIE
Sunday | What Stage | 6 p.m.
Formed in 1997 in Bellingham, Washington, Death Cab for Cutie initially began as a solo side project for frontman Ben Gibbard, before soon morphing into a proper band. Earning regional buzz, they inked a deal with indie label Barsuk Records by the time of their formal debut, Something About Airplanes, which laid down the prototype for their emotionally laced, indie rooted, pop accessible sound, under the self-sufficient production guidance of guitarist Chris Walla. Death Cab's first brush with broader success came with third effort The Photo Album in 2001, with single "A Movie Script Ending" especially finding attention in the indie world, but, inarguably, it was 2003's Transatlanticism, and subsequent 2005 major label debut Plans, that propelled the band to stardom, earned critical and commercial praise, and helping them become a mainstay fixture on the radio, in film and television, and on worldwide tours and festival circuits. Three more LPs, in addition to EPs, live albums, and more, have followed, with the group exploring broader sonic heights, maturing and personal subject matter, and darker and more melancholy soundscapes, all the while finding consistent success and well-received singles.
The last few years, especially, have been something of a transitional period for Death Cab. Amidst celebrating the 10 year anniversaries of their two best-known (and, arguably, best) releases, the group announced the departure of Walla, a fixture not only for his guitar work but his role behind the scenes. Before his exit, the founding member contributed to writing and playing on, but, for the first time, not producing, their latest and eighth album, last year's Kintsugi, which serves as a perfect sonic bridge between the band's past and present, while helping set the template for a new chapter. Given the cyclical nature of the group's existence, their return to Bonnaroo, 10 years after their first appearance at the fest, and 8 since their last, also feels not only welcome, but necessary; at once nostalgic and a launchpad for where they're headed. Old fan or new, you're sure to leave satisfied. [PO]
LISTEN | "Black Sun"
WATCH | "Title and Registration" (Official Video)
CONNECT | Site | Facebook | Twitter | Spotify
_
M83
Friday | Which Stage | 9:45 p.m.
French producer Anthony Gonzalez has been making music since he was 14 years old, and formed M83 in 2001, but it wasn't until the release of his fifth album, Saturdays = Youth in 2008 that really put M83 on the map worldwide.  Tracks like "Graveyard Girl" and "Kim & Jessie" showed a unique talent in song arrangement and emotive songwriting, and received significant air play on college radio stations.  The most successful release for M83 was the 2011 double LP, Hurry Up, We're Dreaming, which featured the platinum selling single "Midnight City," along with other standout tracks "Steve McQueen" and "Reunion."  Now, back with a brand new record this year titled Junk, the journey continues in his exploration electro rock with contemporary pop sensibilities, while taking chances with new singles like "Do It, Try It."
M83 has been touring for nearly 10 years now, and made a stop in Nashville in 2012, but amazingly has never played Bonnaroo.  The debut this year at the Which Stage will be one that you need to check out, as it'll be a perfect warm up for LCD Soundsystem on the main stage to follow. [MH]
LISTEN | "Do It, Try It"
WATCH | "Midnight City" (Official Video)
CONNECT | Site | Facebook | Twitter | Spotify
_
HAIM
Saturday | Which Stage | 7:30 p.m.
Of all of the Bonnaroo performers this year with new music on the way, there might not be another release as highly anticipated as the sophomore LP from LA sister trio HAIM, whose 'Roo debut, in 2013, came just months before their critically-acclaimed first album, Days Are Gone, was even released. Raised in a musical family, the trio, Este, Danielle, and Alana Haim began performing as HAIM as early as 2007, though school and other musical ventures divided their focus until it became a full-time pursuit in 2012. Prior to HAIM, Danielle and Este were part of teen pop rock group the Valli Girls, eventually channeling their love of contemporary r&b and classic rock to form a band of their own. Este would subsequently head to college, however, and Danielle hit the road performing in backing bands for Jenny Lewis, Julian Casablancas, and CeeLo Green. By 2012, their desire to perform together outweighed other commitments, and, along with Alana they crafted a three-song Forever EP, finding immediate praise and paving the way for Days Are Gone.
While HAIM's music is often compared to '70s rock, pop rock, soft rock, and r&b, the group are loud, heavy, and guitar-driven in concert, which has allowed them to attract a large and enthusiastic fansbase. In studio, the sisters all contribute to various instruments, employ more keyboards and samples, and explore their poppier sensibilities, and, live, are joined by drummer Dash Hutton, officially considered a fourth member. Since breaking through to the mainstream, the band have toured with big names like Mumford & Sons, Edward Sharpe and the Magnetic Zeros, Ke$ha, and Taylor Swift, made appearances on Saturday Night Live, Letterman, Kimmel, and more, and regularly appear at major music festivals. Their strong musical appreciation and eclectic sensibilities make it hard to predict exactly what their next album will sound like, but, regardless, we're confident it'll be worth the wait; be sure to watch their Bonnaroo set, and maybe you'll be granted an early taste. [PO]
LISTEN | "The Wire"
WATCH | "Falling" (Official Video)
CONNECT | Site | Facebook | Twitter | Spotify
_
[MH] Matt Hall
[PO] Philip Obenschain
More from Bonnaroo | Tickets | Lineup | Site | Facebook | Twitter