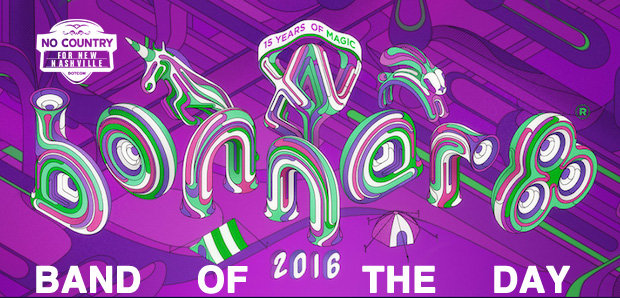 Bonnaroo Artist | Flosstradamus
Bonnaroo History | Newbie
Stage & Time | Friday | That Tent | 8:45 p.m.
As we've been doing for the past several years now, we're making it our mission to help you get acquainted with as many bands as we can from Bonnaroo's impressive 2016 lineup.  We'll start from the bottom and work our way up, paying special attention to the smaller and lesser known acts on this year's bill. Keep reading for your Bonnaroo Band of the Day…
LEARN
Performing for nearly a decade now as Flosstradamus, Chicagoans Josh Young (J2K) and Curt Cameruci (Autobot) have been a big part of the more underground side of the EDM/trip-hop scene. Even though they've worked with artists like The Cool Kids, A-Trak, Diplo, and Three 6 Mafia's Juicy J, plus created remixes for big names like Major Lazer, Fetty Wap, Rihanna, Young Thug and Steve Aoki, they don't seem to get the same mainstream love as previous Roo DJ headliners like Skrillex and Bassnectar. At least not yet, but when you start to dig into their extensive catalog of EPs (thirteen and counting), you start to realize their original material is twice as good as anything they've reworked for another artist.
Getting their start working the Chicago club scene,  Floss got a big opportunity in 2007, when they released a mix album for Vice Records, which was then used as part of Toyota's Scion "CD Sampler" series. Then, that summer, they opened for Chromeo on his Fancy Footwork Tour. The next step was the college tours in and around Chi-town, where they cleaned up as the opener for Waka Flocka Flame, and began to find an audience as headliners. There was another big money mixtape featuring new De La Soul material in '09, this time for Nike, and then a slew of big name collaborations we've already mentioned. So while it appears that the EDM world, and countless fellow artists are familiar with the duo, the mainstream public is the next likely crossover. Add 'em to your Roo list to see what all the hype is about!
LISTEN | "TTU (Too Turnt Up)" ft. Waka Flocka Flame
WATCH | "Drop Top" ft. Travis Porter (Official Video)
CONNECT
More from Flosstradamus | Site | Facebook | Twitter | Spotify
More from Bonnaroo | Tickets | Lineup | Site | Facebook | Twitter