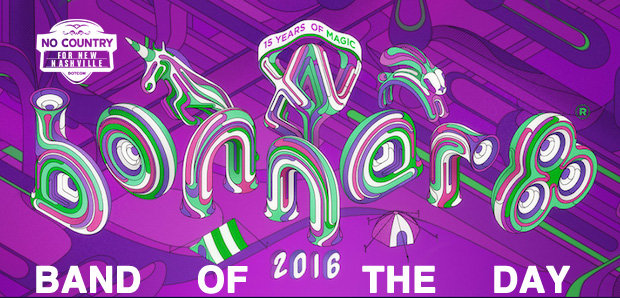 Bonnaroo Artist | Finish Ticket
Bonnaroo History | Newbie
Stage & Time | Sunday | New Music On Tap Lounge | 5 p.m.
As we've been doing for the past several years now, we're making it our mission to help you get acquainted with as many bands as we can from Bonnaroo's impressive 2016 lineup. In addition to the main stage acts, we also want to be sure to give the Club Stage bands some love, so, for the remainder of our coverage, we'll be doubling up with a second daily spotlight. They might be the smallest artists on Bonnaroo's bill, but the Club Stage boasts some of the best and most exciting up and coming acts around. As with our main stage previews, we'll start from the bottom and work our way up. Keep reading for your Bonnaroo Club Stage Band of the Day…
LEARN
Creating delicious alt/indie pop with a Bay Area flavor, California five-piece Finish Ticket have been steadily making headway since their inception in 2008. After two DIY releases, their latest endeavors, including their 2015 EP When Night Becomes Day, were released under major label Elektra Records. They've also toured extensively all over the US and Europe in support for big name acts like Ed Sheeran, Twenty One Pilots, Fitz and The Tantrums, and The Black Keys. Now they're poised to make their Roo debut, and bigger headlining tours seem destined to follow.
How far they've come is all the more impressive, considering FT began when its founding members were still in high school. Twin brothers Brendan and Michael Hoye started the group along with a mutual friend, Alex DiDonato. By 2012 ,brothers Gabe and Nick Stein had joined the band, and the nucleus was formed. Although they took a short break while all the members pursued a higher education, they reformed after just a year apart, and they've never looked back since. Their two self-released EPs (Life Under Water and Shake a Symphony ) were followed by a self-released full-length in 2013 called Tears You Apart. The record was picked up by Elektra, and re-released in 2014. Based on all this momentum, we have a feeling that things are just heating up for this promising young band, so catch them at the club stage level now, because there are only bigger stages in their future.
LISTEN | "Tranquilize"
WATCH | "Color" (Official Video)
CONNECT
More from Finish Ticket | Site | Facebook | Twitter | Spotify
More from Bonnaroo | Tickets | Lineup | Site | Facebook | Twitter