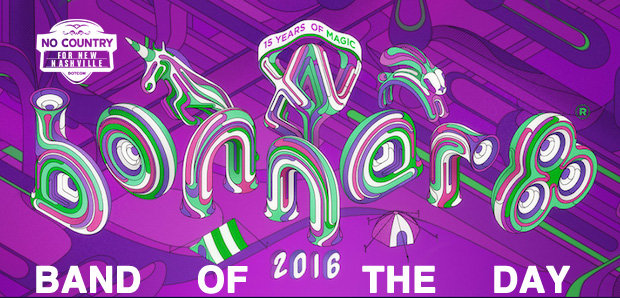 Bonnaroo Artist | Mail The Horse
Bonnaroo History | Newbie
Stage & Time | Thursday | New Music On Tap Lounge | 11:15 p.m.
As we've been doing for the past several years now, we're making it our mission to help you get acquainted with as many bands as we can from Bonnaroo's impressive 2016 lineup. In addition to the main stage acts, we also want to be sure to give the Club Stage bands some love, so, for the remainder of our coverage, we'll be doubling up with a second daily spotlight. They might be the smallest artists on Bonnaroo's bill, but the Club Stage boasts some of the best and most exciting up and coming acts around. As with our main stage previews, we'll start from the bottom and work our way up. Keep reading for your Bonnaroo Club Stage Band of the Day…
LEARN
The roots of Americana band Mail The Horse dates back years ago to the coastal New Hampshire scenery, where a handful of the members met and embraced each others musical talents. The longtime songwriting pair of Michael Hesslein and Michael Amidon teamed up with the rhythm section of Brendan Smith and William Lawrence, but it was a year later in their current hometown of Brooklyn, when the group added friend and gig partner Chris May on pedal steel, that the most current lineup was finalized. They have spent the past few years honing in on their craft through demos, full-lengths, and a hefty touring routine, including support roles. The band was able to open for The Felice Brothers, and has spent a lot of time playing here around Nashville.
The band's sound can easily be described as Gram Parsons meets The Clash, and it reminds us of what Nashville locals Natural Child set out to do with their tunes. Mail The Horse combine pedal steel guitars with simple three chord baselines and upbeat rhythms; taking the heart and soul of country music and meshing it with a punk rock attitude. Their latest LP Planet Gates is a collection of 11 songs that are chock full of catchy riffs, enlightened melodies, and empathetic lyrics. There is even a gospel element to their music that makes it even that much more enthralling to listen to. We here at No Country can only imagine how great their set is going to be on the Thursday night festivities.
LISTEN | "Flowers, Keys, and Gasoline" 
WATCH | "Speedwell Avenue" (TinyRadars Cow House Series)
CONNECT
More from Mail The Horse | Site | Facebook | Twitter | Spotify
More from Bonnaroo | Tickets | Lineup | Site | Facebook | Twitter