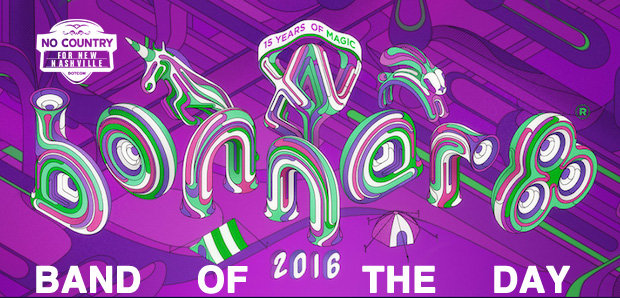 Bonnaroo Artist | X Ambassadors
Bonnaroo History | 2015
Stage & Time | Sunday | The Other Tent | 5 p.m.
As we've been doing for the past several years now, we're making it our mission to help you get acquainted with as many bands as we can from Bonnaroo's impressive 2016 lineup.  We'll start from the bottom and work our way up, paying special attention to the smaller and lesser known acts on this year's bill. Keep reading for your Bonnaroo Band of the Day…
LEARN
Hailing from upstate New York, alt/indie rockers X Ambassadors have experienced a huge wave of attention over the past couple years, thanks in no small part to their breakout debut major label LP, VHS, released last summer. Originally called Ambassadors, the band found early success through DIY releases and tours with acts like Lights, boosting them onto the radar of breakout group Imagine Dragons, who helped them land a deal with Interscope (and who would take them on tour soon after). Supporting treks with big names like Jimmy Eat World, The Mowglis, and Panic! at the Disco would follow, positioning the group to find broader mainstream appeal, and with the help of singles "Jungle" and "Renegades," X Ambassadors have become certified radio staples. Their ascent seems limitless, and the compelling group have, since last summer's Bonnaroo debut on the Club Stages, graduated to certifiable big name act.
Made up of Sam Harris (lead vocals, guitar, saxophone), Casey Harris (keyboard), Noah Feldshuh (guitar), and Adam Levin (drums), X Ambassadors first formed in 2009, and built a swift and dedicated following through hard work and organic promotional efforts. Influenced as much by the alternative rock of the '90s and early '00s as they were by contemporary indie pop, the group's sound is diverse and eclectic and has found its way to massive crossover appeal. You've likely heard them on the radio, in commercials, and, this summer, you'll have plenty of chances to see them at major festivals. If you missed 'em last year at 'Roo, you get a rare opportunity for a second year in a row; don't miss out!
LISTEN | "Renegades"
WATCH | "Unsteady" (Official Video)
CONNECT
More from X Ambassadors | Site | Facebook | Twitter | Spotify
More from Bonnaroo | Tickets | Lineup | Site | Facebook | Twitter