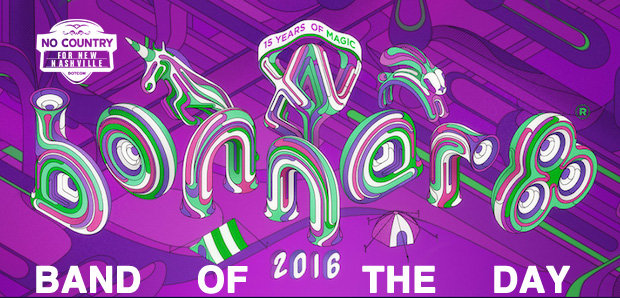 Bonnaroo Artist | Lucius
Bonnaroo History | 2013
Stage & Time | Friday | The Other Tent | 6:30 p.m.
As we've been doing for the past several years now, we're making it our mission to help you get acquainted with as many bands as we can from Bonnaroo's impressive 2016 lineup.  We'll start from the bottom and work our way up, paying special attention to the smaller and lesser known acts on this year's bill. Keep reading for your Bonnaroo Band of the Day…
LEARN
Brooklyn-based indie pop band Lucius' sound is highly centered around the lead vocals of Jess Wolfe and Holly Laessig. The pair became friends while studying at Berklee School of Music and began performing together shortly before relocating to Brooklyn. Over the next few years, they met guitarists Peter Lalish and Andrew Burri as well as drummer Dan Molad, who eventually became members of the group. After nabbing a deal with Mom + Pop Records, they recorded and released their 2013 debut album Wildewoman. The record was well-recieved by critics who applauded their soaring harmonies and its modern nod to 1960s girl groups. That same year, Wolfe and Laessig also provided vocals to fellow Brooklyn band San Fermin's self-titled record.
Although they spent much of the next two years touring the globe, they made time to hop back into the studio to record their followup record. Good Grief, which was released in March, and features a sound that's crafted to fill the space of a major music festival. It's impressive instrumentation experiments with what's naturally expected from a pop song and flips it on its side. Still, that doesn't mean the music is too avant garde to appreciate. One of Lucius' most impressive abilities is to convey emotional extremes, from utter bliss to bitter heartbreak, through brilliant lyrics and authentic performances. Although many know them for their bright and unexpected stage get-ups, they are much more than a simple visual ploy. They're the real deal, and will likely make you want to dance, cry and reminisce all at once during their set at Bonnaroo this year.
 LISTEN | "Turn It Around" (Live)
WATCH | "Gone Insane" (Official Video)
CONNECT
More from Lucius | Site | Facebook | Twitter | Spotify 
More from Bonnaroo | Tickets | Lineup | Site | Facebook | Twitter