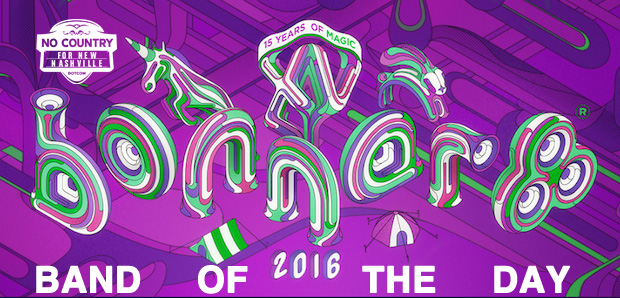 Bonnaroo Artist | Public Access T.V.
Bonnaroo History | Newbie
Stage & Time | Friday | Who Stage | 4 p.m.
As we've been doing for the past several years now, we're making it our mission to help you get acquainted with as many bands as we can from Bonnaroo's impressive 2016 lineup. In addition to the main stage acts, we also want to be sure to give the Club Stage bands some love, so, for the remainder of our coverage, we'll be doubling up with a second daily spotlight. They might be the smallest artists on Bonnaroo's bill, but the Club Stage boasts some of the best and most exciting up and coming acts around. As with our main stage previews, we'll start from the bottom and work our way up. Keep reading for your Bonnaroo Club Stage Band of the Day…
LEARN
New wave, post punk rockers Public Access T.V. are barely two years old, but you wouldn't know it from their buzzy acclaim.  They dropped their first single "Monaco" online over the holidays in January of 2014, garnering positive reviews from from around the globe, and were already dubbed "New York's Hottest New Band" before anyone even really knew who they were. Artists in the NY scene were soon clamoring to have them on bills all over town, and all of this was before they ever played their first live show, which sold out almost immediately.  Perhaps, the previous successes of frontman John Eatherly may have helped.  Eatherly was in mid 00s Nashville rock juggernaut, Be Your Own Pet and was an early member of still thriving local rock outfit Turbo Fruits, before turning his attention beyond Nashville to lend a hand to the Virgins, Smith Westerns, and BYOP frontwoman Jemina Pearl's solo material, to name just a few.
After their initial success, Public Access T.V. found themselves on a European tour a couple of months later, and it wasn't until November of 2014 that they released an "official" single, "In The Mirror."  They spent some time working on their debut EP, Public Access, while nabbing support gigs for like minded acts like The Strokes, Weezer, Gang of Four, FIDLAR, Hinds, and Palma Violet.  Upon the EP's release, tastemaking DJ Zane Lowe premiered the single "In Love And Alone," and played it twice in a row on air, immediately building even more buzz around PA T.V.   Again, all of this was before the release of their debut LP, which is slated to drop later this year.
Given their pedigree even with such a small body of work, you can expect the club stage to be frenetic with what should be a show to rival the mayhem of The Orwells or Diarrhea Planet in years past.  Circle them on your schedule, get a glimpse of who they are, and then see if you can party with them… just because they look like they would be a lot of fun to spend your Roo with.
LISTEN | "Monaco" 
WATCH | "In Love And Alone" (Official Video)
CONNECT
More from Public Access T.V. | Site | Facebook | Twitter | Spotify
More from Bonnaroo | Tickets | Lineup | Site | Facebook | Twitter