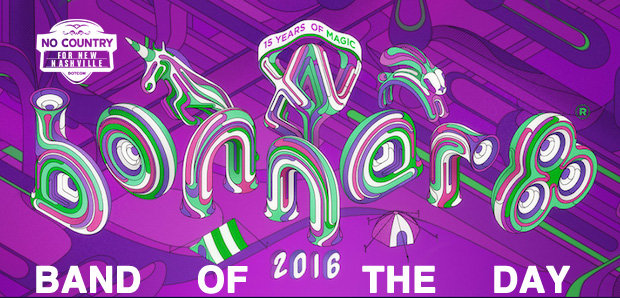 Bonnaroo Artist | The Pinklets
Bonnaroo History | Newbie
Stage & Time | TBA
As we've been doing for the past several years now, we're making it our mission to help you get acquainted with as many bands as we can from Bonnaroo's impressive 2016 lineup. In addition to the main stage acts, we also want to be sure to give the Club Stage bands some love, so, for the remainder of our coverage, we'll be doubling up with a second daily spotlight. They might be the smallest artists on Bonnaroo's bill, but the Club Stage boasts some of the best and most exciting up and coming acts around. As with our main stage previews, we'll start from the bottom and work our way up. Keep reading for your Bonnaroo Club Stage Band of the Day…
LEARN
If we had to guess the youngest band on this year's Bonnaroo bill, smart money would be on The Pinklets. Hailing from Knoxville, the group are made up of sisters Lucy, 13 (guitar and vocals), Eliza, 11 (drums and vocals) and Roxie Abernathy, 16 (Piano, bass and vocals), along with Willa McCollough, 13 (keyboards/bass). The Abernathy, daughters of East Tennessee musician Kevin Abernathy, have been playing together for years; inspired by their father and influenced by one another, they fell into a love for music, and selected their instruments based on necessity, recruiting friend and daughter of Sean McCollough and Steph Gunnoe of The Lonetones, Willa.
Over the past few years, The Pinklets have approached songwriting and performing with a much more serious mindset, their art maturing along with the teens themselves, and earning them gigs around town and even at regional festivals. Though young, they're immensely talented, and, with only a handful of live videos floating around, the girls around seem like they have the ingredients to become an Eisley or Haim type tour de force, honed from years of growing, influencing, and syncing with one another. The Pinklets are said to be working on their debut album, so be sure to add them to your 'Roo plans, and support the next generation of worthwhile art!
LISTEN | 
The Pinklets are currently working on their debut album!
WATCH | "That Is What She Told Me" & "I Don't Care" (Live)
CONNECT
More from The Pinklets | Site
More from Bonnaroo | Tickets | Lineup | Site | Facebook | Twitter