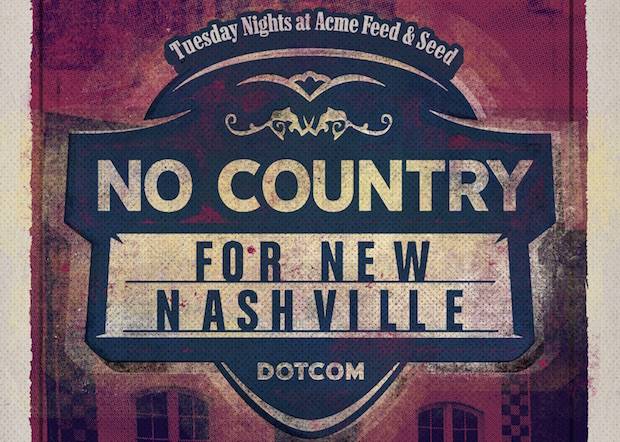 Our Tuesday night showcase series at Acme Feed & Seed is still going strong, albeit roughly twice a month now instead of every week. Also new this year, the performances will be broadcast live on Acme Radio, in case you can't make it downtown on time. Our first showcase of April, Tuesday, April 12 will feature buzzworthy singer-songwriter Brandon Watson & The IKB Sound, new local trio BRUNS, and ex-Apache Relay offshoot Kellen of Troy. As always, we're bringing you all of this music for FREE, starting at  7 p.m., as we return to our spring/summer schedule. For more info on the bands, please read on, and we look forward to seeing you all again on Tuesday.
BRANDON WATSON & THE IKB SOUND
We first introduced you to Alabama transplant Brandon Watson late last year, and, last month, premiered his latest music video for stellar song "Thank You" (check it out below). Seamlessly blending classic, powerful rock sensibilities with more contemporary post-rock, strengthened by his incredible knack for composition, Watson formally bills his work as Brandon Watson & The IKB Sound. What is "The IKB Sound," you ask? An initialism for "International Klein Blue," IKB is "a unique hue of blue blended and crafted by 20th Century visual artist Yves Klein." Reactive and versatile, the color sounds simply fascinating, and Watson felt drawn to it as an artist, stating "We feel like the impactful philosophy behind Klein's blue accurately represents how we write songs and make music. You will find many influences in the music we create, shifting with the rips and the tides, the light and the shadows, but all packaged in a singular notion of music and sound. The IKB Sound." Needless to say, Watson's artistry is beyond intriguing, and we're excited to bring his personal, versatile musical sensibilities to Broadway.
BRUNS
Local trio BRUNS, still relatively new to the scene, were born from the breakup of frontman Tim Bruns' previous project, Churchill. After briefly considering stepping away from music, Tim relocated to Nashville, and met Ryan Harris Brown and Tom Whall, which whom he joined forces to develop his new project. Focusing on musicianship and a developing a deep appreciation for the process of crafting new music, the group organically developed a classic, straightforward American rock sound, peppered with bits of folk and soul, and propelled by emotional earnestness. BRUNS' self-titled, debut EP dropped late last year, and they should absolutely be on your radar if they're not already.
KELLEN OF TROY
A couple years ago, local folk rockers The Apache Relay seemed poised to become the next big Nashville success story, nabbing high-profile dates opening for Mumford & Sons and receiving tons of positive buzz for their self-titled, 2014 third album. However, late last year, the band abruptly called it quits. Accomplished musicians, it's unsurprising that they would quickly move on to new things, and one such project is Apache fiddle player Kellen Wenrich's new solo vehicle, Kellen of Troy. We don't know much about Wenrich's new project, or even have a song to share, but Kellen of Troy's debut LP Posthumous Release is apparently already done and coming soon. You'll just have to show up early to Acme to see what they're all about!
Brandon Watson & The IKB Sound, Bruns, and Kellen of Troy will perform Tuesday, April 12 at Acme Feed & Seed. The show is 21+, music begins at 7 p.m., and, per usual, it's totally FREE! Downtown PARKING can sometimes be an issue. However, if you're willing to walk a few blocks, street parking is typically easy to find on the numbered avenues south of Broadway or along Korean Veterans Blvd, and metered spaces are typically free after 6 p.m.