Jack Berry, Luella, Tim Carroll, and Jas Patrick
Acme Feed & Seed; Nashville, TN
December 15, 2015
Words by Jacob Ryan (@GonzoWithGusto). Photos by Jake Giles Netter.
Well, another year is in the books, and what a year it was at Acme Feed & Seed! Nearly every Tuesday night for the last twelve months we've hosted a showcase through our live events wing, No Country Presents, and Tuesday Dec. 15 was no different. Our last bill of 2015 was heavy on the blues, featuring one-man blues band Jas Patrick, cobalt hued Americana rockers Luella and Tim Carroll, and troubadour bluesman Jack Berry. Read on for a full recap, and for some great shots from contributing photographer Jake Giles Netter.
Winding down another wild year covering "the beat" in Music City always creates a warm, special feeling, and since I consider myself a blues lover, our very special end-of-the-year line up was the icing on the cake. Walking down 2nd Ave towards Acme, I could feel good tidings, merriment, and Christmas cheer buzzing in my ears … or maybe it was the three bourbons I downed before calling a Lyft, to celebrate finishing all my holiday shopping early for once.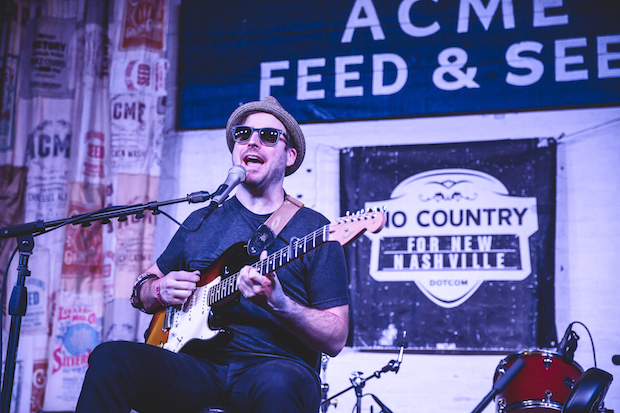 Jas Patrick. Photo by Jake Giles Netter.
Starting the evening off was a familiar face; one-man-band Jas Patrick. He masterfully picked his guitar, while keeping time with a specially designed Farmers Foot Drum, and singing in his bravado rich blues-rocker voice. His sound reminds me of a more up-beat and engaging version of Eric Clapton (though he's considerably younger than ol' slow hand). Even more impressive than watching him do it all himself on stage, was learning that he'd done most all the instrumentation on his latest EP, Inky Ovine, by himself too. He recorded the EP during twelve-hour marathon studio sessions, and self released it as part of his own label, Tiny Lion Records. Set highlights included two of my favorite tracks from the EP, "Harpy" & "Little Bug", plus a wonderful cover of the Dandy Livingstone classic, "A Message To You Rudy". We look forward to seeing and hearing more from Jas as he continues to expand his catalog and sound.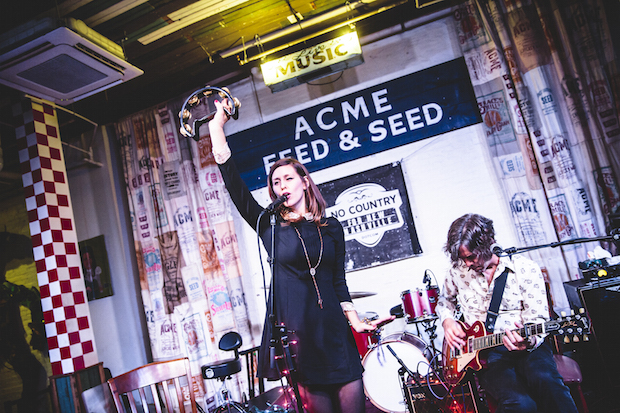 Luella & Tim Carroll. Photo by Jake Giles Netter.
Next up were local neo-blues maven, Luella, and her fella, Tim Carroll. Both musicians are seasoned performers in their own right — Luella with Luella and the Sun, Crackerboots, and some solo work; Tim starting in the '70s with his punk outfit The Gizmos, before becoming a well known Nashville song writer, and cranking out some quality solo work too.
However, for their Acme time slot the two decided to showcase about four songs from each of their catalogs, with the other (and a bassist) accompanying. There was never any drums involved, and the minimalist arrangement worked very well for their laid back, blues, country-fried Americana sounds. Tim is a bad ass on guitar and Luella has a wonderful vocal range, plus that uncanny ability to harmonize on demand, which made for a great, well rounded set. They played mostly originals, but my favorite song they did was Carroll's song "If I Could," which was recorded by John Prine. He sang it is his Iggy Pop-ish way, as opposed to twangy, and I must say it was a pleasure to see the East Nashville legend, and his lady Luella, put it down live.

Jack Berry. Photo by Jake Giles Netter.
Closing out our showcases for 2015 was a road tested bluesman Jack Berry. Part Black Keys grit, and part Of Montreal psych-punk. Jack also looks the part of a rock star, with a mop of black Elvis Presley locks, and just a touch Jack White bravado. He's originally from Reno, NV, but he's bounced all around the Western U.S., getting his start in LA and even spending some time way, WAY out west … in Hawaii.
He now calls Nashville home, and we are super stoked to have him. Blasting through his loud and raucous set, JB seemed to have brought a sizable crowd of friends and fans all his own, nearly doubling the average Tuesday night turn out. Although he has a new record, Mean Machine, slated to drop in April, he is still finalizing a touring band line-up, but the homies he had sitting in at Acme were more than adequate, especially his drummer, Aaron Westine, who is also the full-time drummer for Omega Swan. My favorite song he did was the lead single off the new album, "Kiss Like", which is definitely ready for prime time.
The fast paced frolic was soon over, and just like that, so was our 2015 season for Acme Tuesday night. While we still have you, be sure to check out the full spread from contributing photographer Jake Giles Netter, stay tuned for info on the start to our 2016 season, and get hip to Acme Radio, which is streaming 24 hours a day via TuneIn.