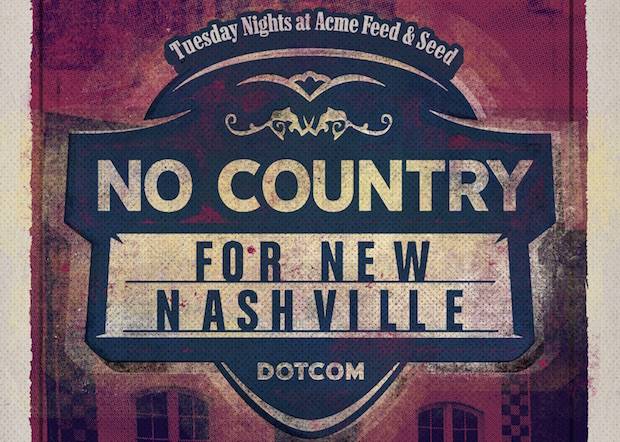 By now we hope you've heard, our live events production wing, No Country Presents, has taken up residence at Lower Broadway's hippest new restaurant, lounge, retail, and event space, Acme Feed & Seed, where we've been bringing you a weekly, FREE, Tuesday night showcase, featuring some of our favorite emerging local and national talent for over a year! The curated showcase runs from 6 to 10 p.m. each week, and has featured everything from folk to funk to rock to indie. For our next installment, on Tuesday, Dec. 8, we've put together one of the most exciting lineups of the whole year, a trio of local electro-pop singers, who represent the best of the Nashville pop scene, and who all seem to be on the cusp of superstardom (honestly, you're going to be kicking yourself if you don't see them while they're still rocking small rooms). Daniella Mason, Dani Elliott, and REMMI are all singers we've told you about before, similar in sensibilities but distinctly different and nuanced in approach, and we're absolutely floored to host them all on a single bill. Keep reading to find out all about them, and cancel any other plans you might have Tuesday night, because you're coming to hang with us. Got it?
DANIELLA MASON
On the heels of her first hometown performance in over a year, we are excited beyond words to welcome talented and beloved breakout local pop singer Daniella Mason to Acme. She was literally rocketed to national attention when Demi Lovato discovered and tweeted her gorgeous single "All I Want" in early 2014, subsequently hand selecting Mason to open for the final show of her Neon Lights tour. Daniella's huge 2014 continued with a Nick Jonas collaboration (she co-wrote "Push," his self-proclaimed favorite song from his eponymous debut) and the release of her best and most buzzed about single to date, "Shade of You." Currently hard at work on her major label debut, Mason's gorgeous, synth-laden flavor of heartfelt pop sets her atop an incredibly talented crop of new local pop singers. Needless to say, she's well on her way to becoming just as huge as the numerous famous fans she's already managed to win over, and we're seriously thrilled to give you the opportunity to see her here first.
DANI ELLIOTT
Like Daniella Mason, Dani Elliott represents the best of this new wave of world-class, Nashville-based, synth-laden, sophisticated, contemporary pop. We told you about her sexy, soulful new EP The Best Part earlier this year, and we've been eagerly awaiting a chance to catch her live ever since – lucky for you (and us), we booked one! Dani has lent her vocal talents to the likes of M.I.A., The Roots, Sheryl Crow, Stevie Wonder, and, most recently, Miley Cyrus, so, while she might be a relatively new name as a solo artist, she's no rookie. We are undoubtedly in the midst of a Nashville pop renaissance, and with so many singers taking such unique and personal approaches to a scene with such endless possibilities, we couldn't be more intrigued. Watch Elliott's relatively new video for standout track "Sinner" below.
REMMI
So this is our show and we always talk up the bands we book (and, to be fair, we book some great bands) but if this week sounds like we're especially gushing about the lineup, it's because it's extra special. Since she first popped onto our radar last spring, we've been utterly obsessed with REMMI. Much like Daniella and Dani (and CAPPA and Fleurie and EZA and so many more), she's quietly helped usher in a Nashville pop revolution under our noses, racking up endless praise throughout the blogosphere with a high-profile string of singles, collaborations, and mashups, all leading up the release of her unbelievably great debut EP, New America. Lyrically earnest, electronically laced, and with a keen ear for production, REMMI keeps it real in both her thematic focus and fresh, ever-evolving sonic direction, and we couldn't be more proud to claim her for Nashville. We hope you don't need any extra convincing, but seriously y'all: DO. NOT. MISS. THIS. SHOW!
Daniella Mason, Dani Elliott, and REMMI will perform Tuesday, Dec. 8 at Acme Feed & Seed. The show is 21+, music begins at 6 p.m., and, per usual, it's totally FREE. Downtown PARKING can sometimes be an issue. However, if you're willing to walk a few blocks, street parking is typically easy to find on the numbered avenues south of Broadway, or along Korean Veterans Blvd. Metered spaces are often free after 6 p.m.