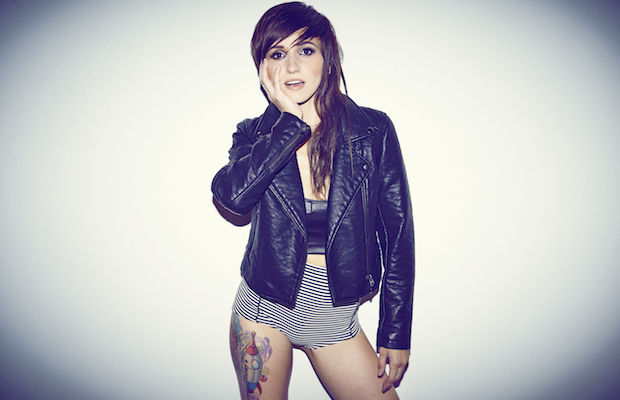 Teaming up for a co-headlining touring that returns both acts to Music City after passing through individually last spring, Canadian synthpop songstress Lights and breakout alt rockers The Mowgli's are set to perform TONIGHT, Nov. 13 at Cannery Ballroom with another site fave, LA supergroup Phases (formerly JJAMZ). You can still snag tickets here, so secure your spot to this unbelievable, all ages weekend event, and read on for details about the lineup!
LIGHTS
Though she claims Toronto as her home base, Lights (that's really her legal name these days, though she was born Valerie Poxleitner) was raised by missionaries, moving around through various corners of the world. Gravitating towards playing in bands at a young age, Lights developed her signature synth-heavy pop sound in the mid-'00s, largely a DIY writing effort, finding swift and significant success with her self-titled debut EP and subsequent LP, The Listening. With even more acclaim and award recognition in her native Canada, the singer connected with the punk community in the U.S., nabbing an early spot on Warped Tour and gaining further attention with a national ad campaign with Old Navy. Though her debut is a near-perfect pop album, later releases would incorporate both more conventional instrumentation and broader EDM, hip hop, and dubstep-dervived influences, helping Lights connect with a wider and even more eclectic audience. Through years of touring with a wide array of acts, she's developed an unbelievable live show to match, boasting a full backing band, light show, tons of synths, and incredibly polished performance chops. If you've seen her before, you know that this is a can't-miss show; if not, this should be a must on your weekend to-do list!
THE MOWGLI'S
No strangers to Nashville, SoCal alt rockers The Mowgli's rose to prominence in 2012 thanks to their breakout single "San Francisco." In the years since, they've released two major label LPs, most recently this year's Kids in Love, found mainstream success through a string of radio hits, and have become staples on the festival circuit and a favorite act for television appearances and media placements. With their breezy sound, eclectic instrumentation, and simultaneously substantive and feel-good thematic focus, The Mowgli's have quickly become one of the most dependable, consistently great touring acts around, and it's always a treat to catch them live- whether it's at Bonnaroo, Live on the Green, tiny clubs, or, these days, more appropriate halls like Cannery.
PHASES
Formerly known as JJAMZ, LA's Phases are something of a supergroup, boasting a lineup of The Like's Z Berg, Phantom Planet's Alex Greenwald, Bright Eyes and Rilo Kiley's Jason Boesel, and Michel Runion. Formerly also featuring Maroon 5 guitarist James Valentine, the band released a criminally underrated debut called Suicide Pact in 2012, and just followed it up with a smart, poppy, worthy sophomore effort, For Life. These guys blew us away at their one and only Nashville show thus far, three years ago with Neon Trees and also at Cannery, and we've been eagerly anticipating their return ever since. Show up early or you're seriously missing out!
Lights, The Mowgli's, and Phases will perform tonight, Nov. 13 at Cannery Ballroom. The show is all ages, begins at 7:30 p.m. (doors at 6:30 p.m.), and tickets are available for $22.