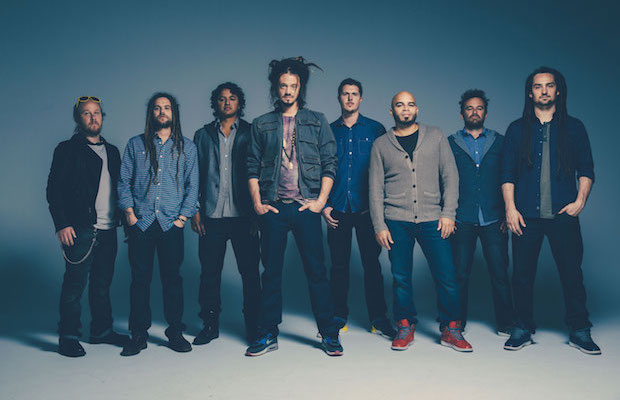 We've been hyping this one for a while faithful readers, but the day has finally come for reggae rockers SOJA to tear the roof off Marathon Music Works, with help from J BOOG, and Gramps Morgan. Tickets are currently available for $20, and, if you are a fan of reggae/rock (especially our local scene in these genres), this is a must-see show. To fully understand why this is a cannot miss night of badass reggae rhythms, read on after the jump for more info on all the artists.
SOJA
Soldiers of Jah Army, or just SOJA for short, have amassed an impressive body of work since their inception in the late '90s, and have already worked with big names in the game like Damian Marley and Supa Dubs. Founded on life long friendships between frontman Jacob Hemphill (vocals, guitar), Bob Jefferson (bass), Ryan Berty (drums), Patrick O'Shea (keyboards), and Ken Brownell (percussion), the band self-released their debut cassette, Creeping In, and haven't looked back since. Their now eight member barrage of sound is every rock tinged reggae fan's wet dream, and their latest release, Amid the Noise and Haste (ATO Records), may be their strongest effort to date, reaching number one on the Reggae Charts and number twenty on the top 200 in 2014. For fans of Music City's local reggae scene (read this post and this post), going to this show is a must, and if you're just looking for some good vibes on a Wednesday night for under twenty bucks, grab a ticket and catch the island rhythms at Marathon Music Works.
J BOOG
Born Jerry Afemata, J Boog has been laying down his smooth reggae laced R&B vocals over rock arrangements since his 2007 debut, Hear Me Roar. A native of the Long Beach/Compton area, J has created a unique sound and vibe with his touring mates, The Hot Rain Band, and now calls Hawaii home. Opening up for big name acts like Damien and Ziggy Marley, The Green, Rebellion and now SOJA, it's seems that Boog's star is only rising. Throw in a number one Reggae Charts record, Backyard Boogie, a few years back, and you can understand what all the buzz is about. Of course you can just see it all firsthand, when you check him out live and in concert.
GRAMPS MORGAN
Gramps Morgan's lineage flows through the story of reggae since way back when. The son of legendary reggae artist Denroy Morgan, Gramps has developed into his very own type of reggae singer that has captured the attention of fans all over. After some accomplished work playing keys and singing as part of a band made up of five of Denroy's children, Gramps has since broken off on his own and released two solo albums worthy of note. Get to the venue early to check him out and to get the most reggae bang for your buck!
SOJA, J Boog, and Gramps Morgan will perform tonight, Nov. 11 at Marathon Music Works. The show is 18+, begins at 8 p.m. (doors at 7 p.m.), and tickets are available to purchase for $20.