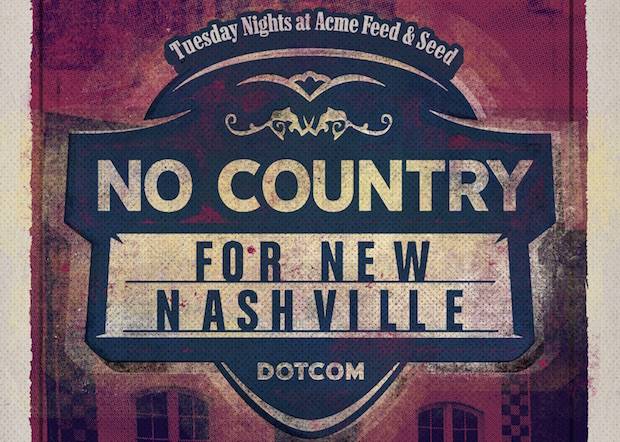 No Country Presents continues our weekly takeover at Lower Broadway's hippest restaurant, lounge, retail, and event space, Acme Feed & Seed. Each week we bring you a FREE Tuesday night showcase, featuring some of our favorite emerging local and national talent! The curated showcase runs from 7:30 to 10:30 p.m. each week, and has featured everything from folk to funk to rock to indie. For our next installment, on Tuesday, Nov. 10, we're bringing you an all-local bill, featuring standout local songwriter Aaron Lee Tasjan, eclectic pop outfit The Loose Hinges, and another impressive local songwriter Brian Ritchey! Keep reading to find out all about them, and head down to Broadway for the coolest local hang of your week.
AARON LEE TASJAN
Ohioan nature, Nashville nurture. Aaron Lee Tasjan is no stranger to readers of this site.  We've been hyping the release of his most recent LP, In The Blazes, that dropped last month, and jumped at the opportunity to have him perform at our showcase. A first class guitarist, who quickly made a name for himself upon landing in Music City, it's his songwriting that really makes ALT stand out.  His songs are equal parts grit and jokester.  Have a listen to "E.N.S.A.A.T. (East Nashville Song About A Train)" to see why this talent deserves to be in the conversation with the likes of Sturgill Simpson.
THE LOOSE HINGES
We've known The Loose Hinges since the early days here at No Country, the husband-wife duo have continued to impress us with their eclectic and always fun spin on pop music.  We first featured them as a "Get To Know" artist all the way back in 2011, so you know we've been fans for a long time.  We're looking forward to catching up with old friends, who's brand of music is guaranteed to own a room like Acme.  It seems that they've become enchanted with bossa nova influences in their recent stuff, as you can hear in their fresh single "Every Little Word" below.
BRIAN RITCHEY
We first got hip to Brian Ritchey with the release of his fourth LP just last month.  Late to the game?  Probably so, but we jumped at what we heard, and immediately asked him to join what should be a stellar bill.  The newest release, Bordeaux, features some serious consideration for songwriting honors of the year, and the mixture of slow burners along with his trademark up-tempo blues influenced rock and roll is the perfect kick off to your Tuesday night.
Aaron Lee Tasjan, The Loose Hinges, and Brian Ritchey will perform Tuesday, Nov. 10 at Acme Feed & Seed. The show is 21+, music begins at 7:30 p.m., and, per usual, it's totally FREE. Downtown PARKING can sometimes be an issue. However, if you're willing to walk a few blocks, street parking is typically easy to find on the numbered avenues south of Broadway, or along Korean Veterans Blvd. Metered spaces are often free after 6 p.m.