Ian Ferguson, Walking Man, Zach Vinson
Acme Feed & Seed; Nashville, TN
October 13, 2015
Words by Jacob Ryan (@GonzoWithGusto). Photos by Jake Giles Netter.
We would like to continue to welcome all of you reading this out there in Music City and beyond to Acme Feed & Seed every Tuesday night, for the weekly showcase from our live events wing, No Country Presents! This past Tuesday's bill featured performing East Nashvillian Zach Vinson, eclectic three-piece Walking Man, and a former member of the Kingston Springs, Ian Ferguson, proudly presenting his new project. Read on for a full recap, and for some great shots from contributing photographer Jake Giles Netter.
Running a little behind, my roommate and I only made one loop of upper Broadway looking for free parking. Unwilling to waste any more time, I decided to park my car in a trusty $10 garage that is only about a block-and-a-half from Acme. Every time I pull in with my cash ready I can't help but wonder how long it will actually be a $10 lot, because soon enough they will ask for $15 and on up. It's inevitable really. The down side of progress in Music City.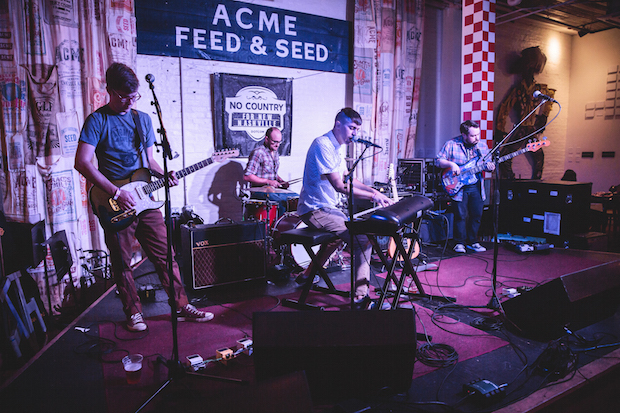 Zach Vinson. Photo by Jake Giles Netter.
Resident pianist and indie rocker, Zach Vinson, had just started his second song when we rolled up to the bar for brews. He was blending his piano into indie pop-rock arrangements to delightful effect. About the fifth song he stood up from his bench, plugged in his guitar and kick out a block of heavier jams that really had the dinner crowd grooving. Later, he wasn't afraid to chill it out again, with fancy keyboard playing and his unique and always in tune singing driving the tracks. During breaks in the music, Zach interacted with the crowd, asking who all in attendance was from out of town. Eighty percent of the people raised their hands. He mentioned that no one living in Nashville is actually from Nashville, which is essentially true (Zach himself is originally from Wisconsin), so all the out-of-towners could just claim local for the night anyway. He finished out his tight set with his backing band playing awesomely in support, and then they made way for the next performers.

Walking Man. Photo by Jake Giles Netter.
Originally a two-piece, Walking Man have added a third member to bolster their sound. They are one of the more unique bands we've had the pleasure of showcasing in recent months, melding ambient looped drum tracks, with their live keyboards, guitar and bass. The end result is an eighties inspired version of layered, but low-fi indie rock, with a wonderfully haunting Morrissey-ish vocal sprinkled on top. They played some tracks off their new self-titled EP, and then it was shanty time; a tradition the band does at all their shows, laying down their instruments and performing an old Gaelic inspired hymn a cappella. There harmonies were superb, and the song was beautiful, even if it was bit difficult to hear it over the din of diners. After some well deserved applause they plugged back in and kicked out some more jams.

Ian Ferguson. Photo by Jake Giles Netter.
Ever since one of our favorite local bands, The Kingston Springs, took an indefinite hiatus towards the end of 2013, we've wondered what the boys from just thirty minutes west of Nashville have been up too. Turns out Ian Ferguson (singer/guitarist) has  been hard at work, hammering out some new tunes. Compared to the old band, these guys play more psych rock, with spaced out jams and extended solos. However, the blues undertones, and fuzzy bass from the KS days is still bubbling just beneath the surface. I was loving every second of their guitar heavy set, especially the second track, an inspired original entitled "I Do Not Mind". Later they broke out a bad ass, rocked out cover of the Sam Cooke classic "Bring It Home On To Me", which is exactly what they did on the jam sesh towards the end of the their interpretation, which featured heavy blues guitar solos. Ian and his band thanked the sparse but receptive crowd, and mention that a new record is in the works for late this year or early next year, so stay tuned for details on that as they become available.
Luckily for you, especially if you missed their set, we have a full photo spread from Jake Giles Netter below, and Ian Ferguson will be back this week to perform again, this time with help from another repeat Acme performer Bosley, who's blown into Music City again from Baltimore. It should be another epic night at the best venue on Broadway, Acme Feed & Seed, so don't miss it … ever!