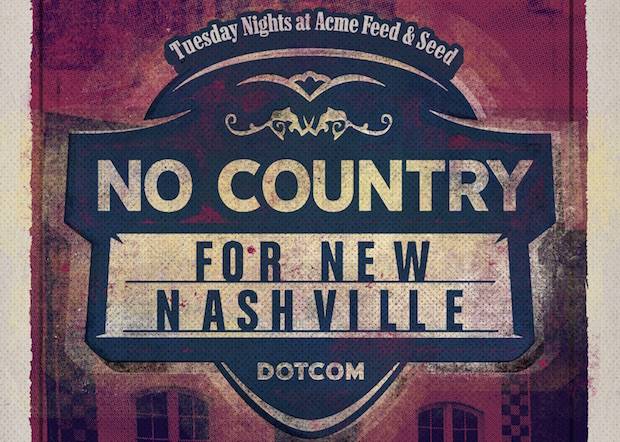 By now we hope you've heard, our live events production wing, No Country Presents, has taken up residence at Lower Broadway's hippest new restaurant, lounge, retail, and event space, Acme Feed & Seed, where we've been bringing you a weekly, FREE, Tuesday night showcase, featuring some of our favorite emerging local and national talent for over a year! The curated showcase runs from 7:30 to 10:30 p.m. each week, and has featured everything from folk to funk to rock to indie. For our next installment, on Tuesday, Oct. 20, we're bringing you a local fave and a returning touring act, with Baltimore soul/funk outfit Bosley back for an extra long set, and and second week of local rocker Ian Ferguson kicking things off. Keep reading to find out all about them, and cancel any other plans you might have Tuesday night, because you're coming to hang with us. Got it?
BOSLEY
It's always a treat hosting touring acts at our Acme showcase, and even more exciting to welcome them back for a return performance. Based in Baltimore, Bosely get their name from their vocalist- Bosley Brown. The group have a strong affinity for old soul music, r&b, hip hop, swing, and a whole lot of brass. Since the 2012 release of their debut album, Honey Pig, the band have been garnering buzz, and, without a doubt, they helped make our special St. Patrick's Day showcase a huge party earlier this year. If you weren't there, you need come see what these guys are about (and if you were, then you already know, this is going to be an extra special Tuesday).
IAN FERGUSON
We first welcomed local singer-songwriter Ian Ferguson to the Acme stage back in July, then brought him back for a second helping last Tuesday. While best known for fronting raw, bluesy, rock and roll group The Kingston Springs (who are all but inactive these days), Ian's solo material, fleshed out by a full band of backing players, is a bit more eclectic and personal, though not a far-cry in sound and spirit. He wowed us once again last week, and is sure to do so for a third time this Tuesday; come out early and show him some support!
Bosley and Ian Ferguson will perform Tuesday, Oct. 20 at Acme Feed & Seed. The show is 21+, music begins at 7:30 p.m., and, per usual, it's totally FREE. Downtown PARKING can sometimes be an issue. However, if you're willing to walk a few blocks, street parking is typically easy to find on the numbered avenues south of Broadway, or along Korean Veterans Blvd. Metered spaces are often free after 6 p.m.