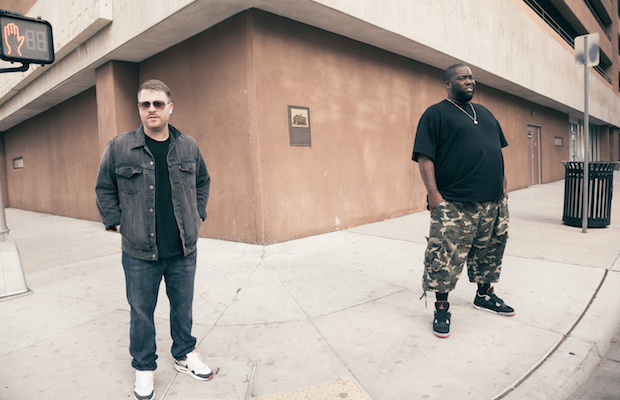 Seperately, El-P and Killer Mike are two of hip hop's most intruiging talents. Together, as Run the Jewels, they become something else entirely – an explosive and forward-thinking duo that have taken the scene by storm. Fresh off the release of their cat-sounds remix album Meow the Jewels (yes, you read that right), Run the Jewels take over Marathon Music Works tonight, Oct. 5, with Boots, Cuz Lightyear and Fashawn in tow. The 18+ show – part of their Blade Runner-themed Jewel Runner tour – starts at 8 p.m. (doors at 7 p.m.), and tickets will run you $23 at the door, or buy them online for $20 here. Read more about all the acts after the jump!
RUN THE JEWELS
El-P and Killer Mike were first introduced to one another by, of all people, Adult Swim executive Jason DeMarco in 2011. The two hit it off, and soon began working with each other. El-P produced Killer Mike's 2012 album R.A.P. Music, and Killer Mike guested on El-P's 2012 album Cancer 4 Cure. The two albums were released in close proximity, so the duo decided to tour together. Their chemistry was evident from the start, and it eventually snowballed into a full-blown collaboration album they called Run the Jewels, which they released free online in 2013. It was such a success that they quickly followed it up with the stellar Run the Jewels 2 a year later, which cemented their status as one of the most exciting groups in music today.
In the run-up to RTJ2, the group poked fun at album-pre-order-bonus culture by offering a $40,000 option to buy their new album, jokingly promising a full remix album made with cat sounds called Meow the Jewels to the person who put up that ridiculous amount of cash. It turned out to be a perfect internet storm, as a fan-run kickstarter aimed at raising the money for the album blew past the goal to land at $66,000 – a number that the group couldn't ignore. It was intended as a joke, and El-P was mad at himself for even making it when it turned into a reality, but he also saw an opportunity to give the people what they want and make some money for a good cause. So he enlisted some of his friends – including Geoff Barrow from Portishead, 3D from Massive Attack, Just Blaze, Boots, Zola Jesus and more – to produce one track each for Meow the Jewels. The album finally saw the light of day just last week, with all proceeds going to charity. It's just another weird and wonderful chapter in the already storied history of Run the Jewels.
BOOTS
Jordan Asher, aka BOOTS, is still a mysterious figure, even after being thrust into the mainstream by closely collaborating with Beyonce on her latest album. He produced most of the tracks and wrote a handful of some of the best songs on her self-titled. Yet, still relatively little is known about him. We do know that he's signed to Roc Nation, released a short film called Motorcycle Jesus as well as an accompanying EP, and is currently working on a solo album. We also know that he has a memorable feature on the Run the Jewels 2 track "Early," a song which he also remixed for the Meow the Jewels project. He'll surely share some stage time with Run the Jewels on this tour, and now's a great chance to see him in an opening capacity before his Beyonce connection rockets him into stardom.
FASHAWN
Fashawn bursted onto the scene at the ripe young age of 21 with his debut album, 2009's Boy Meets World. The release garnered the attention from all over the hip-hop community, earning him a XXL cover and eventually led to him signing to Nas's record label, Mass Appeal. Nas took him under his wing, calling him one of the most underrated in the game, and oversaw the making of his long-awaited 2nd album, The Ecology, which was finally released earlier this year.
CUZ LIGHTYEAR
Cuz Lightyear is a Little Rock, Arkansas based rapper who crafts dark songs about life in a city not typically represented in hip hop. He's an exciting new voice who at times sounds dangerous, introspective and observatory. He just released his debut mixtape, CUZ, a few weeks ago. You can listen to the whole thing below.
Run the Jewels, BOOTS, Fashawn and Cuz Lightyear will perform tonight, Oct. 5 at Marathon Music Works. The show is 18+, begins at at 8 p.m. (doors at 7 p.m.), and tickets are available for $20 here.